WORDS BY: Matt Hull (in Sunny Portugal).
The new BMW R 1250 GS was never going to look dramatically different – why change the best-selling large motorcycle? But the competition has been introducing more and more powerful engines, so BMW allowed their engineers some free space in the engine department for this updated model.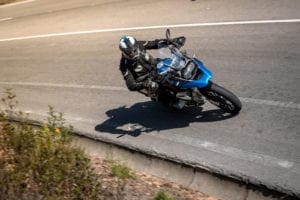 The engine has been bored and stroked out to 1254cc from 1170cc, but the biggest change is in the cylinder heads – where the boxer engine now features variable valve timing; or ShiftCam.
ShiftCam is a simple system that enables the engine to benefit from the best cam timing and duration for what it's being asked to do. For part-throttle openings, or lower in the rev range the cam has a shorter lift and less duration, meaning the inlet valves are open less. But ask for more throttle or higher revs and the cam shifts sideways, bringing into play a higher lift, longer duration cam lobe, more suited to performance. At the same time, swirl in the combustion chamber is better by having the two inlet valves open different amounts to each other.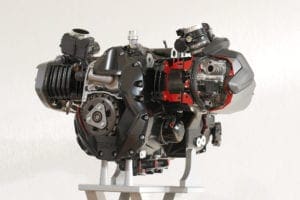 The R 1250 GS is unusual to ride at first. Thanks to the small amount of change, the bike feels the same; the large TFT dash being the only instant difference. Suspension, seating and even the bodywork are similar at least to look at to the current model.
But pull away and the bike thrusts forward. Any revs. Any gear. Much of engine technology is a compromise – not anymore. Overtaking is a doddle, pulling out of corners is hilarious. In fact, this bike could easily pull a seventh gear. This engine can be docile, or it can be ferocious. Power is up from 125bhp to 136bhp but torque is up 14% and that's what you feel. And those who owned a Honda VFR800 VTEC? You can't feel a step on the GS; the change from one cam lobe to another happens within 5 milliseconds and you're too bust holding on anyway.