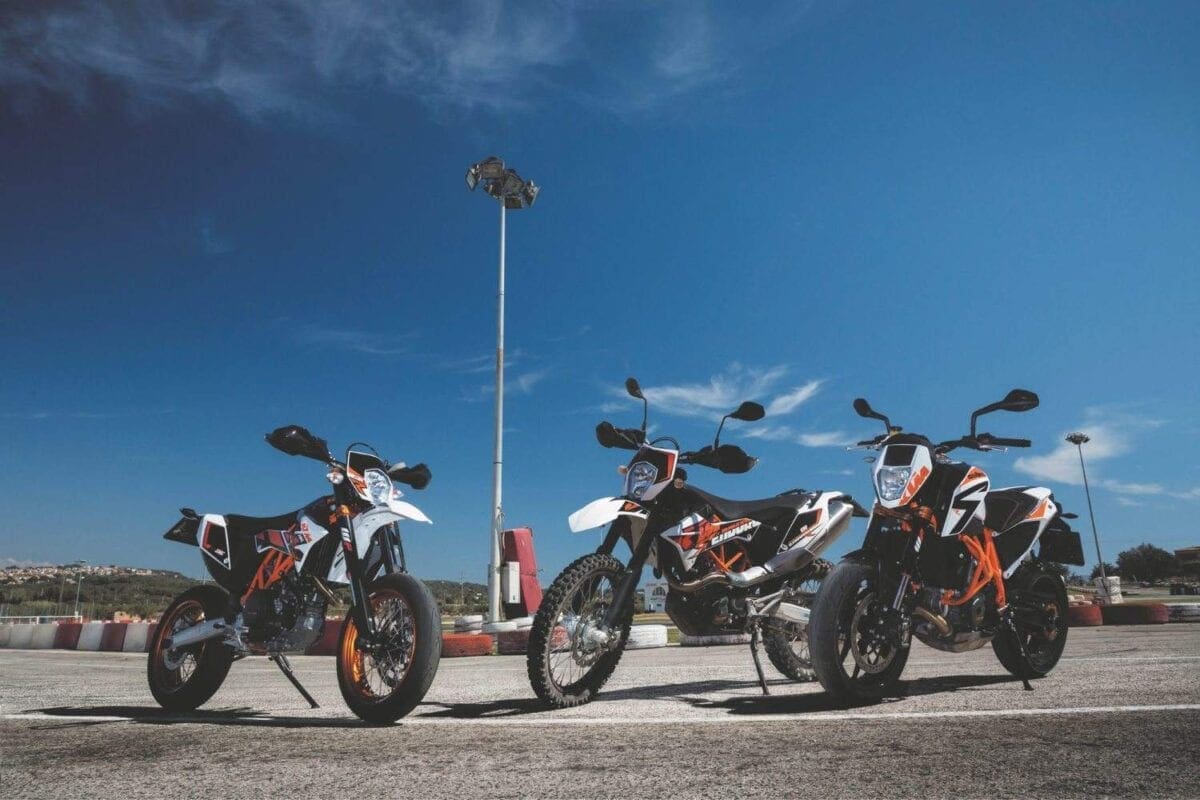 From £7699 | 67bhp@7500rpm | 50lb-ft@5500rpm | 690cc, liquid-cooled, sohc 4-valve single
Article continues below…
Advert
---
Enjoy everything More Bikes by reading the monthly newspaper, Read FREE Online.
---
Tested by Roland Brown. Motorcycle Journalist and former international racer, Roland Brown is one of the world's most respected bike testers. Subscribe to his fantastic YouTube channel – iMotorcycle Video – here.
If any firm knows how to build sporty, light, single-cylinder bikes, it's surely KTM. The Austrian company was Europe's biggest bike manufacturer last year (with over 123,000 sales, up 15.6 per cent); and its total number of world champions — most on singles — is fast approaching 250, the dominance stretching from Moto3 to the Dakar Rally (KTM singles have won the last 11), via enduro, motocross and Supercross.
Street-legal singles have been an important part of the picture ever since KTM began its roadgoing range 20 years ago with the original 620 Duke. This year the singles range is revamped, with the dual-purpose 690 Enduro R and the 690 SMC R supermoto both getting updated chassis plus the latest LC4 powerplant, as already used by the Duke and Duke R roadsters.
Tell me about the engine
The 690cc, SOHC liquid-cooled engine is borrowed straight from the Duke models, and differs from the old unit mainly with its dual-spark cylinder head and ride-by-wire throttle control. It's a notably more sophisticated engine, with separate fuel mapping for each spark plug helping to give more efficient combustion. KTM say it produces reduced emissions and gives 8-10 per cent better fuel economy.
Maximum output of both the updated models is 67bhp at 7500rpm, slightly down on the Duke's figure due to a smaller airbox. The revised engine's main practical advantage is smoother power delivery. The ride-by-wire system allows a choice of three main riding modes, called Standard, Sport and Comfort, plus a Bad Fuel mode. Not that most riders will bother switching mode for normal riding, because it requires fiddling around under the seat rather than pressing a button on the handlebar.
What's the chassis like?
Many parts including the tubular steel frames are the same on the two models, and they also share the main upgrades, although the individual parts are different. Both get uprated WP suspension, with the front forks' compression and rebound damping circuits separated, allowing more precise tuning, and easily adjustable via plastic knobs on their tops. Both bikes' new brake systems incorporate ABS for the first time, fine-tuned for the particular model.
The Enduro R's WP suspension gives a whopping 250mm of travel at each end, making sitting astride it a tiptoes-only proposition unless you're tall. Its wheels are narrow and wire spoked, in 21-inch diameter front, 18-inch rear sizes; the front brake has a relatively simple twin-piston Brembo caliper.
The SMC R is also tall and light but its forks have "only" 215mm of travel, its wheels are fat-tyred 17-inchers, and its front brake combines a big 320mm disc with a four-piston radial Brembo caliper.
Should I buy one?
If one of the orange singles fits what you want from a bike, and you're prepared to pay for something that does its specialised job exceptionally well, then the KTM name has got to be near the top of your short-list. It's not difficult to find more power at a lower price elsewhere, but both these bikes offer a blend of flexible power delivery, light weight, agility, suspension control and braking ability that puts them in a different league to most rivals.
At £7699 the Enduro R costs a fair bit more than most dual-purpose singles but it's a serious piece of kit; a street-friendly enduro bike from the firm that does dirt-busting singles better than any other. And in its distinctly different way the SMC R is just as outstanding. There are plenty of more practical, sensible streetbikes available for less than its £7899 price but very few that come even close to matching its ability on a supermoto track.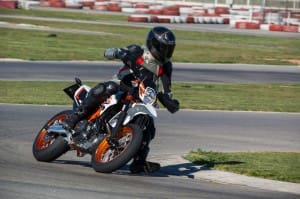 So what are they like to ride?
Very similar in some ways, very different in others, and subtly better than their predecessors in each case. KTM's launch near Barcelona provided the perfect opportunity for both models to shine, comprising a fairly short but varied road ride on both models, plus some very entertaining and sometimes challenging off-road riding on the Enduro R, and a whiz round a tyre-lined kart track on the SMC R.
In their different ways the KTMs are both classy looking bikes, their many neat touches including the orange-finished chrome molybdenum steel frame tubes. Both feel pretty serious when you climb aboard a long, thin and not very comfortable single seat that's a dizzying height off the ground — the Enduro's higher by 20mm, at 910mm. At least the long-travel suspension compresses enough to allow average height riders to get a foot down, just about. And at under 145kg they're light enough to be manageable as soon as you pull away.
Both bikes were fine on the road but the Supermoto was the happier of the two, not least due to its more suitable tyres. Straight-line performance is very similar, with both singles benefiting from the punchy and generally sweet running engine. Response below 3000rpm is nothing to shout about, but cracking the throttle open with 5000rpm showing on the analogue tacho sends either bike leaping forward in very entertaining fashion, front wheel in the air if given the slightest encouragement.
Both models are slim, light and agile enough to be good fun in town, and they work tolerably well at high speeds. Their engines' performance is identical but the Enduro R's gearing is shorter so it seemed slightly breathless on the highway, where a 70mph cruise felt fast enough, and top speed was not much more than 100mph. The Enduro also had a slight tendency to weave through fast motorway curves, unlike the more stable SMC R.
The Enduro R was much more at home when we turned off the road onto on a rutted, boulder-strewn trail. Its abundance of well-controlled suspension travel was invaluable as the light and agile KTM picked its way sure-footedly along tracks that would have been difficult if not impossible on many dual-purpose bikes. The off-road ABS worked well too, occasionally cutting in on the front wheel when I'm not sure it was needed, but working reliably and helping make the Enduro R as rider-friendly a bike for less experienced off-roaders as it is a serious tool for experts.
The launch bikes were wearing Pirelli Rallycross tyres that were better suited to off-road riding than the Metzeler Enduro 3 Saharas that the bike comes with as standard. But if that was a touch of cheating on KTM's part, it was easy to forgive the Enduro R. It's a superbly capable off-road bike that could also be used as a general roadster in between adventures.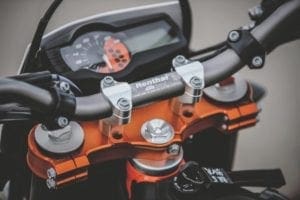 For solely road-going use the SMC R is the better option, though the more conventional 690 Duke (or better still the upmarket 690 Duke R) would be a more practical alternative still. On the open road the SMC R cruised along quite smoothly at 70mph, and rumbled up to about 110mph, feeling faster due to some vibes coming through the wide, one-piece Renthal handlebar, and to my inability to hide behind the tiny headlamp surround.
Predictably it was much more fun on twistier roads, and really came into its own when we reached the kart-track. This was a typically tight circuit where even the SMC R spent almost all the time in its first two gears, and where its flickability and lightness were major assets. The single was fun to thrash around the twisty track although its long-travel suspension gave a slightly vague feel on the Tarmac surface.
Stopping power was fierce thanks to the lightweight KTM's big 320mm disc and Brembo radial caliper, with an ABS system that worked well even on the track. For normal riding the system incorporates an anti-stoppie function but the launch bikes were fitted with KTM's under-seat dongle that disables the rear ABS, allowing skids of the ContiAttack SM radial into turns. Well it does in theory, though in half an hour I didn't master either that technique or the way supermoto riders stick out their inside leg in bends…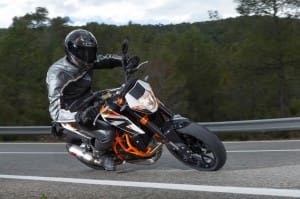 Still, the SMC R was very enjoyable for a few laps of high adrenaline, if not particularly high speeds. It's a specialised machine that won't make much sense for many road riders. But if what it offers is what you want from a motorbike, there's arguably nothing that does it better. Like the Enduro R, it's a specialised, state-of-the-art single from the Austrian firm that does specialised, state-of-the-art singles better than anyone else.
Tested by: Roland Brown Photography by: Sebas Romero & Félix Romero
Tech Spec KTM 690 Enduro R [SMC R]
Price: £7699 [£7899]
Engine: 690cc, liquid-cooled, sohc 4-valve single
Power: 67bhp (50kW) @ 7500rpm
Torque: 50lb-ft (68Nm) @ 5500rpm
Kerb weight: 143kg [144kg]
Seat height: 910mm [890mm]
Tank size: 12 litres
www.ktm.com/gb/ready-to-race.html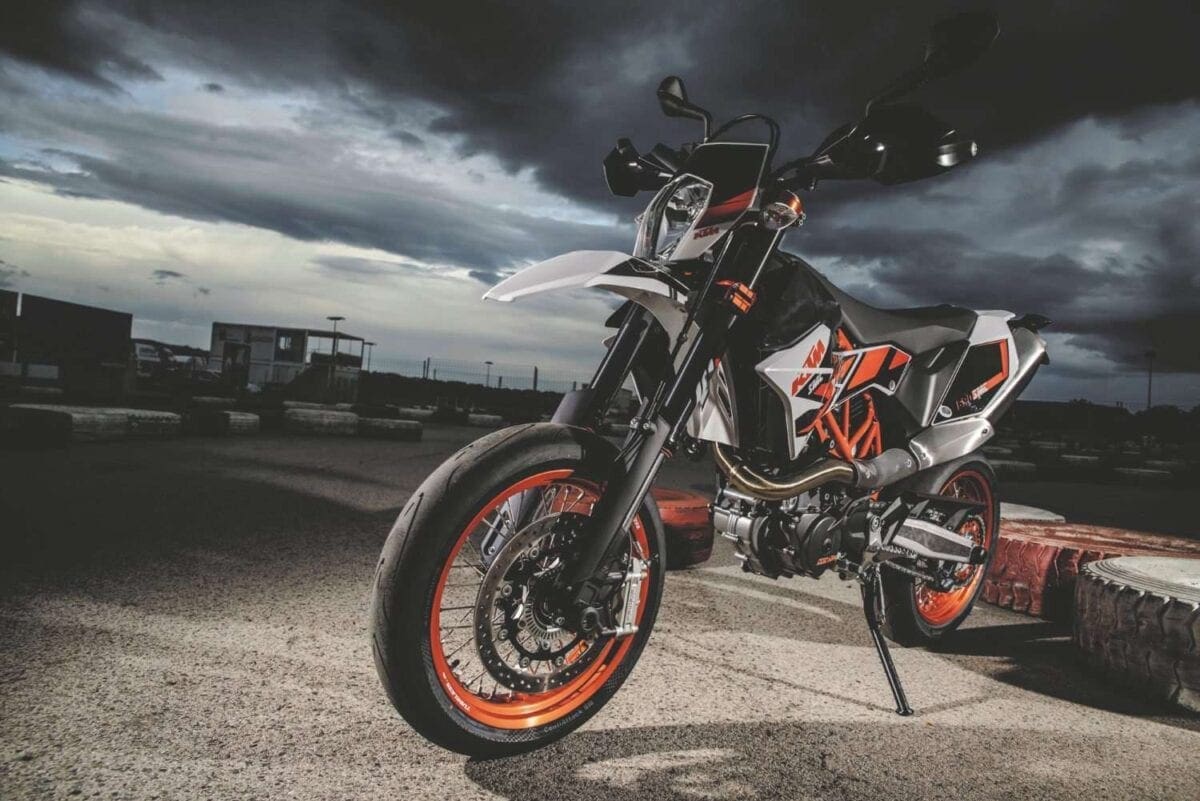 ---
Advert
---
Enjoy everything More Bikes by reading the MoreBikes monthly newspaper.
Click here
to subscribe, or
Read FREE Online
.
Sign-up to the More Bikes Newsletter
Enter your e-mail address below and get regular updates straight to your inbox… You can unsubscribe at any time.