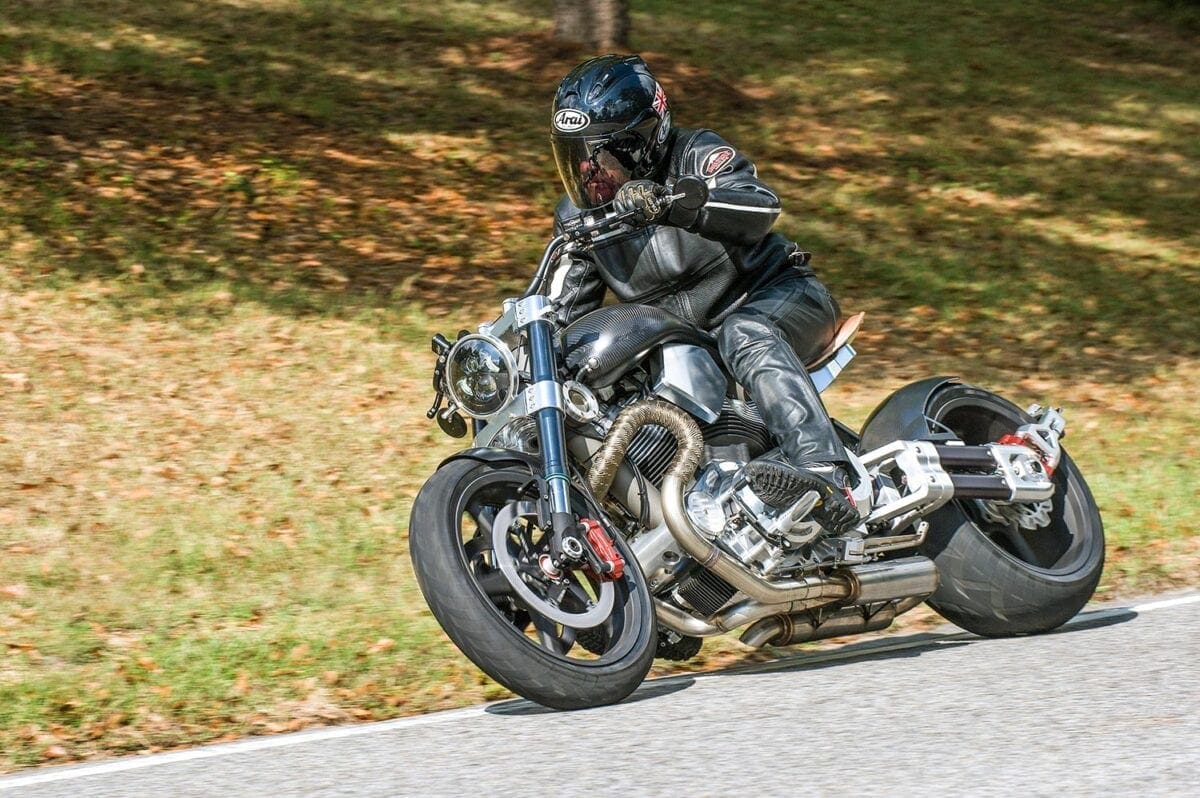 Confederate Hellcat X132 Speedster | $65,000 (around £43,150) | 121bhp@5100rpm | 140lb-ft@2000rpm | 2163cc air/oil cooled triple camshaft OHV V-Twin
Tested by Alan Cathcart Photos by Phil Hawkins
As Design Director of Ducati, Pierre Terblanche was responsible for such landmark models as the Multistrada, Hypermotard and MH900e. He briefly joined Alabama, USA-based Confederate motors to refine the X132 Hellcat launched the previous year, of which 99 examples were built and all sold to eager customers as a unique example of the café custom design school. The new Speedster is the first Terblanche-designed bike to reach production since 2007.
Confederate was founded in 1994 by Louisiana lawyer Matt Chambers: "The X132 Hellcat Speedster is a stripped-down American hot-rod that represents a return to the traditions of the Hellcat, as a dragster for the street that is powerful, beautiful and most of all, a thrill to ride."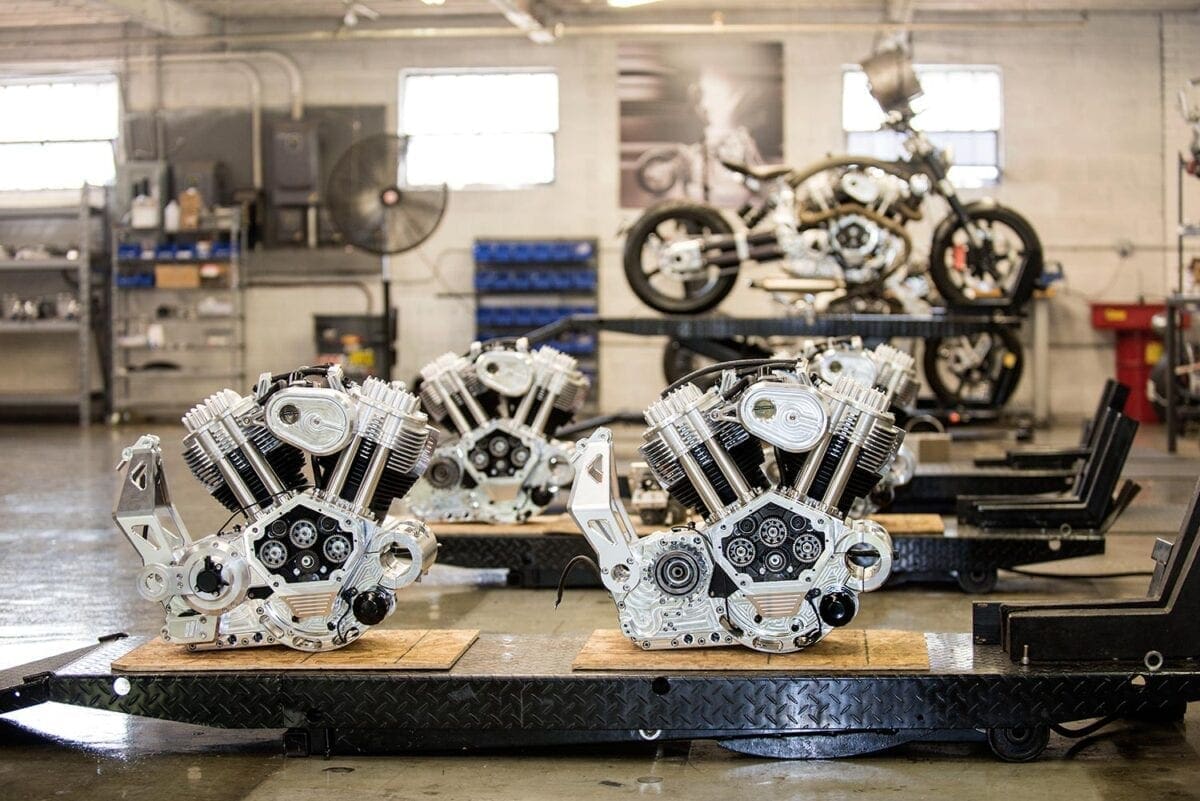 Tell me about the engine
The V-twin motor is the first ever standalone engine design from American S&S Cycle, whose products have underpinned the US custom and chopper industry for the past half-century. Known as the X-Wedge, it's the first engine ever built by the Wisconsin-based firm to have different engine mounts cast into the crankcase than a Harley-Davidson's, meaning that while still absolutely American, it's no longer basically a clone of a Sportster motor. Instead, it's a dedicated S&S design which, in the case of the version created for Confederate, with milled-from-solid aluminium custom crankcases, permits a wide range of different chassis layouts.
The air-cooled, triple-cam, pushrod overhead-valve V-twin dry-sump motor gets its name from its crossflow wedge-shaped combustion chambers. The one-piece forged and nitrided crankshaft, with pressure-lubricated plain main and rod bearings rather than the rollers of previous S&S engines, utilizes forged steel conrods mounted side-by-side on a common 56mm crankpin, rather than the traditional knife-and-fork design of a typical Harley-style motor.
"Back in 1992 when I was working on the original Hellcat, we dreamed of having a V-twin engine we could buy with a one-piece forged crankshaft," says President and CEO Matt Chambers. "But we've had to make do until now with an old-style, bolted-together, five-piece Harley-type crank so that, when you lean into that motor to get the kind of explosive lowdown hit of torque that Confederates are all about, the flexy nature of the crank makes it fall down hard in terms of vibration and robustness, which meant we couldn't tie the motor fully into the chassis to create a rigid structure that handled ideally. The S&S X-Wedge powerplant changes all that. It has that forged one-piece crank and big flywheels that allow us to deliver substantial torque safely and smoothly."
The two separate exhaust cams flanking a common intake cam collectively achieve almost dead-straight pushrod angles, which combine with automotive-style rockers and hydraulic roller tappets to create a very quiet, EPA-friendly valve train operating the 51mm intake and 40.6mm exhaust valves – one each per cylinder The X-Wedge is actually 5dB quieter than an old-type Sportster-style S&S 1917cc engine from 2,000rpm through to 5,000rpm, according to designer Jeff Bailey.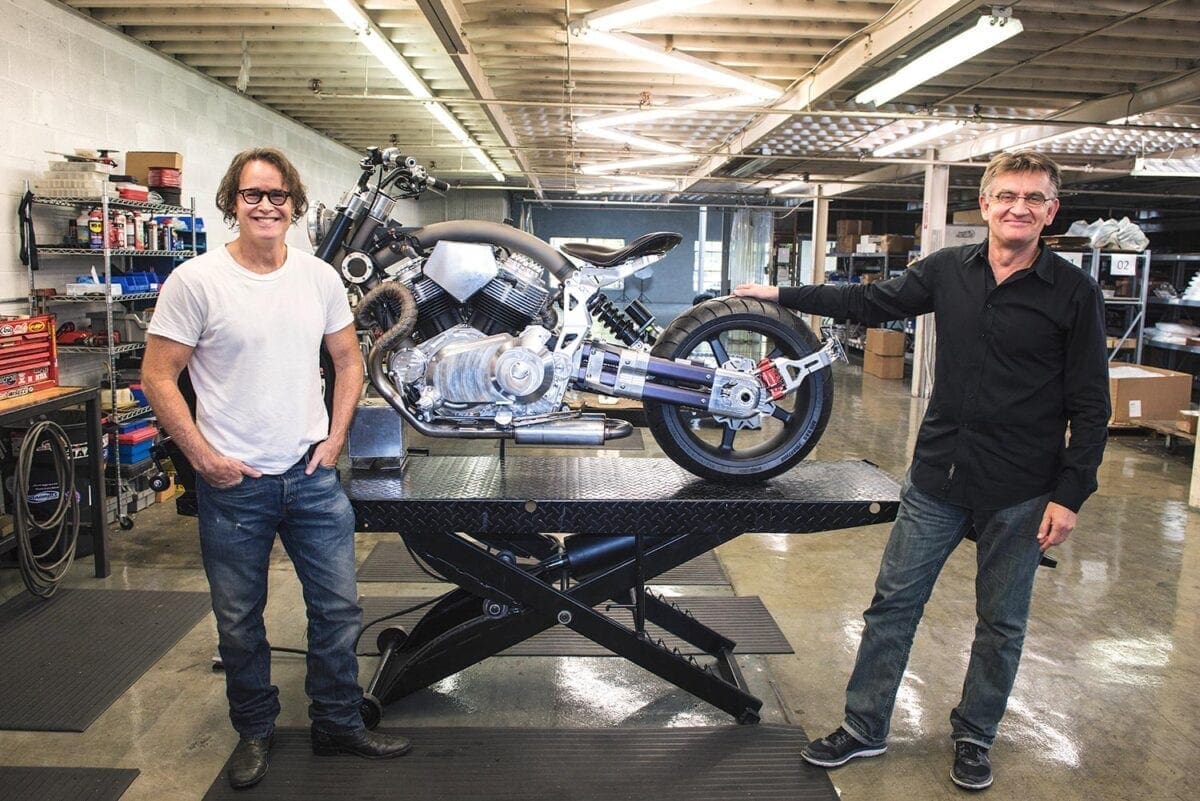 Producing 121bhp at the gearbox at 5,100rpm, the motor pumps out a massive 140lb-ft (190Nm) of peak torque at a mere 2,000 revs, which makes the Confederate the most torquey series production twin-cylinder motorcycle available in the marketplace today, second only in absolute grunt to the 163lb-ft Triumph Rocket III three-cylinder, and some way ahead of the next-best 123lb-ft V4 Yamaha VMax.
The 45mm/1.8in belt primary-drive is matched to a hydraulically-operated clutch made by Bandit to Confederate's design, and, perhaps surprisingly on a US-powered sportcruiser, to chain final-drive rather than belt. The total combined weight of the engine, complete with throttle body, and five-speed transmission, is a hefty 110kg, resulting in the complete Hellcat X132 scaling 240kg.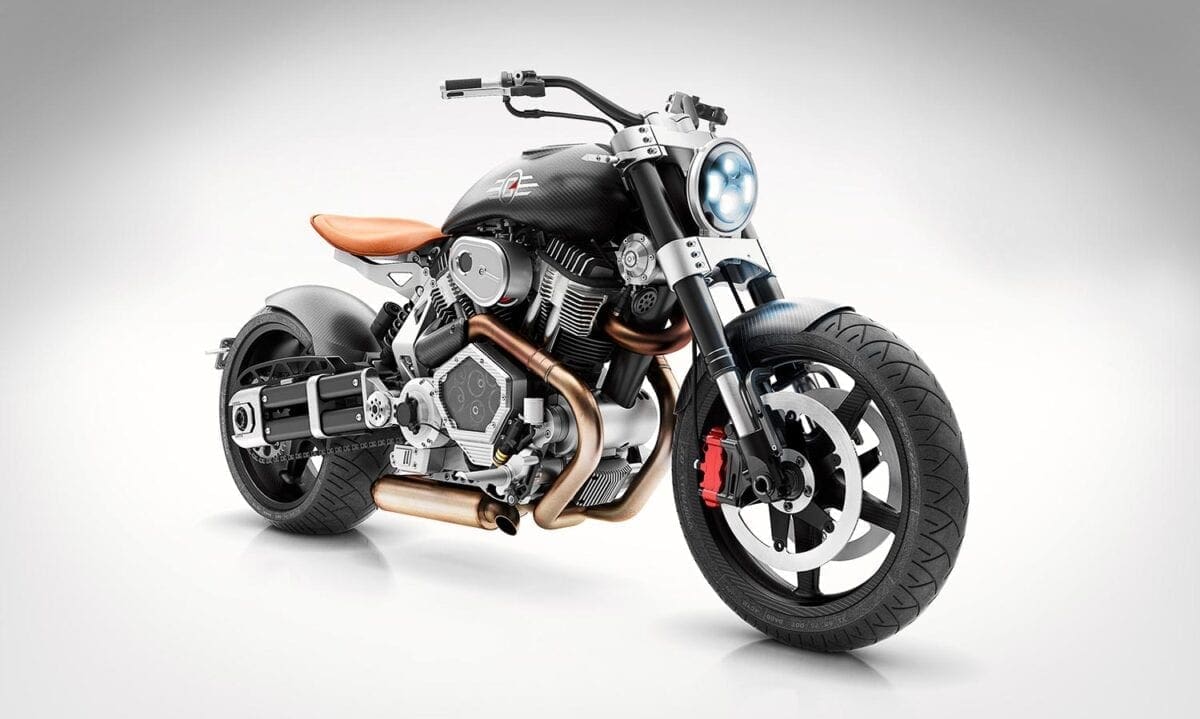 What's the chassis like?
A sturdy steel tubular backbone frame doubles as a 4.25litre oil tank, with the engine rigidly mounted as a fully-stressed component. The extruded-spar aluminium swingarm pivots in the engine crankcases, with a cantilever RaceTech monoshock that's offset to the left with compression, rebound and preload adjustment.
48mm fully adjustable upside-down WP forks replace the 50mm Marzocchi of the last model, however, for the Speedster Terblanche insisted on less aggressive steering geometry by cruiser standards than on the previous Hellcat. The fork is now set at a 29° rake – 1.5° more kicked out than before – with a much increased 106mm/4.185in of trail, while wheelbase is an inch longer than previously at 1613mm/63.5in, leaving space for the EPA-compliant exhaust canister to be mounted low down beneath the engine.
Twin front 310mm Aeronal cast iron discs are made by Beringer, each gripped via the French company's own radial master cylinder by its radially-mounted four-piston monobloc Aerotec calipers, with a third one at the rear matched to a 240mm cross-drilled Brembo stainless steel disc.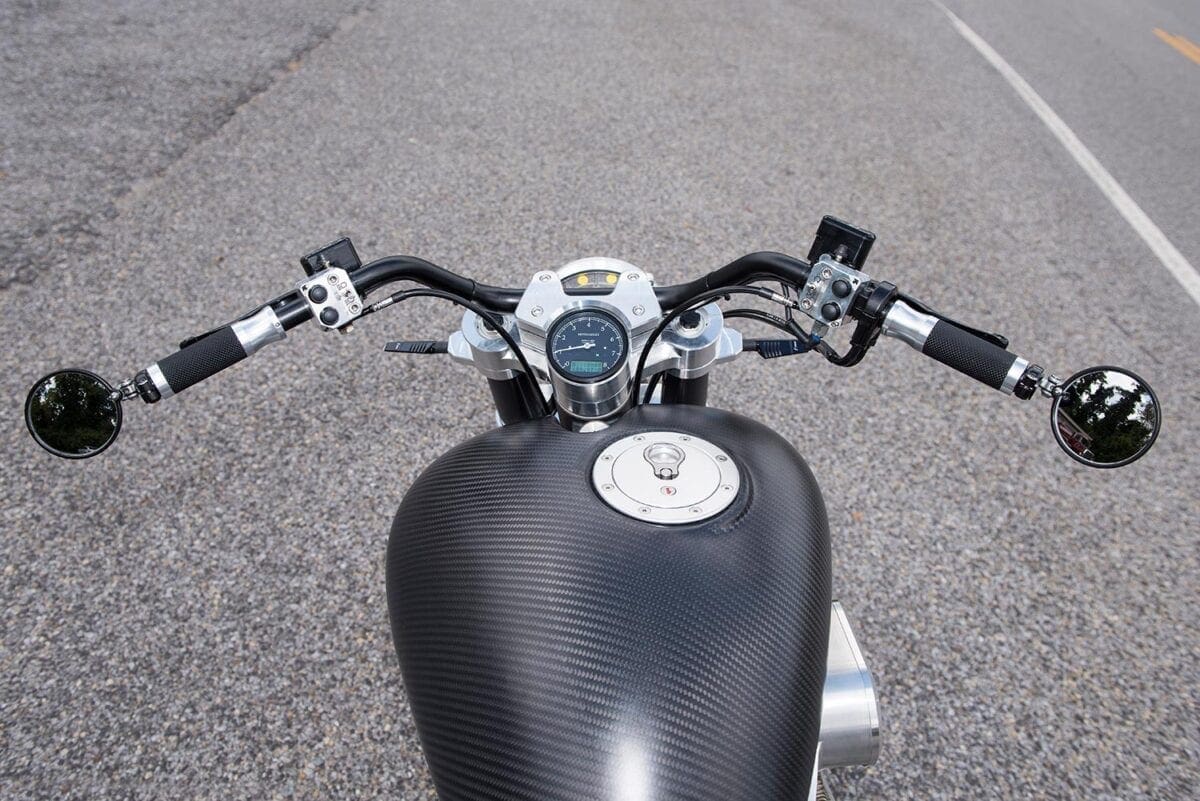 Should I buy one?
Confederate's twenty five thousand square-feet factory in downtown Birmingham, Alabama currently produces 100 bikes annually, with capacity to reach 150 in 2016, and an eventual maximum of 1000. Not Honda numbers, but still a multi-million dollar business.
Confederate has become the boutique bike-building brand of choice for the USA's rich and famous, with Tom Cruise, Brad Pitt, Nicholas Cage and Bruce Springsteen heading the high-profile roster of Confederate owners, often with more than one of these exquisitely crafted, ultra-costly two-wheeled works of art in their garages. $72,000 used to be the starting price for admission to the Confederate owners group, and prices for the company's radical P131 Fighter model started at $100,000 upwards. With the new Hellcat X132 Speedster entering production at $65,000 it represents a slightly more affordable product in the company's catalogue. Well, everything's relative… Since each bike is hand-built to order, there's an endless choice of colours available. Production will be limited to a total of 65 examples, according to Matt Chambers.
So what's it like to ride?
I was quite unprepared for what awaited me as settled on to the surprisingly comfortable yet minimalist-looking leather-clad seat of the Terblanche-created Speedster. Having ridden the previous X132 Hellcat two years ago, I was all set for a revised version of its café racer stance that was more Brands Hatch than Sunset Boulevard in the way it moulded you to the bike in a distinctly sporty stance. But this is a radically different feet-forward riding position, with the footpegs now a full 460mm further forward than the previous rear-sets.
You feel perched very high up – even if you're sitting low enough to easily put both feet flat on the ground at a stop light – yet the bike seems very low slung compared to before, leaving you feeling rather detached from it; quite unlike the previous X132 café cruiser, or indeed on the previous J.D. Nesbitt-designed X124 Hellcat sportcustom. Perched atop with your legs straight out in front of you may be more relaxing when cruising in a straight line, but it makes it hard to ride the Speedster in something approaching anger as you can't easily grip the fuel tank with your knees to help steer the bike in turns.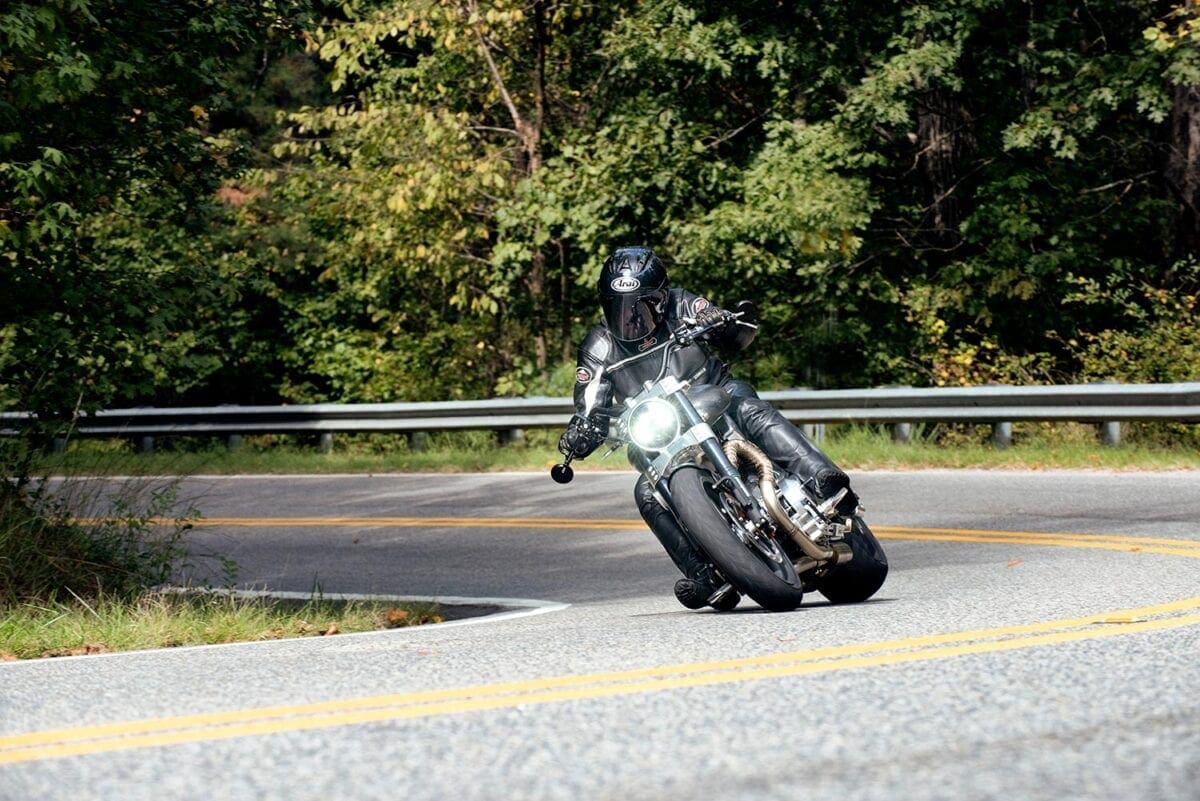 The new handlebar is wider and pulled further back than before, resulting in a more upright riding position that is indeed a fair bit more comfortable than the old Hellcat, whose low-set flat clip-on handlebars dictated quite a long stretch over the tank – hard work on your wrists and shoulders after a couple of hours. This extra width is handy thanks to the massive 240/40-19 rear Metzeler mounted on an eight-inch BST carbon rim, compared to the Superbike-sized 190/55-17 Pirelli Diablo and six-inch rim on the old Hellcat. Of course, you don't get to use a fraction of the width of this design statement, which instead heavies up the steering and makes the previous sweet-handling Confederate café cruiser into a bit of a truck – not helped by the inch-longer wheelbase, and substantial extra trail. Form over function – pity.
Firing up the powerplant can take a little while, but eventually it catches on the second or third rotation, and bursts into life with a satisfyingly meaty peal of thunder, settling to a 900rpm idle that's quite devoid of the clackety rattles and shakes of other American air-cooled V-twins. The whole bike exudes quality, and represents a decisive step up in terms of togetherness and finish than any previous Confederate model I've ridden – it's very evident that Terblanche succeeded in getting Confederate's suppliers to raise their game to his levels. The Speedster no longer feels like a collection of parts, but a more homogeneous, more refined whole.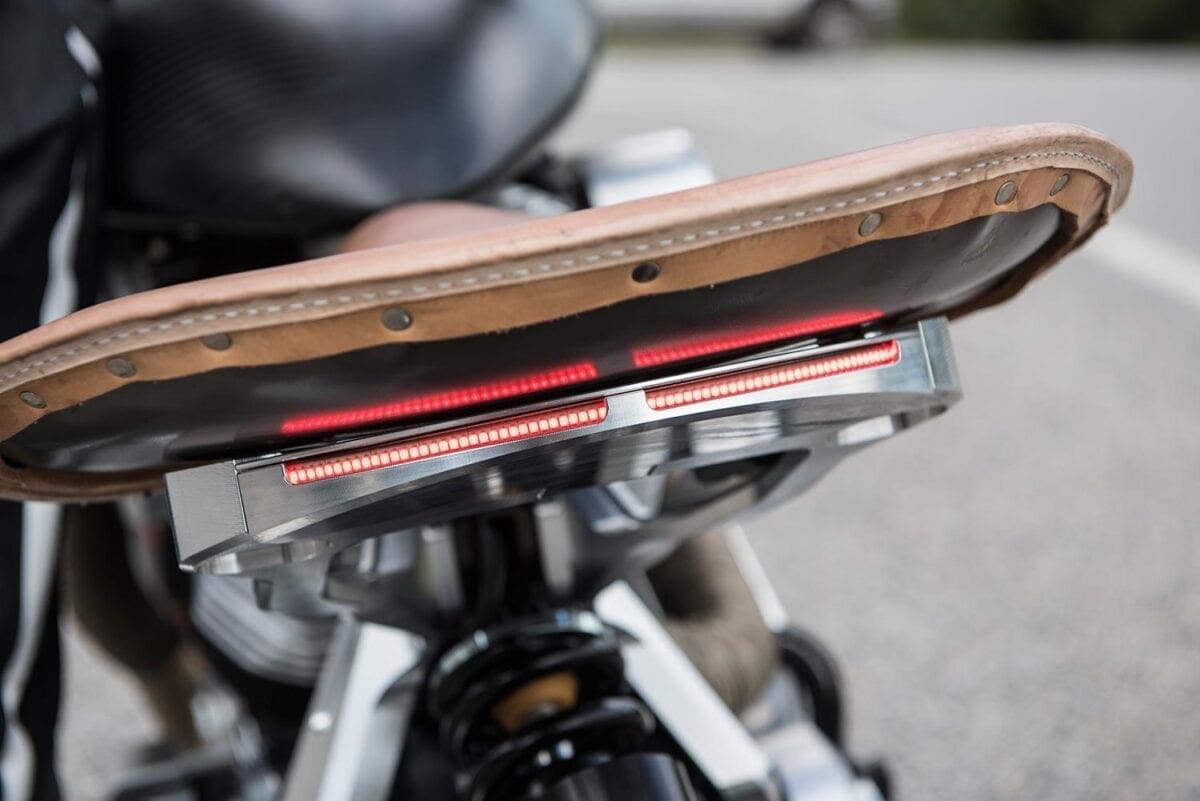 The Speedster pulls cleanly off idle thanks to the huge amount of torque on tap at almost any engine speed, which peaks at just 2,000 rpm but holds hard and strong all the way through to the 5,800rpm rev-limiter. The happy zone is between 1,500-3,500rpm, and you're best shifting up at 4,000 rpm as shown on the bike's only instrument – a large black-faced analogue tacho containing a small digital panel for road speed and fuel level. Doing so will let you surf that so-strong torque curve, but you must remember that while 3,000rpm in top/fifth gear is already 100mph/160kmh, it takes you very little time to get there thanks to those substantial reserves of grunt.
The surprisingly light-action hydraulically-operated Bandit clutch barely needs to be troubled accelerating out of even the tightest turn from little more than walking pace, and the five-speed gearbox is quite positive, swapping ratios smoothly except from second to first, when there's a big clunk each time you go through neutral while shifting down. Of course, with so much torque on tap, two of those five ratios are completely superfluous – you can start off from rest in third gear without slipping the clutch unduly, and the X132 will go almost anywhere in top gear, with simply magnificent roll-on performance from any revs. This is a great bike for close quarters traffic combat, using the S&S engine's meaty response to zap past cars or trucks as you carve your way past them in a very Latin fashion.
The Beringer front brakes still stop what is a pretty heavy package as well from high speed as before. I never used the Brembo rear brake, in deference to the huge inertia forces of those big pistons, but nor did I get the rear wheel ever chattering under reverse loads. The suspension seems more compliant than before, with the previous fully adjustable Marzocchi 50mm fork replaced by a 48mm WP, which eats up bumps and surface irregularities with little fuss and less noise – there are fewer rattles and rubbing sounds from this finer finished new model.
The Confederate Hellcat F132 Speedster has taken several steps up the ladder of excellence in terms of fit and finish, but I can't help thinking that while there may be some Confederate customers who'll prefer the more relaxed, feet-forward riding stance, I have a feeling they'll be in the minority. Buyers may be able to live with the fat rear tyre and long wheelbase, but many will surely be asking for the previous Hellcat's perfectly rider-friendly stance. At $65,000 plus tax, I think it may perhaps be smart to give them what they want…
Check out the incredible FREE MoreBikes Weekly app for a full interview with Pierre Terblanche to discuss the Confederate Hellcat X132 Speedster. Download it FREE here
Tech Spec
Price: $65,000 (around £43,150)
Engine: 2163cc air/oil cooled triple camshaft OHV V-Twin
Power: 121bhp (89kW) @ 5100rpm
Torque: 140lb-ft (190Nm) @ 2000rpm
Kerb weight: 240kg
Seat height: 724mm
Tank size: 13 litres
---
Advert
---
Enjoy everything More Bikes by reading the MoreBikes monthly newspaper.
Click here
to subscribe, or
Read FREE Online
.
Sign-up to the More Bikes Newsletter
Enter your e-mail address below and get regular updates straight to your inbox… You can unsubscribe at any time.