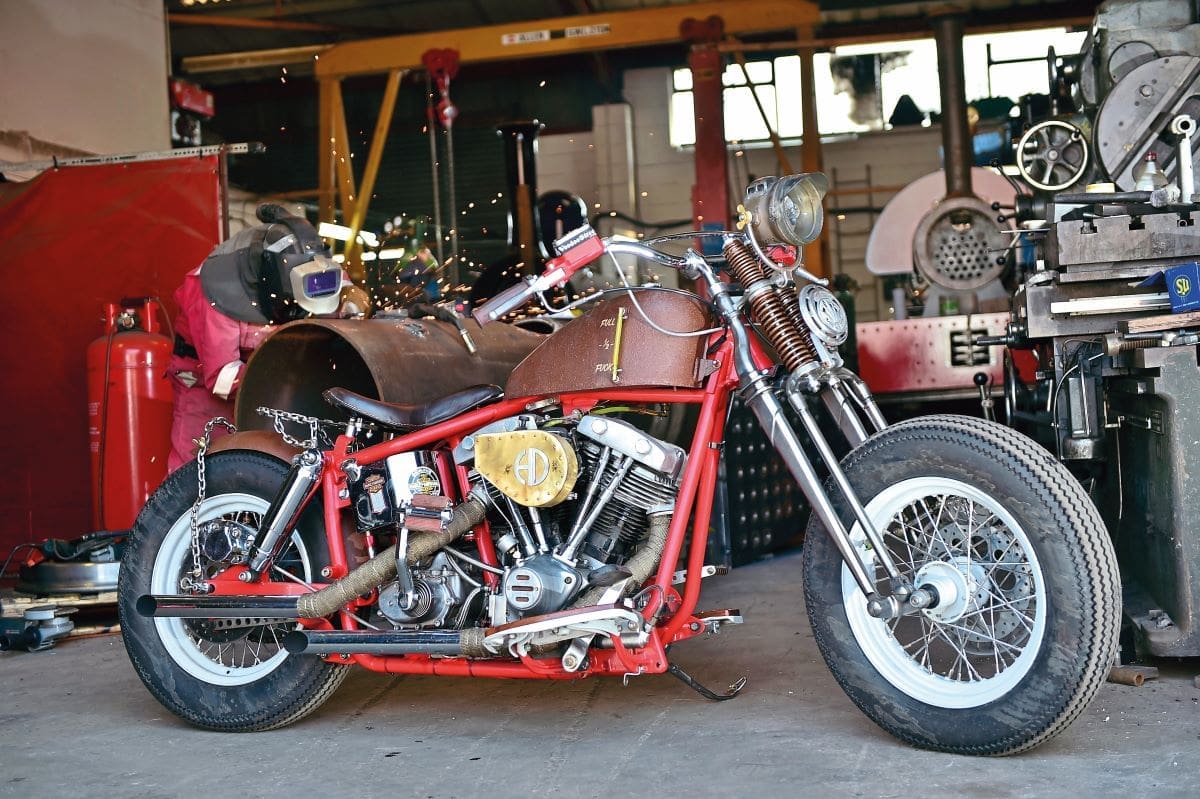 Words by Nik
Pics by Simon Everett
With, sadly, only a few exceptions, most of the bikes you see here in BSH are built, in the main, by, how shall I put this, gentlemen of a certain age. In fact, it's not just custom bikes, but bikes in general – as a subculture, bikers are, really, more towards the 'wrinkly' end of the age spectrum than we are to the 'bright young thing' end.
You can see the evidence of this pretty much anywhere you go where there're motorcycle types; most rallies are populated by gentlemen with an excess of greying, or missing, hair, most bike shows too, and even at Santa Pod the other week, the most octane of events in the land, I was struck by the fact that a very large percentage of guys running in the big boys' classes (Top Fuel, Funny, Super Streetbike, etc.) were all a lot closer to receiving a telegram from the Queen than they were to their 21st birthday card. I include myself in this, of course; please don't be thinking I'm taking the proverbial out of older people – I are one, as you can plainly tell from any of the photos of me on the editorial page.   
As to whether us more… er, distinguished biking gentlemen're more disposed toward being, as popular parlance'd have it, irritable old farts, isn't yet completely proven, but Mark Ashton, the owner and builder of this very cool steampunk Shovel in front of you, describes his three mates who helped him with the bike, Will, Nick and Steve, as "being more grumpy and mad than me". Now, I don't know for sure, when he says "mad", whether he means angry or whether they actually run round in circles pulling their hair upwards, making whoop-whoop noises, but I like to think it's the latter 'cos that paints a much more interesting picture of bike building in the north-east, doesn't it?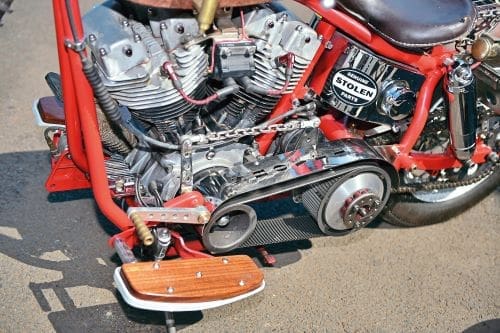 Anyway… our Mark started messing around with bikes back in the early Eighties, and then moved over to building steam engines for a living. He didn't give up on petroleum-powered two-wheelers though, continuing to build custom bikes in his spare time, using the machine and welding shops at work.
A while back he bought three boxes of Shovelhead bits (three large boxes!) from someone in Cornwall, and this bike 'ere, a '75 1340, is the last of the three to be put together. The motor and transmission (that's gearbox to any non-H-D folk) was built from the ground up by Will, using loads of new parts, and the bike itself was built in an old livery block in Scarborough where it's fabled Dick Turpin used to crash (the timber on the running boards is from some of the original seating timbers) and, indeed, during the construction, there were one or two odd, nay spooky, moments. For example, the timing kept changing – each day Mark'd set it, and each morning it'd've moved… "Turns out it was Fat Gav from next door, letting himself in, and fiddling."
The rebuilt engine, with its earlier 1966 heads, its S&S barrels, pistons, and rods, its J-grind cam, its CV carb, its homemade air-filter, its BDL clutch and open three-inch (wide) primary, its one-off primary cover, its four-speed ratchet-top gearbox, its points ignition, and its modified drag-pipe exhausts, has been shoe-horned (well, kind o') into a Kraftect swing-arm Shovel frame that uses a set of chrome shocks from a Fat Boy to keep the arse end sprung, and a rather splendid set of springer forks made by Dragon Soul Custom, a company I keep hearing good things about, to keep the head end up. The wheels are rebuilt FL items, as are the brakes (the front, though, is a TC Bros stopper), and the tyres're suitably vintage-looking. The 'bars are Hollywood-style beach 'bars, the tank's a King Sporty with a wonderfully basic fuel gauge and a suitably olde-worlde fuel tap, the seat's a leather tractor-style 'un, and the rear 'guard's also a TC Bros component, modified to suit this particular bike. Mark made the lil' rear rack, and the chain mudguard supports that give the bike so much of its steampunk look, and also modified the old acetylene lights (the front's a P&M, Phelon & Moore, who made the famous single-cylinder Panther motorcycles that, as legend says, fired one every streetlamp) that look so right, too.
That rather wonderful rust/patina finish was done using rusting paint supplied by a crew I've not heard of before, Voodoo Street, and was applied and sign written by steam engine painter Phil Anderson, while the light grey/red powder-coating was by Mark at Impreviz Finishing, who does all the powder-coating for the steam engines, and's done all Mr A's bikes, too.
This is the bike's second build – it won a trophy at the Farmyard Party in its first incarnation (when it was called 'Red Barron'). It kicks second time, every time (as long as you're not in front of a cafe full of people…), and so far has been reliable for over 1,500 miles. Power-wise, he says, it's on a par with a fit cement mixer, and it dribbles a bit, and smokes a bit, but as Mark says, it's a Shovelhead, isn't it? It is also for sale, but he also says that, if it doesn't go, it'll no doubt be rebuilt as something else.
Finally, he'd like to dedicate the bike to Gill, commonly known as Mrs A. "She's been with me through all my mad steam and bike builds for the last 32 years, and's vetted every issue of BSH for me since issue one."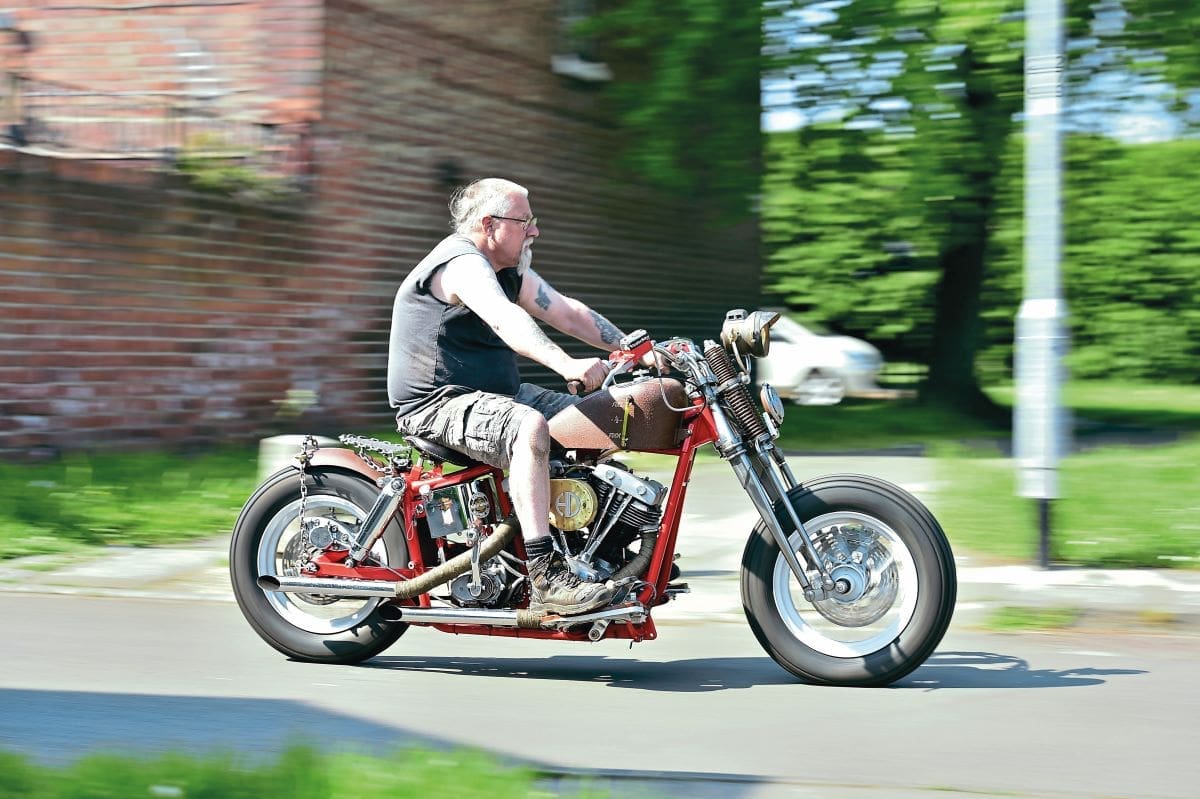 Spec:
1975 H-D FL 1340 Shovelhead engine (1966 heads, S&S barrels/pistons/rods, J-grind cam, CV carb, homemade air-filter, BDL clutch/3" open primary, one-off primary cover, 4-speed ratchet-top gearbox, points ignition, modified drag-pipes)/wheels/discs/swingarm/front brake master-cylinder, Kraft Tech FL Shovelhead (modified) frame, H-D Evo' running boards with mahogany tops, H-D/owner controls, V Power tyres, TC Bros front calliper/rear 'guard, Dragon Soul Custom springer forks, Goodridge hoses, Hollywood beach 'bars, old H-D/owner switchgear, Lowbrow Customs grips, King Sportster fuel tank (modified), leather tractor seat, horseshoe oil tank (screw-in filter/internal battery tray), one-off stainless rack/side-mount/chain struts/torque arm, H-D Fat Bob shocks, H-D banana rear calliper (rebuilt), H-D Shovelhead rear master-cylinder, one-off loom, P&M acetylene headlight (converted to electric), acetylene back light (converted to electric)
Finish:
Rusting paint supplied by Voodoo Street (01384 828345 or www.voodoostreet.co.uk), applied & sign written by steam engine painter Phil Anderson, light grey/red powder-coating by Impreviz Finishing (01325 489899), polishing by owner
Engineering:
Bike built by owner, forks by Dragon Soul Custom (07807 567397 or www.dragonsoulcustom.co.uk), engine rebuild by Will, help from Steve
Thanks To:
"Will, Nick & Steve for being more grumpy & mad than me; & Gill (Mrs A)…"
---
Advert
---
Enjoy everything More Bikes by reading the MoreBikes monthly newspaper.
Click here
to subscribe, or
Read FREE Online
.
Sign-up to the More Bikes Newsletter
Enter your e-mail address below and get regular updates straight to your inbox… You can unsubscribe at any time.