Radical bikes, bikes that push the boundaries, these days are few and far between. Back in the '70s, '80s and '90s there were many built but, as we've moved slowly and inexorably further into the 21st Century, that trend's slowed almost to a stop…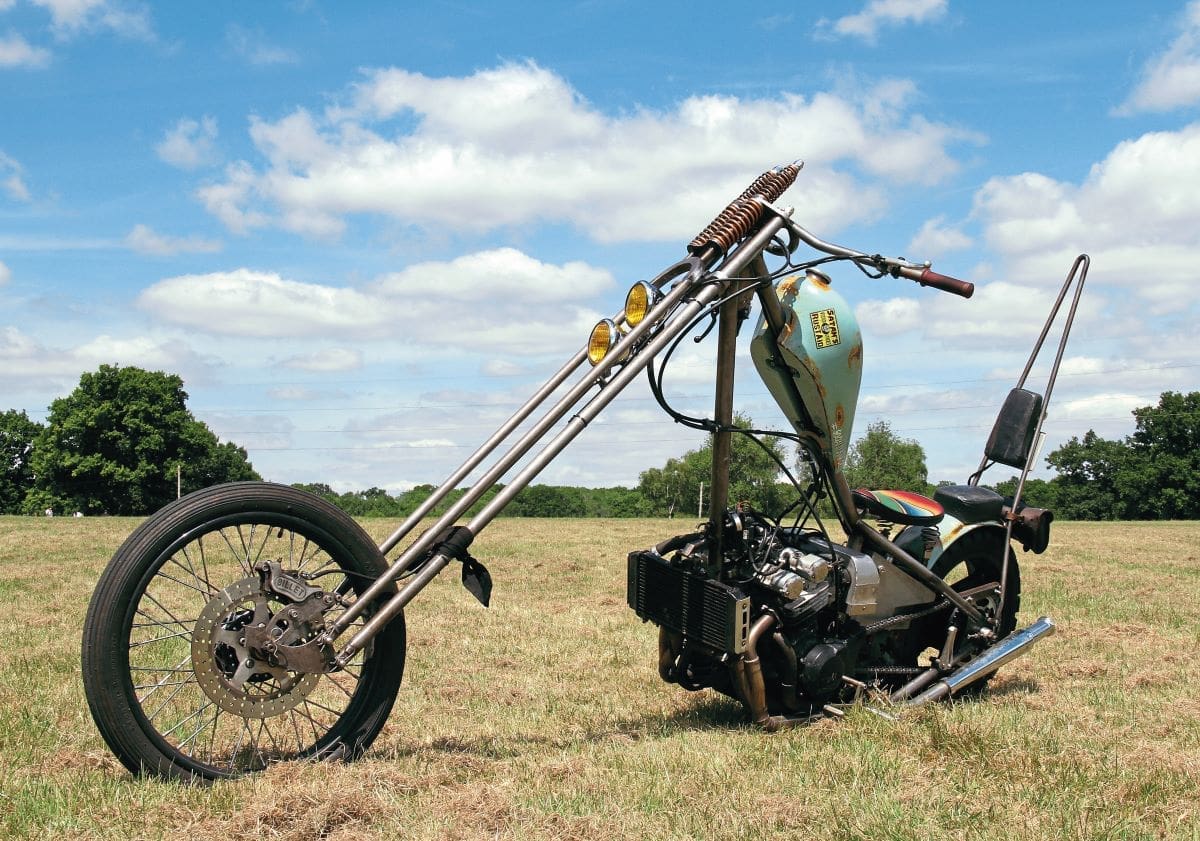 There are folk out there who do still build them, but not too many, and we've featured a few, if not most, of those built in the last few years (Chris from NCC Kent's steampunk Savage, for example; Hank from Trike Design's 'Diamondback' trike; almost anything made by Destiny Cycles; Lamb Engineering or Shaun Barley; even my rat-rod and the silly-sider), and it's always a pleasure when another comes along as it's such a rare occurrence.
String from Raw Steel Choppers's never been afraid to, to use another horrible American phrase, think outside the box; his last bike, Moonshine, differed from the norm with its I-beam downtube and radical fork arrangement, and he created the frame, etc., for Chris' aforementioned Savage, too. His new bike, Social Distance, moves on a pace from that… as you can see here.
For some time he'd been looking at pictures of the tall, skinny choppers favoured by the Indonesians and the Japanese, with very high headstocks, and very long raked forks and, while he knew in his heart of hearts most were too tall and, it has to be said, pretty pointless, he still had thought them something of a guilty pleasure. On top of this, he also wanted to build a bike that actually fitted his 6'8" frame, and which wouldn't look like he was riding a mini moto, as he does on most bikes. He also wanted something that'd be both a rolling advert for the shop, and'd get instant attention when he pulled into a bike show. He'd found a picture on Pinterest of a straight-four chop with fairly tall springers, just the one of the front right three-quarters, and it was this pic' he kept coming back to. Then, one day, he decided he was going to do his own version, and set about designing what he calls "my crazy chop".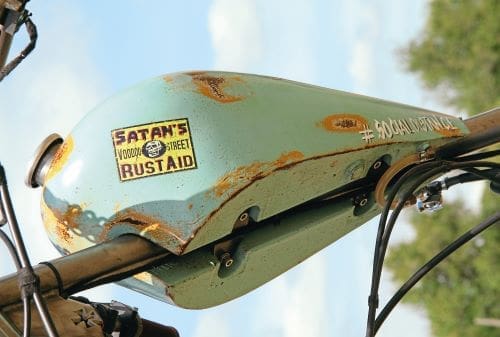 It was about this time his mate, Andy, asked him to clear the scrap bikes he had in his garden, and he noticed, in the hedge, an early '90s Fazer 600 Yam that Andy'd written off a few years before. Branches and plants'd grown through it, but he could see the potential – it'd only about 30,000 miles on the clock, and he knew it'd a strong engine before the crash.
Once it was in his shed he changed the petrol, hooked it up to a battery, hit the starter and… it fired straight up! It was p*ssing water from a hole in the rad' where a twig'd pierced it, and the exhaust was blowing badly, but that didn't worry him. It's not, he admits, an engine most'd go for as it's water-cooled and so has water pipes everywhere (and an unsightly rad'), but he liked the busyness of it as it gave it an industrial look, and he was sure it'd be just fine in the frame he had planned for it. He bought a new rad' from China (£60), gave it a basic service, and sent the carbs to Brian at B&A Motorcycles for a sonic clean/rebuild. About a week or so later he dropped them back, looking like new, and he'd reset them to standard settings, as String'd planned to make a one-off airbox, with a car 'filter, to avoid having to rejet. He has, and it runs fine – crisp as anything. More difficult, he says, was getting the moss/hedge out of all the nooks and crannies, and he decided not to paint it, just give it a good brush over, as he wanted the chop to have an old barn find look once it was complete.
For the frame, he drew up the design on CAD, and set about building it. Due to the excessive height, he had to make an extension to his jig and, he admits, he was a little concerned about the sheer size, but pushed on anyway. He used the stock Fazer back wheel, and a 21-inch spoked front, and made a set of his speciality 1970s-style springers, brought up-to-date with modern bearings and stronger fixtures and fittings, that run at about 26 inches over those of a stock Harley!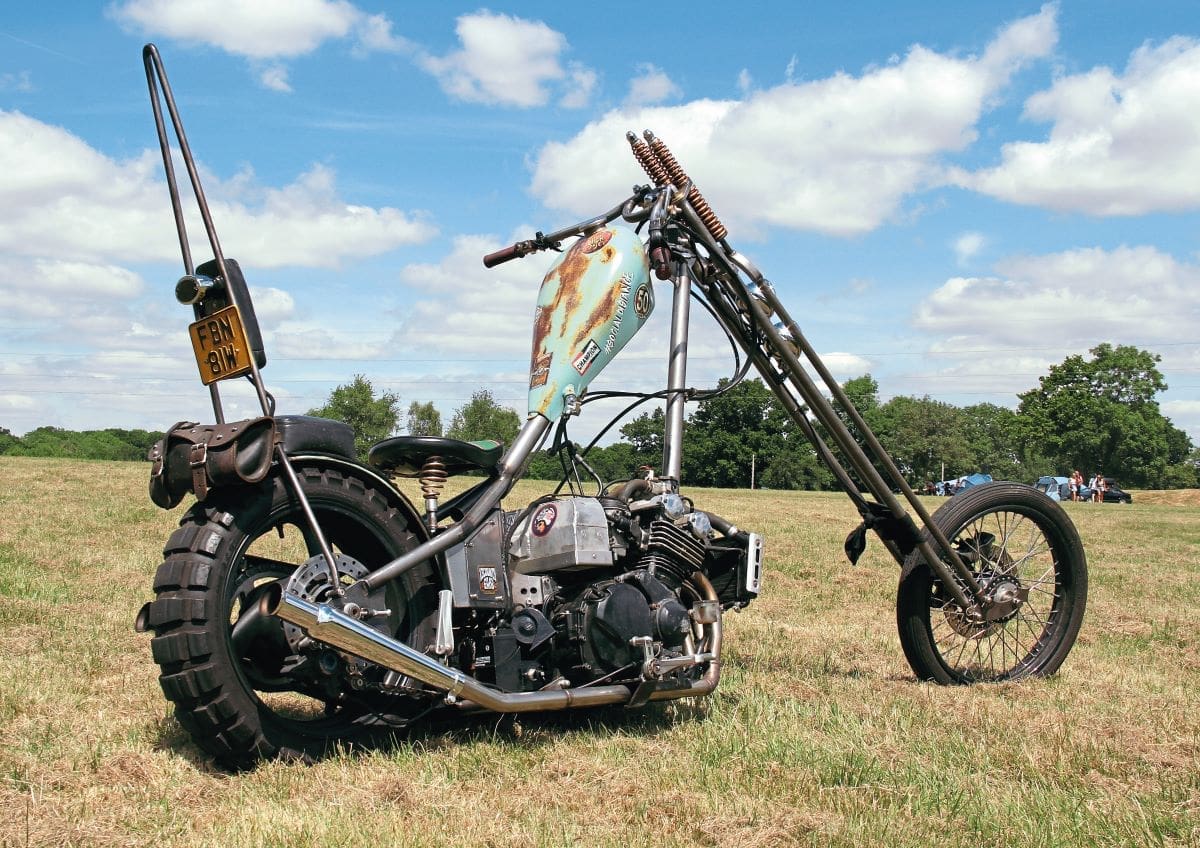 At this point people who saw it said: "That'll handle like sh*t, look at the size of it!" but he knew that, with a low centre of gravity, and the correct trail, it'd be okay – he knows he's not going to be chasing power rangers on it but, for the sort of riding you do on choppers, it'd be fine.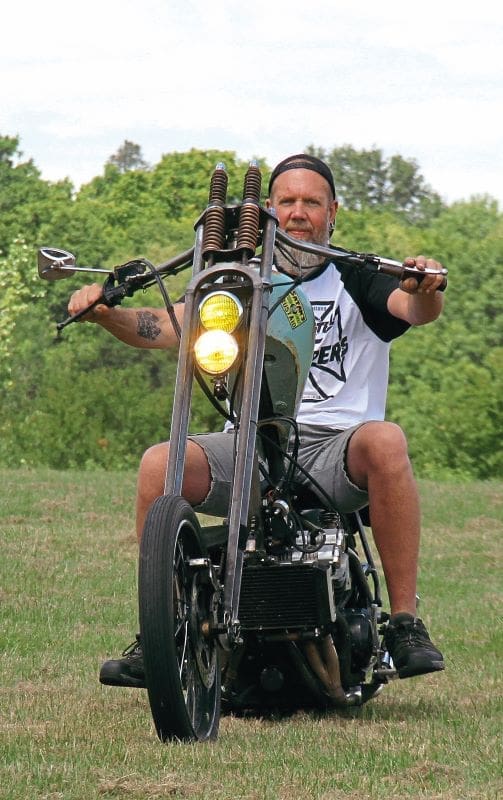 The build continued: a West Coast Choppers tank (the tap relocated for the steeper mounting angle); a sprung Le Pera Mexican Blanket seat;a set of very clever 'bars made in-house (that have an almost Aardman Aminations character grin to them);a towering sissy-bar; long and low four-into-two 'pipes with chopper-pots (they are a tad loud!); and for paint he gave a light blue/rust distressed look (covered in clear-coat by Padded Cell Race Paint) that really suited the style he was after.
The finished bike is, quite simply, gob-smacking; everywhere he goes people turn their heads and smile or wave, and when he parks up it instantly pulls a crowd and he usually loses half-an-hour or so answering questions. It's due to make its big-screen debut as an extra in the forthcoming Expendables 4 film (out next year), parked outside Sylvester Stallone's man-cave. Stallone, or any of the cast or crew, wouldn't ride it though, or even push it – when they needed it moved, String had to drive to the studio and move it for them!
And the name, Social Distance? Well, he built the bike in the first Covid lockdown, and it got its name when he found that, when you're sitting on the seat, it's two metres from you to the tip of the front wheel…
Spec:
Yamaha Fazer 600 engine (one-off air-box with car 'filter, one-off exhausts with 'tulip' silencers), one-off frame (45-degree rake, 26-inch over length)/rear wheel/brake/master-cylinder, one-off mid-mount controls/'pegs, Avon Speedmaster front tyre, 21-inch spoked front wheel, aftermarket H-D disc, Harrison Billet calliper, 26-inch over springer forks, braided stainless brake lines, one-off 'bars, Kawasaki master-cylinder, aftermarket switchgear/grips, West Coast Choppers fuel tank (modified), Le Pera sprung seat, British bike front mudguard as rear (modified), one-off battery box/electrics box/sissy-bar, Yamaha Fazer 1000 front calliper as rear (modified), one-off torque arm, one-off loom, Bates 4.5" headlight, aftermarket tail-light
Finish:
Blue/rust/logos by owner, clear-coat by Padded Cell Race Paint (07773 343450 or www.padded-cell.co.uk)
Engineering:
Bike built and all work by owner at Raw Steel Choppers (07814 540528 or www.rawsteelchoppers.co.uk)
Thanks To:
"Frank Lopez for the loom; Tony Groom for help with the springers; Pete Taylor at Padded Cell; Brian Smith at B&A Motorcycles for carb rebuild; and Andy for the donor Fazer…"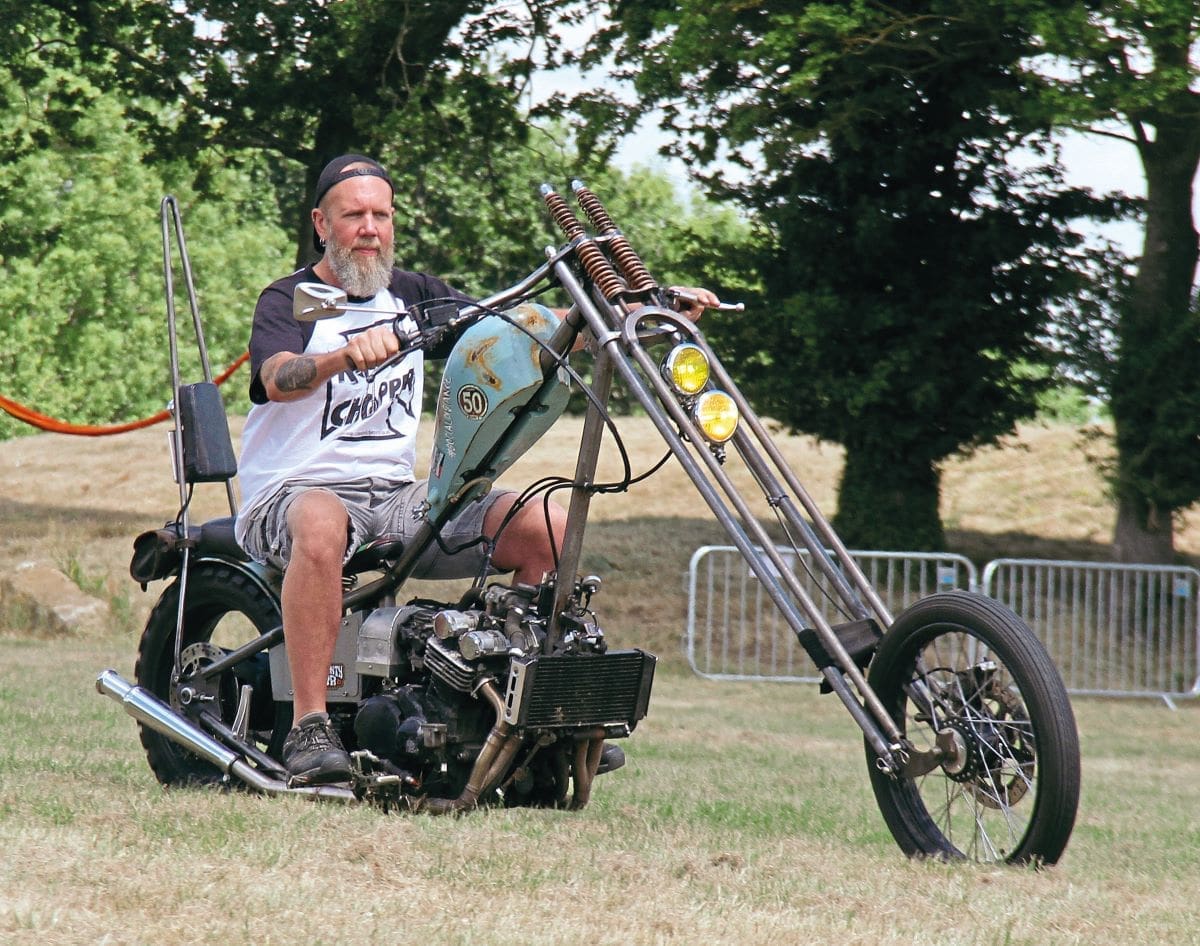 ---
Advert
---
Enjoy everything More Bikes by reading the MoreBikes monthly newspaper.
Click here
to subscribe, or
Read FREE Online
.
Sign-up to the More Bikes Newsletter
Enter your e-mail address below and get regular updates straight to your inbox… You can unsubscribe at any time.