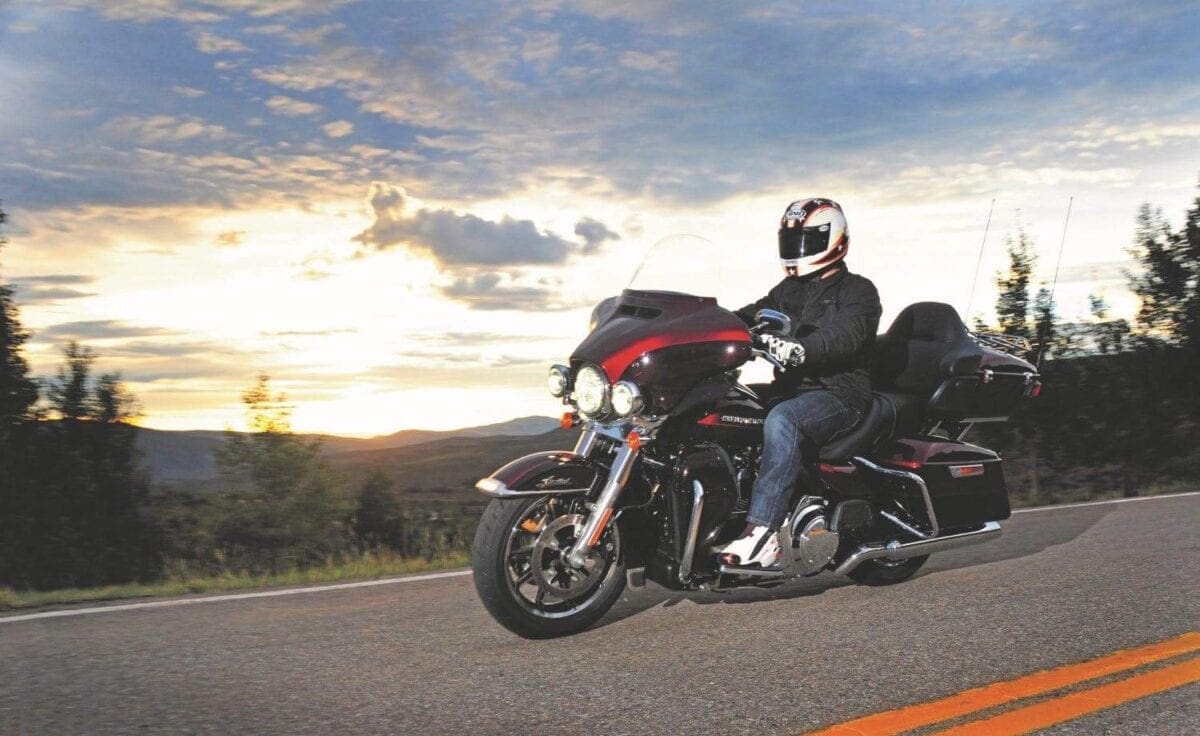 £21,395| 1690cc 4 stroke oil and water-cooled twin | 102lb-ft @ 3750rpm
Touch screen displays, LED headlights and oil/water-cooled engines… These aren't the things of Harley-Davidson are they? With the new 2014 Project Rushmore Touring bikes they are, but don't worry – they're still Harleys through and through.
With feedback from their customers and thousands of miles of evaluation, in their own words: "The road testing isn't done until there's a measurable difference in the size of the grin on the face of the rider and passenger". However, despite over 100 changes to the touring range, the bikes still look and feel like the Milwaukee classics we're all used to.
Cruising along Interstate 70 out of Denver, Colorado, the music from the new Harman Kardon stereo system clear above the still distinctively lazy Harley exhaust note, it's all very familiar, but so much better!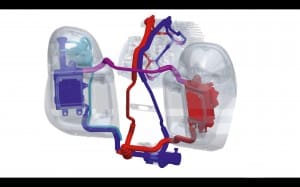 Tell me about the engine
Harley are famous for their air-cooled 'Block-head' engines, and while the silhouette of the polished and plated lump is very much the same, save for the restyled air filter housing, nestled inside the leg shields of this Ultra Limited are radiators with electric fans to cool liquid coolant that takes heat from the exhaust valves.. On paper, the increase in torque from the new motor doesn't seem that great – just 3lb-ft up from the 2013 model – it's only when you ride the bike that you get a feel for the smoother, brisker delivery across the mid-range. In fact, this bike's got the fastest 60-80mph roll on speed in fifth of any Harley ever built.
These bikes will never feel like the revvy powertrains of the Japanese, but that's the point – besides being a beautiful piece of engineering, the 1690cc block is putting out 12lb-ft more torque than the V4 Honda Pan European.
The six speed gearbox works well with the standard cruise control, though sixth is best suited to economical cruising down open highways, while leaving it in fifth gear was great for dodging the i70's semis.
What's the chassis like?
It be mild steel, as opposed to the light alloy of many other bikes, but it's one of the best chassis Harley have ever produced. 49mm forks (up from 46mm last year) with improved internals, lighter aluminium cast wheels and sealed headstock bearings come together in a front end that really talks to you now.
A new 'Reflex' ABS system takes the form of electronically linked brakes that work surprisingly well on such a heavy bike. Get to 25mph and the combined braking comes into play. Grab a handful of front brake and the front end dives slightly, before just the right amount of rear brake is applied automatically, levelling the bike out as it stops. If you prefer to stamp on the rear, the system will prevent it locking up, and automatically applies pressure to the front. It works well, and isn't too intrusive, though it can feel a little odd in tight slow corners when your speed drops below 25mph once you've got used to it being there.
Should I buy one?
Bikes like this are in many riders' dream garage, but at the price of a decent family car, it's not a decision to be taken lightly. Some people just don't understand the Harley Davidson mindset – owning one of these bikes is far more than taking possession of a new piece of metal: it's about buying into the brand; the ideals of taking life at a more leisurelyand styled-to-be-different pace.
It's also about surrounding yourself with luxury, and the Ultra Limited does this brilliantly. Many of the new features of the Project Rushmore bikes address comfort, from the new touch-screen equipped with audio, phone and sat-nav system to the carefully redesigned passenger seat, it's obvious that the American company have listened to its customers to improve the touring experience. And they've succeeded.
Couples looking for some long distance adventures will love this bike, but the best way to find out if it's for you is to book a test ride at one of the many Harley dealers.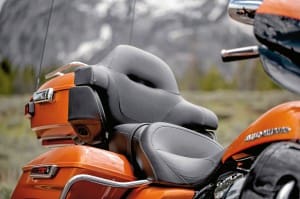 So what's it like to ride?
It's really quite amazing how different this bike is. compared to the 2013 model – it's more focussed, without becoming bland. Gone also is the harsh buffeting often associated with screen made to suit all sizes: a vent below the screen diverts airflow through to the underside of the screen, which helps lift oncoming air to create a calm and still place to sit, even at high speeds.
H-D have subtly moved the luggage system backwards, giving passengers more room, yet still managed to eek out more storage – four percent in the top box alone. The locking top box and panniers also have a one-touch latch with built-in lock that's easy to open with one hand – a vast improvement over the old system that often led to broken finger nails and much cursing.
With my iPhone tucked away in the waterproof 'Jukebox' compartment, it's linked via USB to the 25W audio system and produces crisp, clear tunes even at high speed thanks to the 5.25" speakers. I had trouble with this at first though, with the sound being randomly muted, but as these were the first launch bikes, and the system is upgradable, this should be sorted by the time the bikes are on the market.
If you're riding in the dark, the Daymaker LED headlights and foglights give a crisp, clean, white beam, and the rider's view is also simplified now, with just four dials instead of six, while the clever touch screen can also be controlled by a five-way joystick on the bottom of each handlebar switrchgear. It all feels just right – like an extension of your hand.
This is evolution from Harley-Davidson, yet somehow the company's managed to retain everything that makes these bikes Harleys. Welcome to the next chapter…
Words: Tony Carter / John Milbank Photos: Harley Davidson
Tech Spec
Price: £21,395
Engine: Oil and water-cooled 1690cc V-twin
Power: Not given
Torque: 102lb-ft@3750rpm
Weight: 414kg
Seat height: 740mm
Tank size: 22.7 litres
Contact: www.harley-davidson.com
The bikes of Project Rushmore
Besides the Ultra Limited, Harley has been busy with its other tourers too…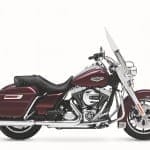 Road King Classic £17,595 Has a new High Output, air-cooled engine; linked ABS; new dual-halogen headlights etc. It's a big change, but classic styling means not as many of the techno bells and whistles of the Ultra Limited.
Street Glide £18,295 Comes with new air-cooled High Ouput 1690cc engine, and also features many of the Rushmore upgrades like Reflex ABS. It's got a new infotainment system, but without touch-screen and sat-nav.
Electra Glide Ultra Classic £20,495 The timeless touring machine, nearly, but not quite as goody-laden as the Ultra Limited, but still has the ergonomic improvements, new Twin Cooled High Output lump, hydraulic clutch and linked ABS.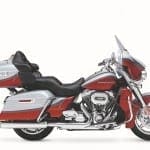 CVO Limited £29,995 Twin-cooled, 1801cc engine with 115 lb-ft of torque! This CVO (Custom Vehicle Operations) bike is the ultimate Harley for performance, comfort and style in a limited series package.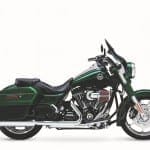 CVO Road King Another CVO special for 2014, it's got an 1801cc air cooled engine and many of the Project Rushmore enhancements to complement the unique range of H-D's parts and accessories.
Tri Glide Ultra £27,895 Totally redesigned for 2014, featuring the new twin-cooled High Output 1690cc engine, Daymaker LED headlights, touch-screen infotainment system and many more Project Rushmore enhancements.
Why these new Harleys are so important.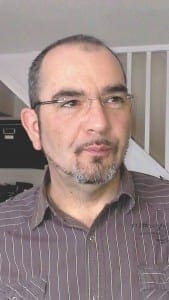 "Because they have been designed with owner input – three years of collated customer feedback – to give the best touring experience you can get while retaining all the charm and associated reasons for owning a Harley-Davidson. From the latest and impressive digital display to the new airfilter housing to the grippier material on the pillion's elbow rests; nothing has been changed without good reason. Pillions might argue that their extra leg room and deeper, wider seating area is the best part. Techno Bill from next door might like the fact he can adjust the sat nav or scroll through his iPod music list and more via simple thumb operated joysticks. Personally, I like every change because they all work, and as a package work better still. Let's not forget H-D also has the biggest accessory range to make personalising Harleys an art form. It's when you learn you can buy an all-weather riding jacket with venting that works in conjunction with the new faired models that you realise how much importance was placed on providing the best Harley-Davidson touring experience. Take a demonstrator ride to see what I mean." Trevor Franklin, Harley-Davidson UK & Ireland Press Office
---
Advert
---
Enjoy everything More Bikes by reading the MoreBikes monthly newspaper.
Click here
to subscribe, or
Read FREE Online
.
Sign-up to the More Bikes Newsletter
Enter your e-mail address below and get regular updates straight to your inbox… You can unsubscribe at any time.