Reviving the Rebel: Honda's iconic smaller capacity cruiser
Honda's new, novice-friendly middleweight cruiser, the CMX500 Rebel, joins the popular CBR500F sportster, CB500F roadster and CB500X adventure styled bike in Honda's entry level family of easy-going 500cc twins. They've all been designed around the same 47bhp 471cc parallel twin engine and tubular steel frame – but with variations in style to suit the needs of a range of riders.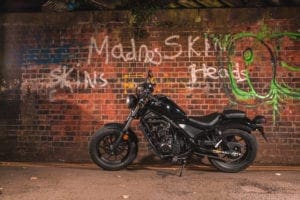 Cruisers have never been wildly popular in the UK – but 2017 has marked a resurgence of sorts with a range of new cruisers, bobbers and 'customs' emerging on the market. So, we got our hands on Honda's updated CMX500 Rebel to see what all the fuss is about.
First things first – how does it look? Initially, I was a little underwhelmed by how it looked in the flesh, but after a few days together; I found it growing on me. On the equipment front, there's a simple LCD digital dash and a single round headlight. Personally, I see very little to get truly excited by, but its simple, practical design offers a decent base for customisation – and it genuinely looks the part. I found the riding position natural too – possibly a little cramped for my plus 6-feet frame, but comfortable nonetheless. Unlike other cruiser style bikes, neither the pegs or bars are a stretch. The seat is firm but comfortable, and its low 690mm seat height should help inspire confidence in shorter riders.