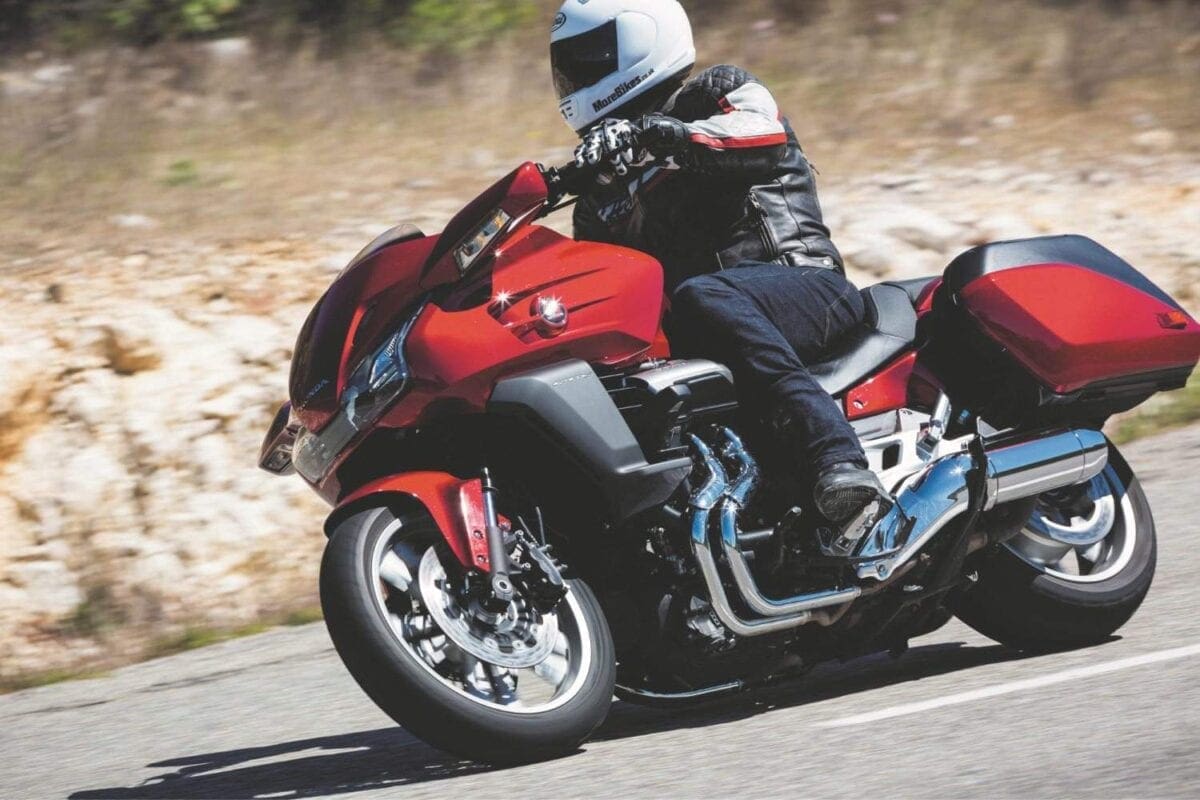 £14,999 | 83bhp@6000rpm | 78lb-ft@4500rpm | 90° V4 liquid-cooled four-stroke
Article continues below…
Advert
---
Enjoy everything More Bikes by reading the monthly newspaper, Read FREE Online.
---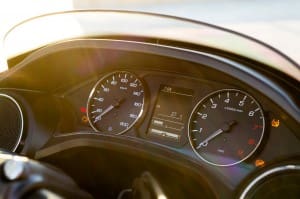 Between small-capacity bikes, and the 'king of tourers' – the GL1800 Gold Wing – there's long been a gap in Honda's range waiting to be filled. The F6B and new F6C help to bring the 'Wing's magnificent six-cylinder engine to a wider audience, but Honda has launched the V4-equipped CTX1300 (which is styled on the F6B) in a bid to attract riders looking for a tourer that's a bit smaller and lighter.
This is a bike designed to offer 'real world' practicality with more performance and handling than a 'traditional' air-cooled V-twin bagger-style cruiser. 'C' stands for comfort; 'T' for technology and 'X' for eXperience. So, did the Japanese engineers meet the brief?
Tell me about the engine
The Honda CTX1300 uses the 1261cc 8-valve 90° V4 of the ST1300 Pan European, with some major revisions to boost low and mid-range torque: new camshafts, valves and 34mm throttle bodies, along with revised valve timing, and throttle response, as well as taller gearing.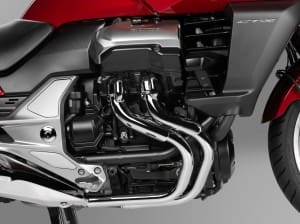 Peak power has been reduced, being considered unnecessary on a bike with such cruiser aspirations: The CTX is down 34bhp from the Pan, and torque has dropped 6lb-ft. However, both of these come in at 2000 rpm lower. The result is an engine that can – as any cruiser lump should – be ridden very lazily. On the twisty French roads of our launch, the Honda was happy to be left in third gear, driving easily out of tight corners, and blasting past cars and trucks. Fourth and fifth are great on longer, more open roads, and second was only really needed on the tightest of switch-backs and mini roundabouts. During our ride – which saw a lot of stop-start, and very few open straights – the bike recorded a fuel consumption of 44mpg, so Honda's claim of 48.6mpg should be fairly easy to achieve.
The new 4-2-2 exhaust uses unequal pipe lengths to enhance the sound of the motor. Adding 150mm to the pipes from cylinders two and three offsets the resonation of the pulses to 'emphasize the V4 rumble'. Riding the bike, you mostly just notice the whirr of the lump, but there's a good bass note bouncing back down tight streets and valleys. It's a sound that's easier to appreciate when you're being overtaken by the CTX.
What's the chassis like?
This is an all-new steel double-cradle frame, with 38.1mm main tubes. An aluminium swingarm carries the shaft-drive on twin, preload adjustable shocks, along with unadjustable 43mm upside-down forks.
Twin 310mm discs at the front, and a single 316mm rear disk are grabbed by three-piston calipers, using Honda's Combined Braking System. When the rear brake is applied, the centre piston of the front left caliper is also operated. There's no link from the front to back, but this saves some weight over the Dual Combined System used on the F6B.
Honda's Traction Control System (TCS) monitors front and rear wheel speed, plus various engine parameters and throttle position, looking for variations that could mean an imminent loss of traction. If the TCS senses wheel-spin is possible, engine power is momentarily reduced (not cut) for a seamless, unobtrusive traction control. It can be turned off, but was a particularly useful thing to have on the loose, gravelly lay-bys of the French launch, and will be a big help on greasy, wet roads.
Ground clearance is good by cruiser standards, and if you do touch it down, the hero-blobs on the folding pegs offer plenty of warning, and there's enough lean left to get you out of a mis-judged corner.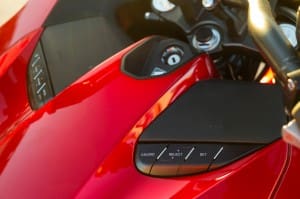 Should I buy one?
The biggest market for this bike is going to be the USA – inevitably competing against the likes of Harley-Davidson, it's a different proposition to the twin-cylinders, but the level of technology and performance make it a great bike for big miles.
The panniers are bolted in place, so can't be popped off when you reach your destination. It's also a shame that – like many leather saddle bags – they aren't wide enough to take a full-face lid. Extra storage above the stereo controls is handy for coins, though too small for a smartphone, but a top box is an option if you want to expand your bike's capacity. Of course, the fact that the panniers are narrower than the mirrors makes filtering a lot easier and safer.
Linking your device to the audio kit is simple through Bluetooth (a first for Honda), the large buttons allowing you to easily change track, adjust volume, or stop the music altogether (plus you can also pair it up with a Bluetooth helmet kit).
All the lights on the bike are LEDs, while five-stage heated grips and self-cancelling indicators are also standard: By monitoring the wheel-speed sensors and ABS modulator, the bike 'knows' when to switch them off. During tighter turns, there's a difference in wheel speed between the front and back wheel, so the winkers are cancelled when you're riding in a straight line again (where the difference is zero). In overtakes, or more open bends, there's less difference in the wheel speed, so under 31mph they're cancelled after 120 metres. Over this speed, they're cancelled after seven seconds. It works brilliantly, though I found myself having to think about not cancelling them, the urge to flick the switch off being so ingrained.
If the idea of a Gold Wing or F6B appeals to you, the CTX is well worth a test ride – this really does feel like a younger brother of the big machines, offering more than enough grunt for some very enjoyable and relaxed rides in a smaller, lighter package. This is a very different bike to the Pan European, sharing only the foundation of its engine and drivetrain.
So what's it like to ride?
Some web-chatter has claimed disappointment that a DCT (Honda's excellent automatic transmission) isn't an option on the CTX, but with the engine performing so well at low-mid range, it really is unnecessary. Despite being surprisingly heavier than a Pan European, the weight falls away as you ride. It's not as nimble as a Pan (it's almost 15cm longer for a start), but it's still very easy to flick around tight 180° mountain bends, and practice soon sees U-turns mastered.
The seating position is fairly feet-forward, with long, swept-back bars that offer easy control of the bike. The low seat isn't quite as plush as that on the F6B, but it's still very comfortable. The low screen does an excellent job of keeping your head away from any buffeting, regardless of your height (I'm 5'11", but tried raising myself up and squatting down with no change in noise). The design does lower the mirrors, and while you're always aware of what's behind you, a clear view often requires a small lift of the elbows, and the raised hydraulic clutch reservoir blocks some of the view to the left.
The traditional analogue speedo and tacho are clear and easy to read, and are backed-up by an LCD offering odometer; trip meter; fuel consumption; ambient temperature and clock. Occasionally this was hard to read in bright sunlight, but I didn't notice it being a problem for the majority of the trip.
The proven engine offers great performance, and even with the reduced power, bringing the peaks down so far in the rev range makes for a very easy ride, with more than enough on-tap when you want to go for an overtake, or simply speed things up a bit.
Honda have managed to cram high levels of technology and handling into the CTX. It's no sports-tourer (that category's covered with the VFR), it's a cruiser-tourer, and a fine place to spend many enjoyable rides.
 Tested by: John Milbank Photos by: Zep Gori, Francesc Montero, Ula Serra, Felix Romero
TECH SPEC
Price: £14,999
Engine: 1261cc 90° V4 liquid-cooled four-stroke
Power: 83bhp (63kW)@6000rpm
Torque: 78lb-ft (106Nm)@4500rpm
Curb weight: 338kg
Seat height: 735mm
Tank size: 19.5 litres
---
Advert
---
Enjoy everything More Bikes by reading the MoreBikes monthly newspaper.
Click here
to subscribe, or
Read FREE Online
.
Sign-up to the More Bikes Newsletter
Enter your e-mail address below and get regular updates straight to your inbox… You can unsubscribe at any time.