A NIU WAY FORWARD?
WORDS: Ross // IMAGES: Mau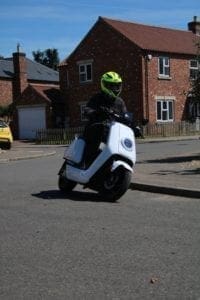 In the UK, we're getting closer to the introduction of ULEZ across major cities. For the uninitiated, the ULEZ (or the Ultra Low Emissions Zone) is a new scheme which aims to help improve air quality in big cities. It's planned to be rolled out in London from April 2019, before being rolled out in other major UK cities. We won't get into the debate about the limited emissions produced by two-wheelers, when compared to their four-wheeled counterparts – or the fact that motorcycles and scooters have proven to be hugely beneficial for reducing congestion; one of the major causes of pollution. Or even that the vast majority of electric in the UK is still produced using fossil fuels. We'll save that for another day.
Essentially, as part of the new ULEZ system – if you're riding an older motorcycle or scooter that fails to meet Euro 3 standards, you're going to end up forking out £12.50 every day – which is really going to add up if you're a regular city-dweller. Admittedly, the vast majority of new motorcycles and scooters are exempt from the charge – for now. But as the need to clamp down on our emissions in cities grows, there are a limited number of options available to us. One of them is electric. And that's why we've been test riding NIU's new learner-legal N1.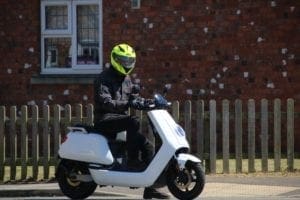 NIU's fairly new to the UK, so you might not have heard of them up to this point. Established in China back in 2014, the brand launched its first generation N-series scooter a year later, and its M-series scooter the year after that to widespread acclaim. Regardless of its recent introduction to the market, NIU reckons it's already the best-selling e-scooter brand in the world – with over one billion kilometres covered and 400,000 units sold by April 1st of this year. Impressive.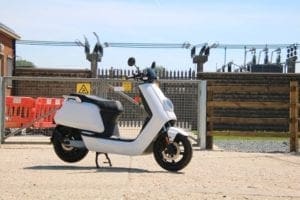 That's not all; NIU has already won several awards around the world for its innovative approach to urban mobility – so it would seem you can be confident that you're going to get a top quality, tried and tested machine (which is a departure from some of the other e-scooters which have appeared over the last few years). In the UK, NIU is being looked after by Sinnis Motorcycles – a Brighton-based brand which has made a name for itself over the last few years, importing an eclectic range of motorcycles and scooters from the Chinese partner factories of Suzuki, Harley-Davidson, Peugeot and Yamaha. That means it knows good quality when it sees it.
My first impression of the little NIU N1 as it rolled out the back of a van and on to the tarmac at MoreBikes HQ was one of pleasant surprise. The compact commuter looks cool – really cool – in a sort of pared back, but futuristic way. And it seems to be well made too. That's as good a start as any in my books.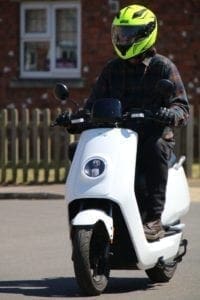 It's also surprisingly well equipped – coming with a handful of thoughtful and useful features and technological touches which help the NIU to really stand out from the crowd. First off, the scooter comes with a really clever smartphone connectivity feature (using a built-in Vodafone sim card) which allows NIU owners to see the location of their scooter and its battery power status when on the move. And even more importantly, considering the swell in motorcycle and scooter related crime in large cities over recent years, it has an anti-theft system which will automatically notify you if your scooter is moved without your permission.
Delving deeper, the scooter also comes with a futuristic and easy to ready in-built display, intuitive controls, a couple of rider modes, a removable battery, a remote locking system, automatic headlights, and even automatic-off indicators.  Essentially, it's about as well equipped as any other scooter on the market – and considering it costs just over of a couple of grand, the amount of technology that's been squeezed into the machine is truly impressive. But never mind all that, the big question is what it's like on the road…
Ok, so I have to confess, I didn't' get to spend a huge amount of time in the saddle on the NIU N1. All in all, I probably covered no more than 50 miles, over the course of a week – in my attempt to get under its skin. It's also worth noting that MoreBikes HQ is tucked away in deepest, darkest, rural Lincolnshire – away from cities and built up urban environments, so arguably our testing ground isn't the most natural environment for the NIU. Regardless, pottering through market towns, sweeping past lines of traffic, squeezing through the tightest of gaps and even meandering down the odd quiet B-road – the little NIU impressed me.
Away from its futuristic technology, the actual riding experience isn't all that sophisticated. That's not me complaining – by definition it's simple and straightforward, but still purposeful and practical on the road. Ok, so its suspension doesn't have a huge amount of give – and on a couple of occasions I did find myself clattering through potholes and over speedbumps, with the shocks doing very little to soak up the impact. But then again, in an urban environment, I'm all that not sure that you'd have the same problem; I think you'd probably struggle to get up to the speeds I was bombing around at. Instead you'd likely be picking your way through traffic with a smile on your face.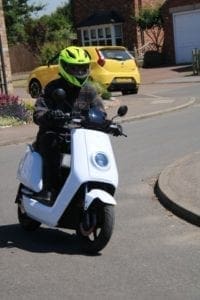 Aside from my fairly minor criticism of the suspension, I found the brakes capable, the engine punchy, and the chassis lightweight and agile. Basically, it does everything you'd expect of it, with ease. It's a genuine pleasure to filter on – and it's quick enough off the line to get the jump on any four-wheeled traffic. If I was living in the city and had the choice between a NIU N1 and a tube pass for the year – I know which one I'd pick. It'd be the NIU every time.
TECHNICAL SPECIFICATIONS
NIU N1 Electric Scooter
Motor: BOSCH 1500w
Battery capacity: 29Ah
Voltage: 60V
Estimated Range: 70km
Max Speed: 45km/h
Cell Type: Lithium-ion Battery
Charging Method: Direct Charge / Battery Charge
Weight: 96kg
Brakes: (F) 220mm dual piston disc brake (R) 180mm dual piston disc brake
Suspension: (F) Oil damping direct action shock (R) Oil damping direct action shock
Price: £2236 + OTR (20% discount from Government Grant)
Contact: www.sinnismotorcycles.com // www.niu.com/en
---
Advert
---
Enjoy everything More Bikes by reading the MoreBikes monthly newspaper.
Click here
to subscribe, or
Read FREE Online
.
Sign-up to the More Bikes Newsletter
Enter your e-mail address below and get regular updates straight to your inbox… You can unsubscribe at any time.