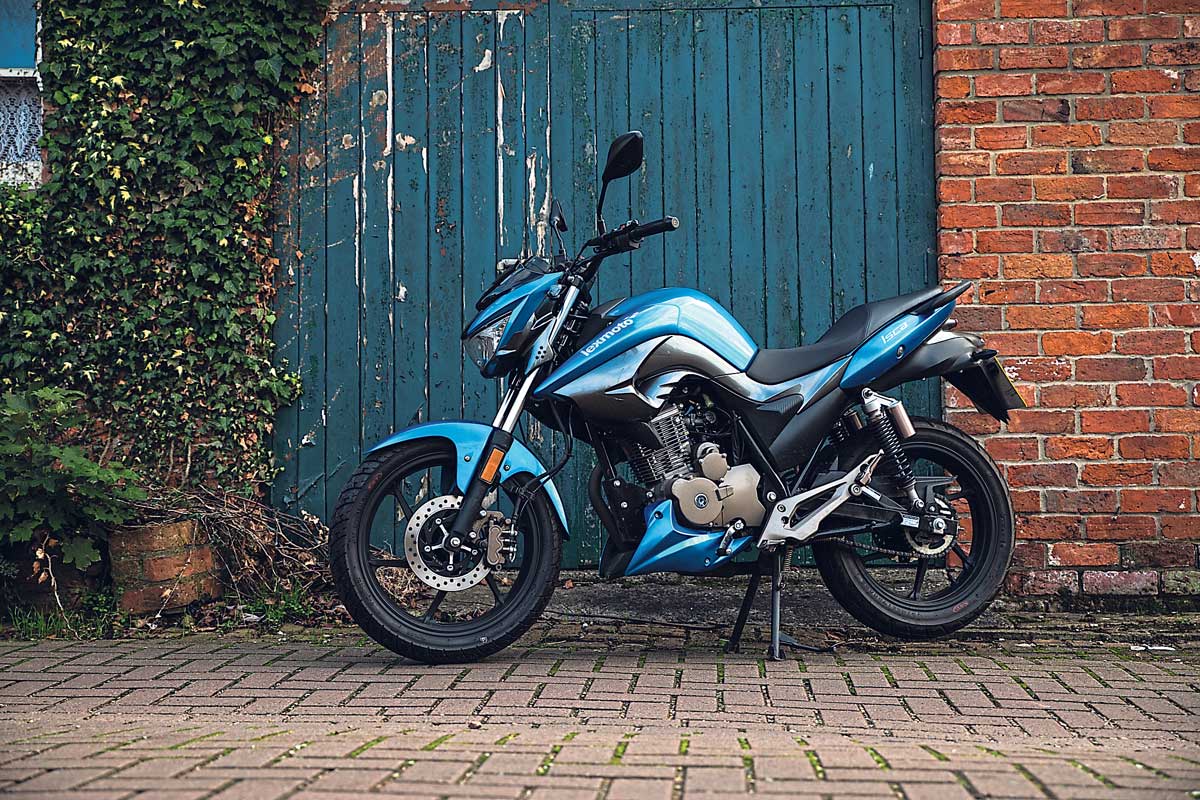 Words: Simon Meyer
Pushing the boundaries of what a 125cc commuter is capable of; we've been riding the Lexmoto Isca 125 hard – taking on twisties, town traffic and a treacherous commute. Here's how we got on.
Early one morning I got a message to tell me that the Lexmoto Isca 125 was here – and as it was wheeled off the van I got my first impression of the little, lightweight commuter. Walking around the bike for the first time and giving it a quick onceover, I immediately noticed its low seat height, large fuel tank and sharp front end. Alright, so it's an Asian import and it sits towards the more budget end of the market – but the build quality looked pretty decent too. So far so good.
Jumping onto the Lexmoto Isca for the first time, I swung my leg over and kicked the bike's rear end. I'd misjudged just how steep an angle the back end has. Oops. I didn't do it again though. Settling into the seat, I found the riding position upright but neutral – with the handlebars, switchgears and footpegs all easy to reach.
My ride home is roughly 22 miles across hills, open roads and tight flowing turns. It's a lovely ride – even in the depths of winter on a little 125. Using the Lexmoto Isca for my daily commute seemed like the perfect test for the plucky little commuter. I'd get to see how it performed in town before really pushing its limits out on the open roads.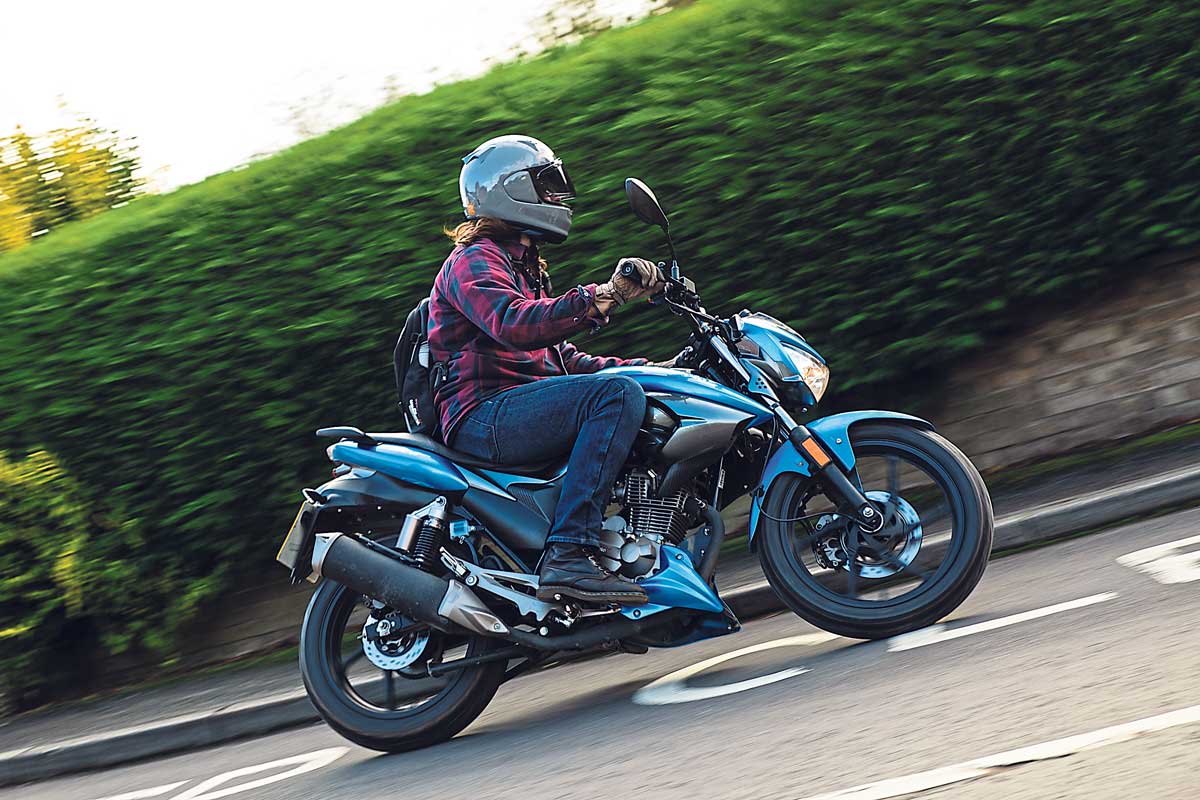 Lexmoto Isca 125: On the road
Leaving HQ and picking my way out of town, the first thing I noticed was just how light and agile the bike is; tight turns and filtering were effortless. It's a doddle to ride.
As I left the Isca's natural habitat in town and got onto the open road, things got a little more challenging. I quickly realised that I was going to need to work the engine really hard to make solid progress and not hold up the traffic. Keep the throttle wide open and hold your speed through corners and you'll be fine – but if you let the rpm's drop down to far, and you'll be slamming your way down the gearbox to start building speed once again. It might sound like hard work, but even for a seasoned biker like me, it was a surprisingly rewarding experience.
I was told that the Isca's capable of getting up to a top speed of 60mph, and yes, I did see it on the speedo a few times – but I'm not a small chap, so generally I found myself barrelling along at around 55mph with the throttle pinned. Not bad as far as I'm concerned. Of course, steep hills forced the bike to work even harder, dropping my speed down to about 45mph – but coming down the other side, I managed to hit the eye watering speed of 68mph.
You may also be interested in:
We first rode this in the winter months and most of my riding's been done in the dark – so a decent headlight was essential. And the Lexmoto Isca's is alright. It's got a traditional bulb in the middle which is joined on each side by an LED – and the setup is more than up to the job. Not amazing, but good enough considering the bikes size and price.
As I said, I'm not particularly small – and my one major niggle the Lexmoto Isca was its seat. It's steeply angled and I often found myself pressed against the tank. I won't go into any more detail – but as you can imagine, it wasn't a particularly pleasant experience. Now, I recognise that the Isca's not really been designed for a bloke in his 30's and is undoubtedly much better suited to a 17 year old – so I can't really come down too hard on the compact commuter, but I thought it was worth a mention.
I did also have a couple of issues getting it started in the morning. I'm not sure if it was as a result of the near freezing temperatures or an issue with fuelling – but I quickly worked out I could resolve the issue by keeping the revs up for the first few miles.
A real selling point for the Lexmoto Isca is its gigantic 16 litre fuel tank. For a 125cc commuter, it's a serious plus that helps to offer the bike an impressive range. As I have said previously. I have a 20-mile one-way trip and I happily rode for four days before needing to get refuelled. The fuel cap is not on a hinge and completely comes away from the bike.
The Lexmoto Isca comes with a combined front and rear brake, which is operated using the right hand foot pedal. I'll be honest, before riding the Isca I'd never even heard of such a thing – and at first, I hated it. It was so strange to flick my foot on to the brake and feel the front shocks dip. But it didn't take too many miles for me to get used to it. Yes, it was a strange sensation, but I quickly saw the benefits. It is designed to distribute the braking over both wheels equally and to help reduce breaking distances and stop skidding. You can't argue with that.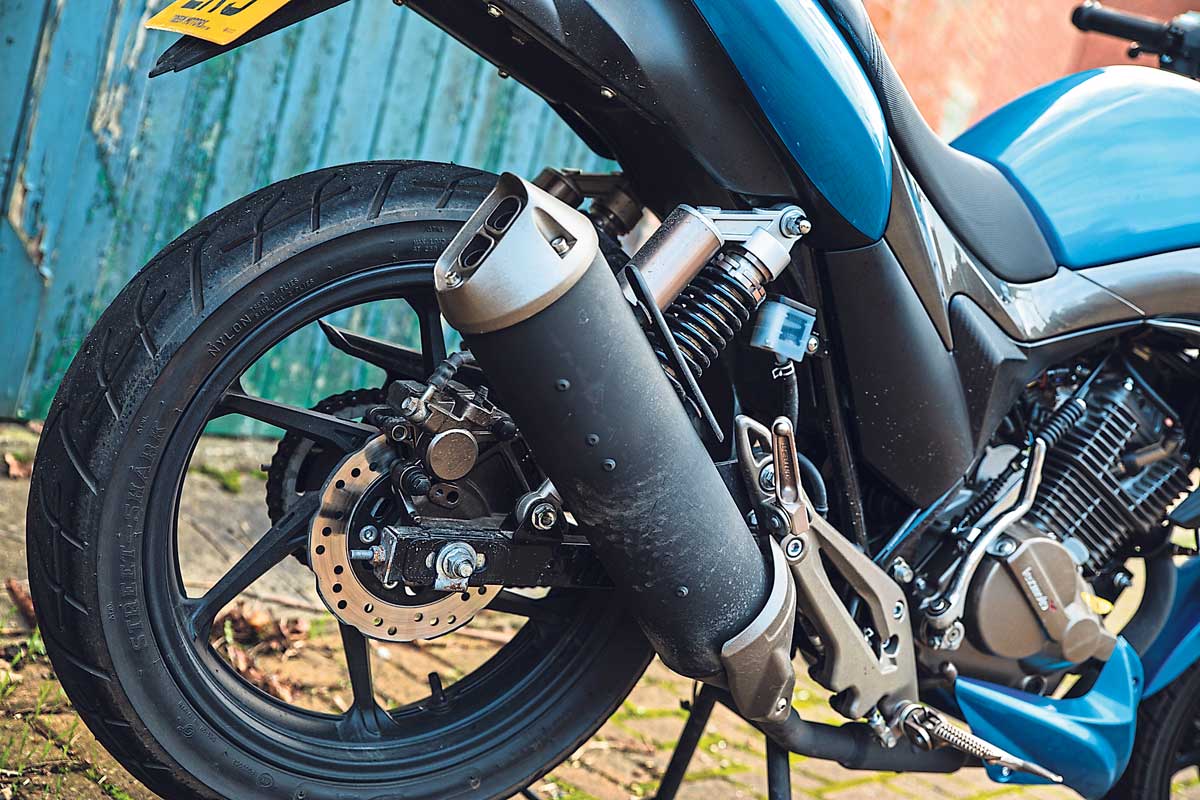 Should I buy one?
There's a lot to love about the Lexmoto Isca. Of course, there are good points and bad points – like any other bike. But considering its price, it's quite difficult to find anything all that serious to criticise.
Starting with the positives, the fuel tank's a personal highlight. Ok, so it might seem a little strange to get excited about a 16 litre tank, but I really was taken back by the amount of miles you can cover with a single visit to the petrol station. Those of you commuting around town will love the time you get between fill ups and if you've got a longer commute like me, you'll be very pleased with the amount of miles you get to a gallon.
Ok, so the riding position wasn't really right for me – but regardless, it helped to put me in an upright position which meant I had a good view of the road ahead, and could peer over the top of the traffic in town.
In short, the Lexmoto Isca is a cracking bit of kit. Light and agile with enough in the tank to tackle a 20 mile commute. For just shy of £1,500 you get a lot of bike for your money – and you'll also get a respectable two years parts and labour guarantee to give you that extra piece of mind should any problem arise.
If you're in the market for a cut price commuter, it's well worth a look.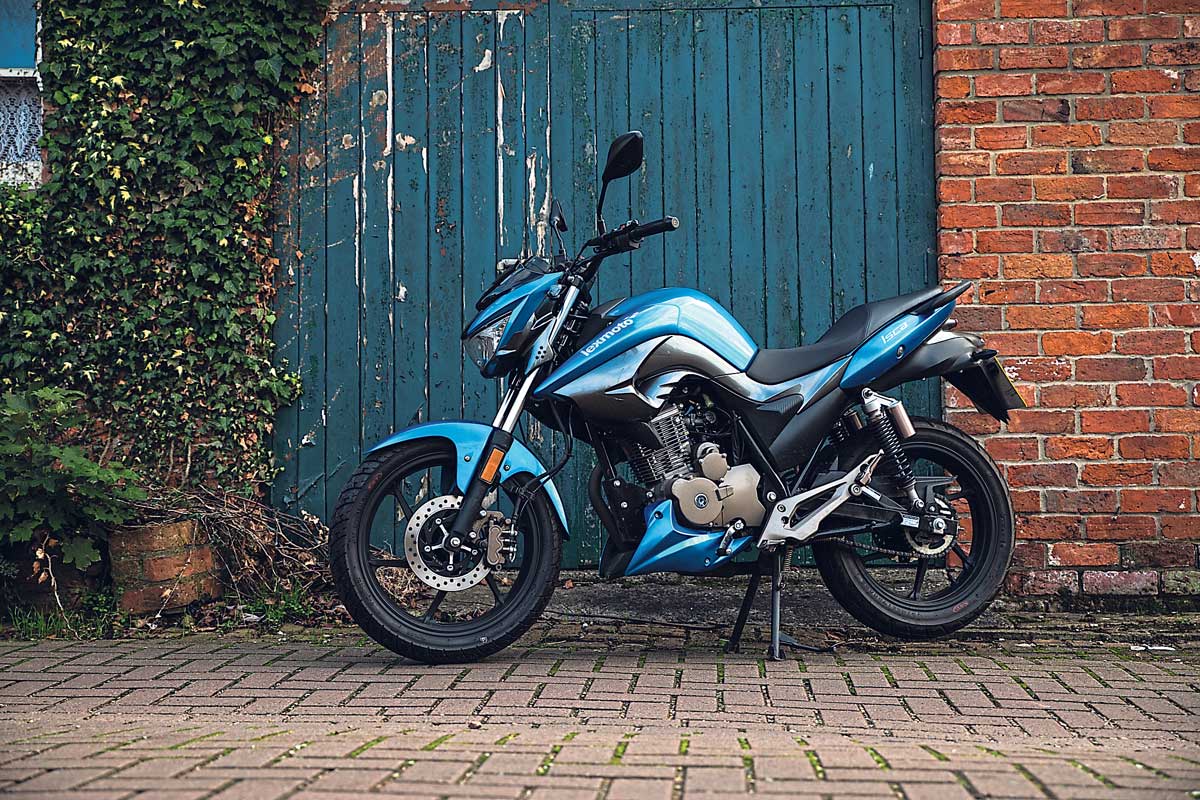 Lexmoto Isca 125 spec
Engine: 124cc air-cooled single cylinder four stroke
Power: 10.7bhp (8kW) @ 9000rpm
Torque: 6.6lb-fit (9Nm) @ 7500rpm
Top speed: 62mpg (100kph – claimed)
Gearbox: 5-speed
Starter: Electric/Kick start
Brakes: (F) Hydraulic disc (R) Hydraulic disc
Tyres: (F) 90/90-17 tubeless CST's (R) 130/70-17 tubeless CST's
Suspension: (F) Telescopic forks (R) Twin shocks
Seat Height: 780mm
Weight: 130kg
Fuel capacity: 16 Litres
Price: £1,499.99
Contact: www.lexmoto.co.uk
For more bike reviews from MoreBikes, click HERE.
Latest posts by Sam Hewitt
(see all)
Does this get you revved up? Tell us why...
---
---
Subscribe to MoreBikes Newspaper
Get MoreBikes delivered through your letterbox every month. 12 issues for £15. Click here for more information.
---
Get MoreBikes.co.uk Updates
Enter your e-mail address below and you will receive biking news straight into your inbox...



You can unsubscribe at any time.
---