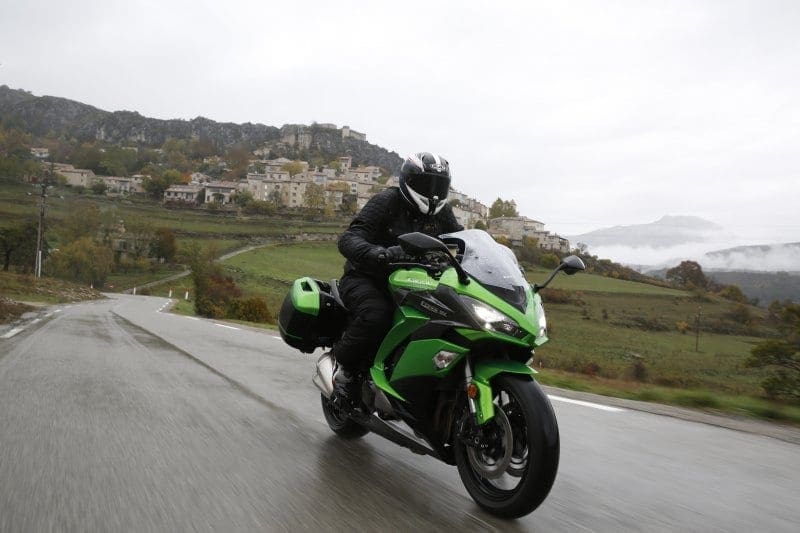 The same, but different
Looks familiar? It should do. This 2017 version of Kawasaki's hugely successful Z1000SX mirrors its predecessor in more ways than there's space to write about, with key crossovers including the last model's frame, engine, wheels and much more. So what's new? Well, quite a bit was the message during the model's presentation in the south of France.
Clever tech
Right at the top of the list was the addition of a Bosch Inertia Measurement Unit (IMU), which we were told took feeds from six degrees of input to master the bike's three-stage traction control system. Then there was the new Cornering ABS technology, along with a taller screen, wider fairings (28mm each side), a sportier and more aerodynamic nose cowl and the introduction of LED headlights. Add to that bundle new clock features (such as gear selection), comfier seating for the rider and pillion, and tweaks to the suspension and you'll get a fuller picture of how different the new bike actually is. Oh, and it's also now Euro 4 compliant, with the best news being some clever white-coated folk managed to mirror the previous SX's 140bhp output despite having to strangle the exhaust flow to meet tighter emissions. The bad news is in doing so, along with the other features that got bolted-on, the new Kwacker weighs in 5kg heavier than before; now 235kg.
Multitalented
On an outright sports bike, that kind of weight gain would be virtually intolerable, but this bike's much more than a race replica because it has a far more rounded make-up. Kawasaki claims to have established the sports-tourer section when it launched the original SX back in 2010, with versatility being the key focus to the morphing model. And it's that balanced persona of capable sports bike and consummate tourer which has continued to steer the path of the machine which is now in its third incarnation. For every talkative touring credential, there's a sporty element to counter it, which is what makes this bike so endearing. For all the Ninja styling influence, the SX packs the comfort of a GTR or Versys, with a salient reference being its tall and wide handlebars. Combine them with the bike's 5mm lowered seat height (now 815mm) and the relaxed positioned pegs and you've got a motorcycle that forces you to sit comfortably upright.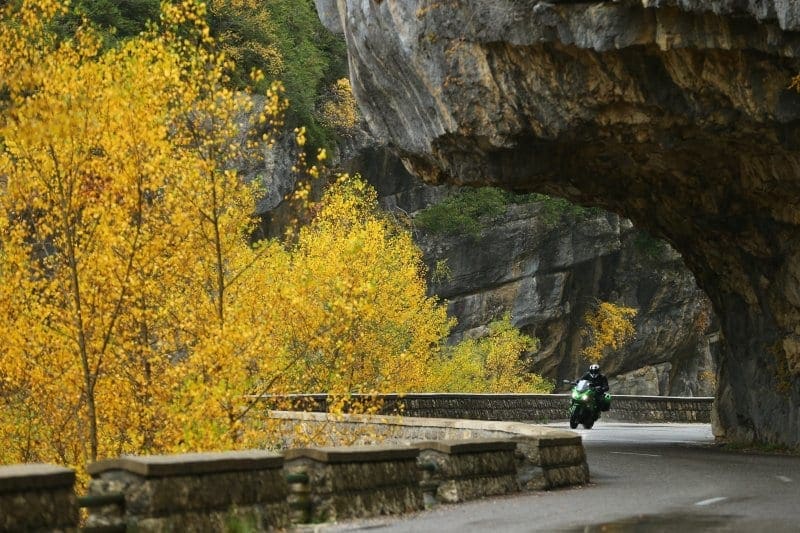 Relaxed ride
I noticed that within a matter of miles on our first day's ride across the stunningly winding Route Napoleon, which took us high up into the mountains above Nice. The old bike carried this same relaxed riding position, but it was let down by its narrower and thinner rider's seat. It was only after the launch I learned from the SX's development rider the extent Kawasaki had to go to make the saddle 25mm thicker without rising the bike's seat height (it basically required a whole new rear shock linkage which allowed the bike to sit lower at the rear). It was unimaginable how many man hours must have gone into that process, which also meant changes to the front and rear suspension units to retain the old weight distribution values and maintain the same wheelbase, but I was pleased the added comfort was present. Our day's ride was 260km long and would take over nine hours to complete. But first we had to get through a load of nadgery town roads and fight our way through traffic.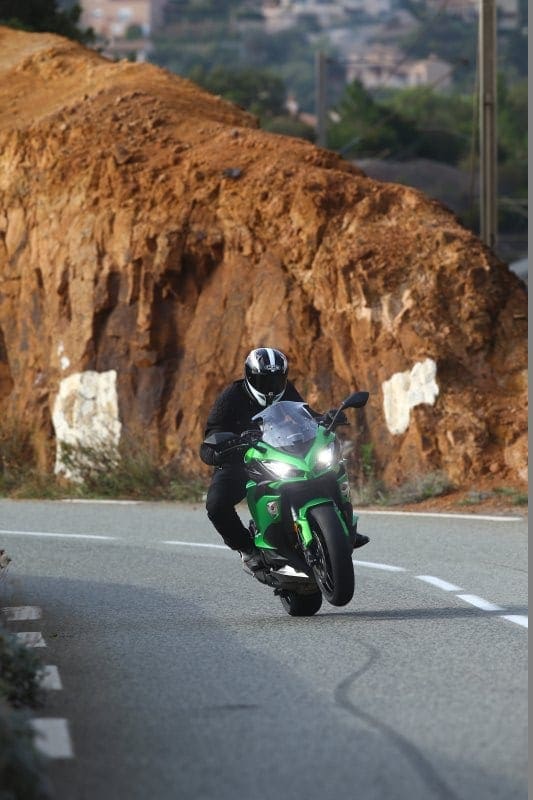 Plenty of power
This kind of riding didn't prove too problematic for the Kawasaki, which showed it would steer quickly and effortlessly, despite the geometry changes to the model. You only had to think where you wanted the front wheel to go and it would drop instantly, often requiring support from the inside arm to stop the bars from flopping into a bend too enthusiastically. That took a little bit of getting used to, along with the late pick-up point of the bike's clutch purchase – which not even the newly fitted five position spanning lever could make any more user friendly. What was far easier going was the model's torquey motor, which proved to be as good as ever; pulling strongly and silkily from just a few thousand revs. Too many times I found myself habitually changing down the bike's gearbox, when in truth there was no need; it would just pull away in any gear from some really slow speeds. And that attractive trait continued as we made it out onto the faster roads where the motor could really be opened up and explored. Along with the performance came an audible euphoria, as the combination of induction and exhaust note really started to boom after 6000rpm. More clean the bike's exhaust might be, but it certainly hasn't been robbed of any of its allure. The sound was so good it obliged you to stay a gear lower and scream the four-cylinder motor up to its higher limits for selfish gratification. One of the many accessories available for the model is a four-in-to-one Akrapvoic system, which should by rights sound heavenly if the standard system's credible performance is anything to go by.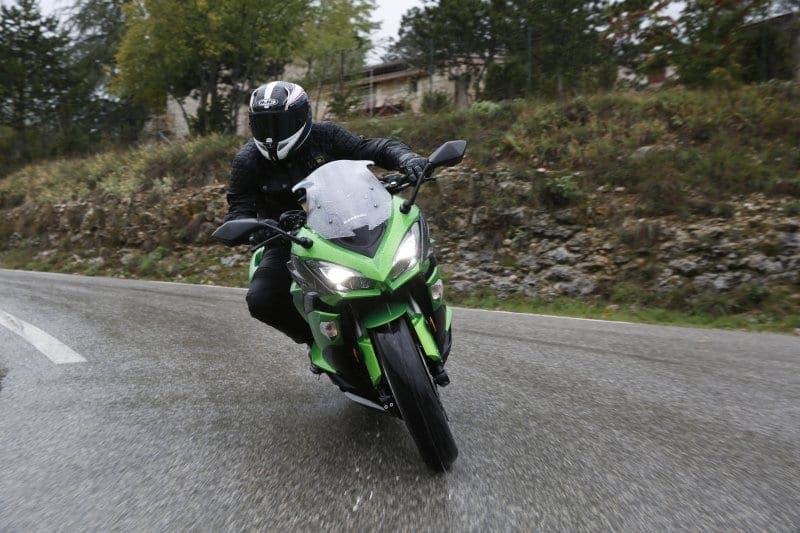 Wet, wet, wet
Our test route was taking in some amazing roads, but a relentless downpour robbed us of the chance to really get to grips with the Kwacker's handling. If anything, it brought out the worst side of the machine, which could feel a little vulnerable at the front end as we ticked off the slower hairpins on our route. At speed the bike was super stable, line perfect and a real pleasure to throw around, but it became horrid as the weight transfer moved to the front of the machine – despite the bike's suspension damping having being shimmed for a stiffer and more supported feel. Quite a few times I lost the front on the slick-surfaced roads, ending up at one stage doing a bit of ballet with my right leg as I tried subconsciously to recover a big front end slide. It was an ironic situation when one thought about the improvements made to the bike's hi-tech rider aids, which assured everything but front end cornering grip. It didn't matter that the traction control was working seamlessly and silkily, or that the cornering ABS meant you really could trail a brake deep into corners without risking a crash. What we needed was assured tyre grip, and that wasn't to be found from the dated Bridgestone S20s which came fitted to the model as standard. Everyone had the same complaint, with many experiencing a few sketchy moments.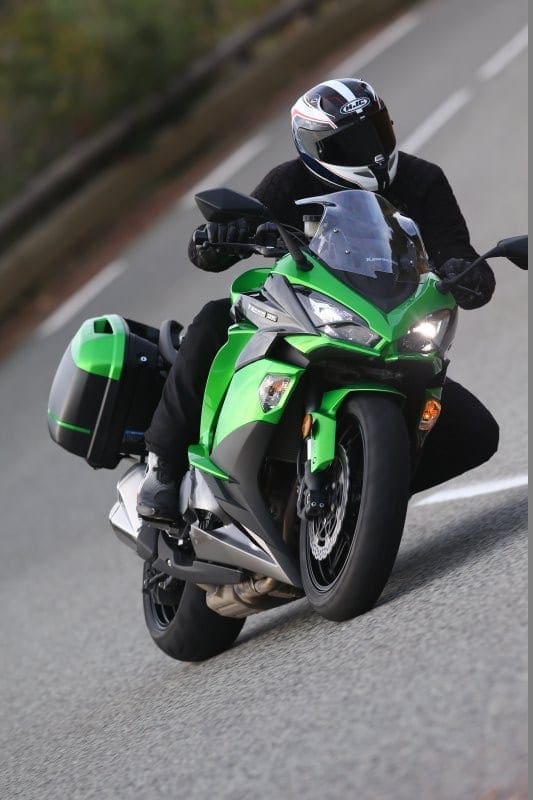 Going the distance
As our route went on, we eventually found ourselves in a position to try out the bike's new aerodynamics. Because this bike was designed to offer more than just cornering pleasure, Kawasaki had been insistent that we took on-board a fair stint of very high speed motorway travel. It was our chance to see first-hand how much improved the protective qualities of the fairings were, which we were told equated to around a 35% improvement at high speeds. With the easy-to-adjust screen positioned in the highest of its three locations, the wind and rain was largely sheltered from my legs and torso, with my neck and upwards being exposed if I didn't crouch down behind the sizeable double-bubble windshield. The high speed ride felt comfortable over a forty minute stretch, leaving me fresh to tackle the quiet back lanes which completed our route back to our hotel. As wet as I was from the relentless rain, I felt fresh on my return and would have easily coped with another few hours in the saddle. The SX had proven true to form and made the long day both enjoyable and bearable. The only real hang-ups to the bike were its lack of cruise control and heated grips; from a touring perspective, they would have made the ride so much more pleasurable. And from a sporting perspective, some grippier rubber would have been much appreciated.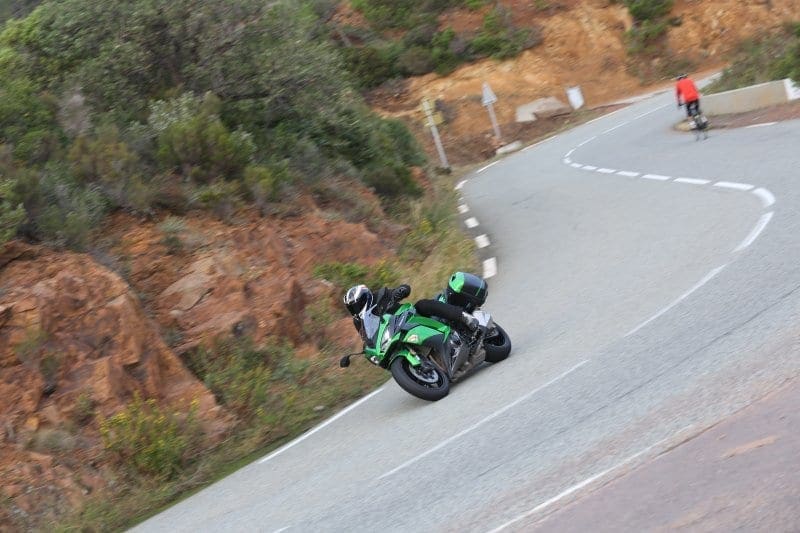 Sporty by nature
As it happened, that following morning we had chance to ride for a few hours extra on dry roads. This was the chance we'd all been waiting for. The previous day had proved the bike could go the distance, but could it deliver on the sporting nature it suggested to have? To surmise two hours of enthusiastic riding, the answer was yes. That motor came up trumps once again, being a real pleasure to unleash in the 'Full' power mode, rather than the 'Low' power option I'd largely stuck with in the wet the day before. Likewise, I had chance to see how well the bike coped with both the most minimal traction control applied in level one, and also with the system switched off all together. And then there was the cornering ABS, which really allowed for some hard braking at lean without making the bike stand up or cause a lock-up. The previous day had highlighted how talkative the bike's frame was, and that only became more evident as the SX got put through its paces on the twisty coastal route we were riding. There was also chance to take in the bike's braking performance, which proved decent enough. And then there was the new slipper clutch to digest, which did a great job of absorbing however many unnecessary revs you through at the gearbox when changing down too many gears from too high a speed. The SX is no race bike, but it showed it could cut it when being thrashed sportily to the extent that I wouldn't think twice about taking it on a trackday.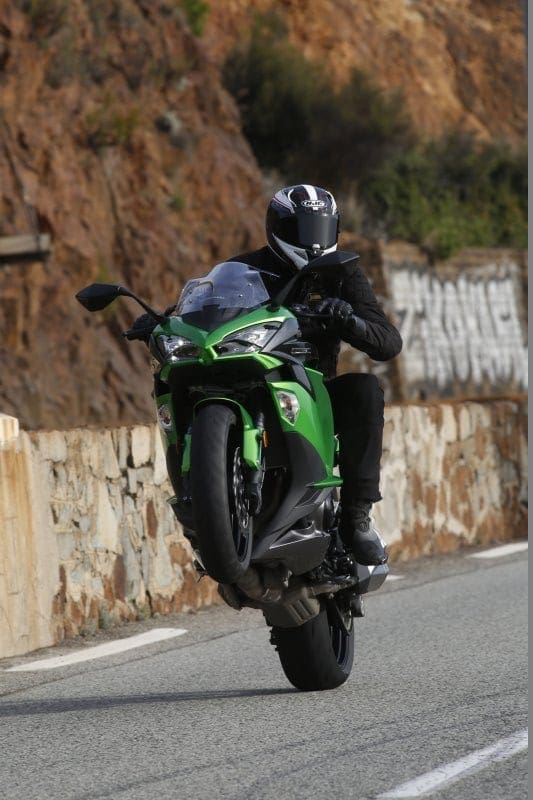 Competitively priced
Parking the bike up for the final time, I felt confident by the end of the launch I'd got to know this bike pretty well. It wasn't perfect, but it was generally very good in many different areas, which was the principal of this machine; to have the ability to deliver across a broad spectrum to a reasonable standard. Was it an improvement on last year's version? Definitely. And perhaps the best news is it's not likely to cost bucket loads more than the outgoing model, with the base model costing around £10,000 when it arrives in showrooms in January. There'll also be a 'Tourer' spec SX available, which will come with a smoked screen, a tankpad and panniers; the higher spec model should set you back around £600 more. That's not bad value for money when you consider the spec, the versatility and general appeal of the package. You'd have to look long and hard to find a rival which could deliver so much for so little.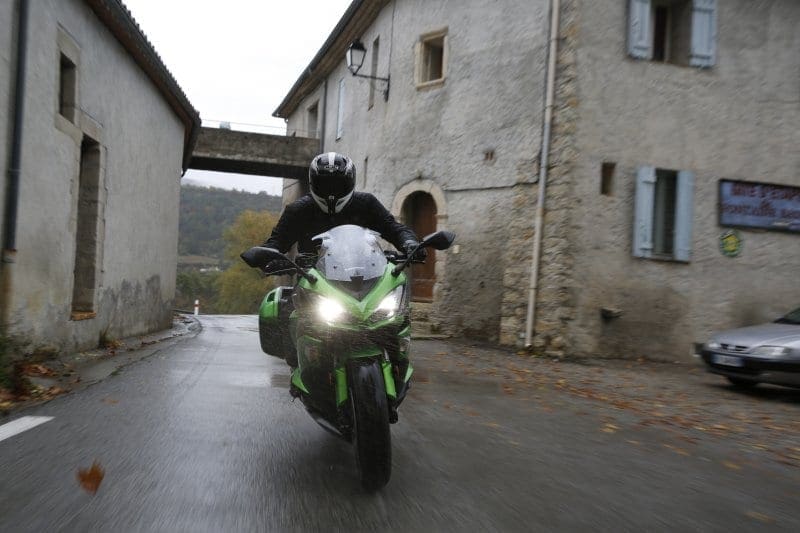 Spec
Kawasaki Z1000SX
Engine:                        1043cc, liquid-cooled, in-line-four
Peak power:                140bhp (104.5kW) @ 10,000rpm
Peak torque:               82ft-lbs (111Nm) @ 7300rpm
Transmission:            6-speed gearbox
Frame:                         Aluminium twin-tube
Wheelbase:                 1440mm
Weight:                       235kg
Seat height:                815mm
Fuel capacity:            19 litres
Price:                           TBC
Contact:                      www.kawasaki.co.uk
Words: Bruce Wilson
Photography: James Wright/ Double Red
---
Advert
---
Enjoy everything More Bikes by reading the MoreBikes monthly newspaper.
Click here
to subscribe, or
Read FREE Online
.
Sign-up to the More Bikes Newsletter
Enter your e-mail address below and get regular updates straight to your inbox… You can unsubscribe at any time.