£7199 | 37bhp@7,250rpm | 28lb-ft@5,500rpm | 399cc Liquid-cooled four-stroke, CVT automatic
Article continues below…
Advert
---
Enjoy everything More Bikes by reading the monthly newspaper, Read FREE Online.
---
If ever there was a machine striving to make motorcycling convenient, it's the Peugeot Metropolis. As an every-day form of transport, the large boot, the keyless ignition, the automatic headlights that stay on after parking to see you home, the tyre pressure sensors, the 12V power socket and the comfortable seat make this a brilliant tool for the daily ride.
Tell me about the engine
The 399cc lump spins smoothly through its Continuously Variable Transmission – 90mph is easy to reach, making for a deceptively fast scooter. There's enough power to easily overtake cars, but you do of course need to plan a little more than on a similar capacity motorcycle.
I rode the Peugeot fairly hard in the 250 miles I had it, but still saw a good 62 mpg. making for a great-value form of transport. Being classed as a tricycle, you'll be paying £80 in road tax (the same as a bike over 600cc), but like a bike, you'll save on congestion charging and parking.
What's the chassis like?
The extra wheel makes for a confidence-inspiring ride, particularly on wet, greasy or dusty roads. Ideal for new riders, it's not impossible to crash, but the front can't tuck like a traditional two-wheeler. There's no ABS, but you have to try hard to lock the wheels up, and even then, I've only managed a very controlled squeal from the back, so there's no need for the extra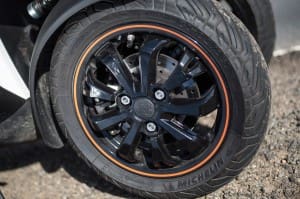 weight the system would bring to a scooter that's more portly than most motorcycles.
The brakes are linked, with Peugeot intending you to be able to stop with just the left lever. The right lever operates the front brakes, while the left grabs the rear and the front. This system takes some getting used to – pull one lever, and you can feel the pressure build in the other, making for rather a 'wooden' feel. As a motorcyclist, I'd prefer to have had a separate back brake, to drag when I felt the need, but the system should suit many users. A foot-brake is also fitted on the right of the floor board, but I never used this, and found it just got in the way of a comfortable foot position.
Should I buy one?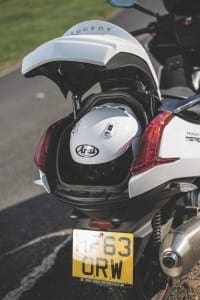 If you passed your driving test before Jaunary 19th 2013, you can ride the Metropolis on a car licence. Combined with the stability of the extra wheel, it makes for a bike well suited to new riders, or car owners looking for a faster way through the commuter traffic.
It's easy to get your feet down, but the weight isn't hidden if you need to back the Metropolis up – being unable to 'bounce' the front forks to get the bike rolling backwards can make it awkward to correct a wrong turn, and trying to turn it around in my back garden was akin to Austin Powers, stuck in the narrow corridor of Dr Evil's lair.
The boot is large enough to take a full-face lid, and the seat lifts to take books or a medium-sized bag. You'd get more room in some traditional maxi-scooters, but it's more practical than Piaggio's three-wheel competitor – the MP3.
So what's it like to ride?
Whether filtering through busy traffic, zipping down the motorway, or enjoying some sweeping back-roads, the Metropolis is nimble and secure. Pot holes offer the only real problem, as the small wheels give a very 'crashy' ride that can get uncomfortable on the worst routes. This is the case on all scooters, but it's made worse with a three-wheeler, which has a better chance of finding those ruts.
Pulling up to a standstill, the front wheels can be locked into place just before you stop, so (with practice), you don't ever have to put your feet down. They automatically free-up again as you pull away, and there's a handbrake button on the bars for parking on slopes. The screen is adjustable, but at higher speeds I found it best in the low position (I'm 5'10"), where noise was reduced.
For riders wanting an economical, convenient, versatile and confidence-inspiring ride, the Metropolis is well worth a look.
Tested by John Milbank. Photos by Joe Dick
Tech Spec
Price: £7199
Engine: 399cc Liquid-cooled four-stroke, CVT automatic
Power: 37bhp (28kW)@7,250rpm
Torque: 28lb-ft (38Nm)@5,500rpm
Kerb weight: 265kg
Seat height: 780mm
Tank size: 13litres
---
Advert
---
Enjoy everything More Bikes by reading the MoreBikes monthly newspaper.
Click here
to subscribe, or
Read FREE Online
.
Sign-up to the More Bikes Newsletter
Enter your e-mail address below and get regular updates straight to your inbox… You can unsubscribe at any time.