Oli Hulme tries out this 'forgotten' 750…
It is curious how some things lodge in the memory. Back in the late 1970s, as I was failing to pay attention in sixth form, I lived next door to a chap who worked for East Midlands Allied Press in Peterborough, more commonly known as EMAP. I had a moped, and he would generously bring home surplus copies of their motorcycle magazines and hand them over. There would be the stodgy and staid Motorcycle Mechanics, offering such delights as showing you how to fit a new cam chain to your CD175. And there was the then-iconoclastic Bike, the attitude of which was much more to my taste.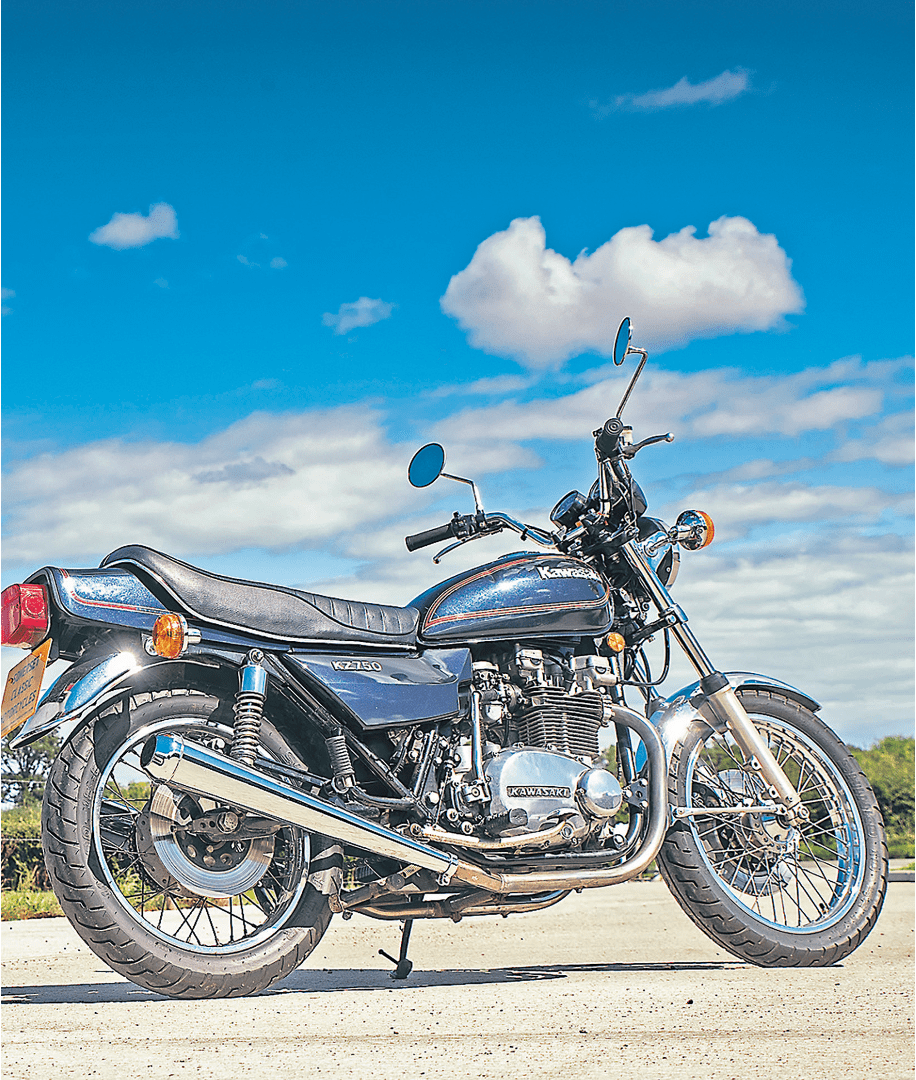 In February 1979, they printed one of their supertests, marking the launch of the new Honda CB750Z and pitting it against Yamaha's XS750, Suzuki's GS750 and Kawasaki's Z750 twin. I cannot remember what Bike said about the Honda, Suzuki or Yamaha, but the Z750 test's conclusions have stuck with me. Bike hated it. Compared to the triples and fours it was slow, they said. It was heavy, over-complicated for a parallel twin and didn't handle. The big problem, according to Bike, was the then-new American emissions regulations. They had strangled the Z750. The rerouting of exhaust gasses and the two inadequate carburettors had ruined the DOHC twin. It was, they noted, 'a motorcycle all bunged up with snot'. It was this phrase that stuck with me. Ever since then I've been firmly convinced that the Z750 twin was an absolute dog. Why would Bike magazine lie to me?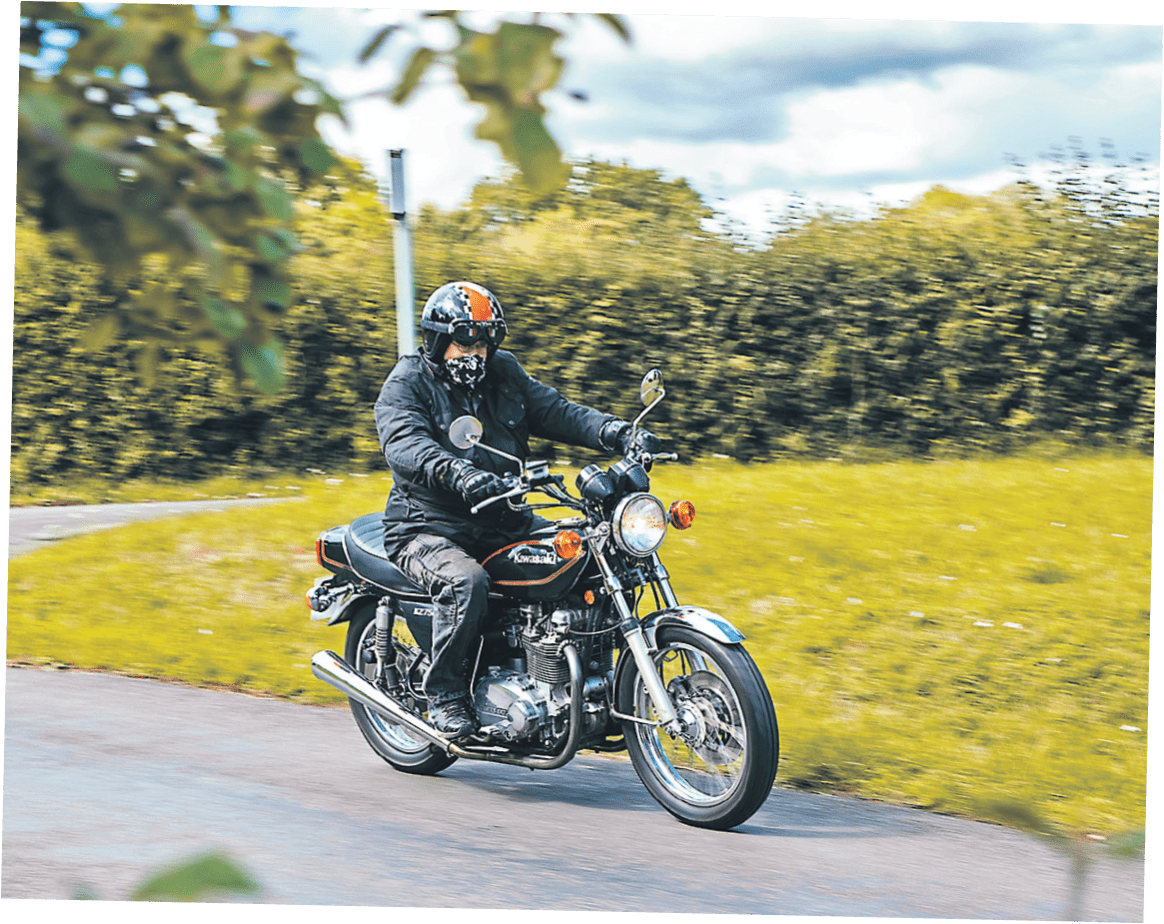 The Z750 did sit a little uncomfortably in Kawasaki's range. Their last 750 had been the utterly terrifying twostroke triple, and the twin was surrounded by the teenage hooligans' four of choice, the Z650, and the legendary, if by then a little long in the tooth, Z1000. It was also, often, brown, which is never a good colour for a motorcycle. The mystery is, why did Kawasaki build a bike like this in the first place? The answer could be a kind of corporate nostalgia. Kawasaki's first bike four-stroke had been the W1 650 parallel twin, a licence-built copy of the BSA A10. The Z750 filled that hole. So I wasn't expecting much when I turned up at Somerset Classic Motorcycles to try out their Z750.
It was badged as a KZ750, Kawasaki adding the K to the front of their bikes in the USA. This import was straight off the boat. It had been given a service including oil, oil filter and plugs. They cleaned the points, put in new clutch plates and springs and fitted a new chain and sprockets. At first glance it looks in pretty good nick, apart from a dent in the tank. It's also not brown, but a far classier shade of dark blue, which is a bonus. It's covered 17,000 miles from new and this light use shows. The original hefty and unwieldy exhaust system, which would have had ugly and heavily seamed silencers and a collector pipe, had been replaced with two custom-made stainless steel downpipes and a couple of decibel type megaphones.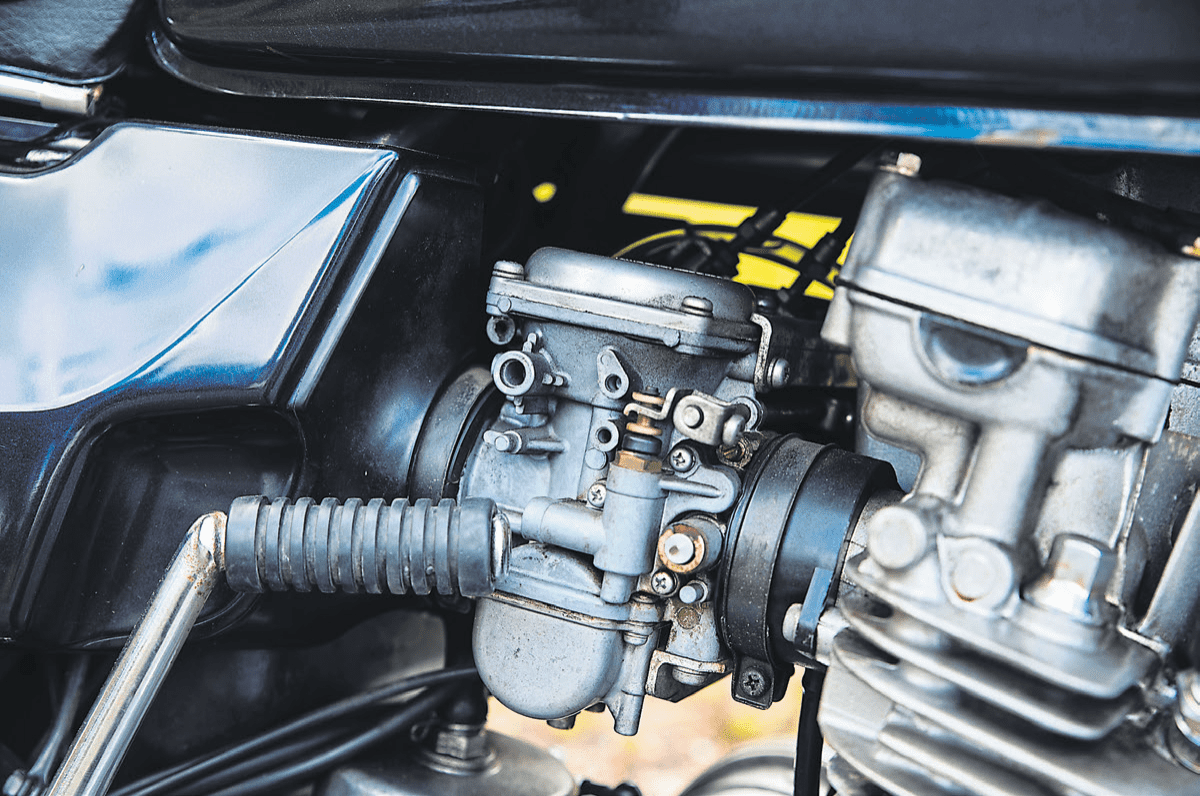 The big twin is just that. The powerplant is around a third larger than that of a T140 Bonneville, and a lot chunkier than Yamaha's XS650. This is because there's a heck of a lot going on in there. There are a couple of chain-driven balancer shafts to smooth out the vibes driven off the centre of the 360-degree crankshaft. The chain also drives the oil pump.
There's a very large electric start, spinning the engine using another chain, and two camshafts, driven by a long, single row, chain. Valve adjustment was through shim and bucket, as on their fours. You might think that with all this stuff hurtling around inside, the Z750 might produce a lot of mechanical noise – but it doesn't. The carburettors are Mikuni BS38 CV items, nearly identical to those fitted to the XS650, which were fine when new but can be troublesome 40 years on. But aren't we all? It was claimed to produce 55bhp, something that was disputed in the press.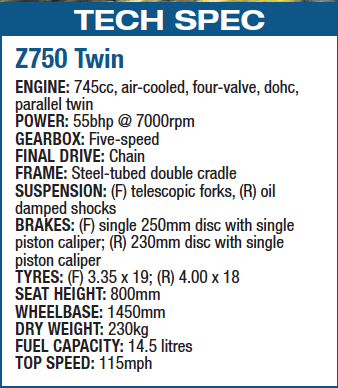 Cycle World suggested that 40bhp was closer to the mark. Yet another chain, a Morse Hy-vo, took the power to the drive train. The big twin fired up on the button and quickly settled down with a throaty burble to a healthy tickover and, after a few minutes to warm up, which seemed like a kind thing to do, first gear was engaged. And there was a massive surprise. I'm used to a Triumph running on Amal concentrics, and the worn-out Mikuni BS38s on my Yamaha have recently been replaced by slide carbs, and both have a pretty quick takeoff.
I was expecting that traditional momentary delay as the CV carbs pumped enough fuel to get things rolling. Now, either it was the twin cams, or that the carbs were still in tip-top nick, but the big Z shot off faster than either of its rival twins. It was something of a revelation. Where was the promised snot? A quite delicious exhaust note bounced off the hedgerows. It appeared I'd been lied to all those years ago and the Z750 was a very willing mount. Still, the single disc was bound to be rubbish at pulling all the Zed's 559lb up, right? That disc, a big, stainless item along with the caliper, was fitted on pretty much all of Kawasaki's 500cc-plus bikes from 1971 to the end of the decade, and had a poor reputation. Yet while it might have struggled with hauling a Z1000 up, or been a bit harsh for a 500 triple, on the 750 it was just about right.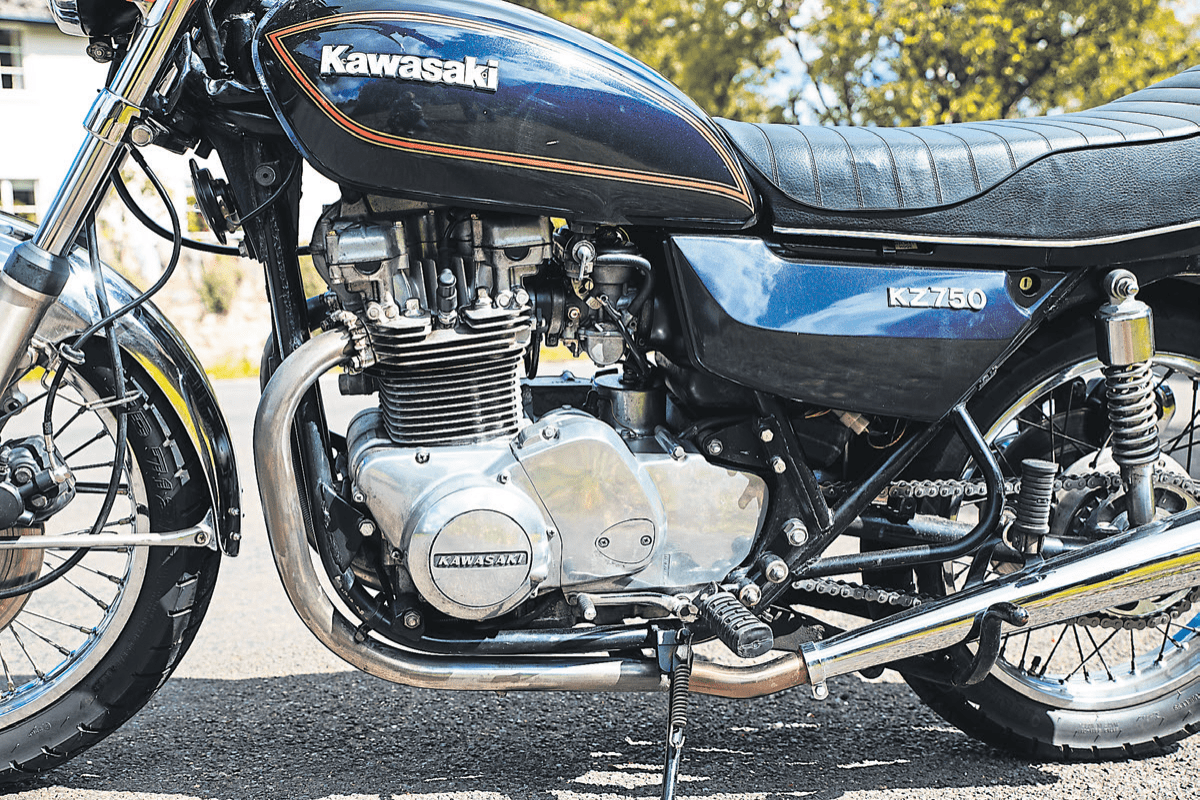 Handling? I can't claim to have tried to scrape any pegs, and the US market high bars (those on UK-market bikes were lower) didn't encourage any serious bend swinging, but the 750 went where it was pointed, and swept round corners with aplomb. The equipment was excellent and the quality of the engineering was outstanding. It was torquey, more than powerful enough and the power delivery was all kinds of good things. The balancer shafts turned any great thumping vibes into nothing more than a low buzz. Reports from 1970 suggest that if you try to push the 750 hard, this buzz becomes more marked, even up to the point that at 100mph the experience was close to unbearable.
On modern, increasingly crowded roads bestrewn with distracted motorists swathed in air-conditioned comfort and distracted by sat-nav systems, and with ever-present speed cameras and deteriorating surfaces, achieving 100mph seems a moot point, and attempting such heroics on a skinny-tyred Z750 seems tantamount to abuse and might be life-endangering. Now largely forgotten by most, this Z750 turned out to be an example of an excellent and well-built motorcycle and well worth considering. Increasing numbers of longdormant Z750s are emerging from the shadows. This rather charming machine was on sale for £3,495 and for that money, it was a bargain.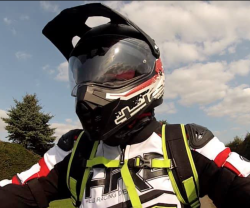 Latest posts by Mark Lancaster
(see all)
Does this get you revved up? Tell us why...
---
---
Subscribe to MoreBikes Newspaper
Get MoreBikes delivered through your letterbox every month. 12 issues for £15. Click here for more information.
---
Get MoreBikes.co.uk Updates
Enter your e-mail address below and you will receive biking news straight into your inbox...



You can unsubscribe at any time.
---