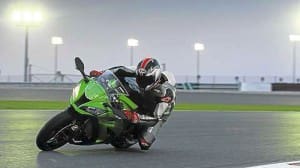 You have to start to wonder where things are going when next year's Kawasaki superbike is looking more like a 200 horsepower computer.
They have gone all out to produce a bike bursting with technology they hope can not only take the fight to their rivals convincingly but also allow normal riders the thrill of being able to safely explore more of what a litre sportbike has to offer.
Article continues below…
Advert
---
Enjoy everything More Bikes by reading the monthly newspaper, Read FREE Online.
---
But where's the ridingskill, the control, the satisfaction when the electronics will let you crack the throttle wide open in the middle of a turn and automatically stop you from being launched so high they'd need the Hubble telescope to find you? Let's find out…
What's new engine-wise?
The conventional stuff on the 2011 ZX-10R Ninja is highly advanced as it is. The all-new engine makes a huge 197bhp at a howling 13,000rpm, and while the basic transverse four-cylinder layout is familiar enough, there are several innovations. The cylinders for example are désaxé, which means they're offset relative to the crankshaft, with their centre lines shifted back by 2mm. This reduces the angle between the piston and con rodduring the power stroke, which in turn cuts down the side thrust against the cylinder wall and the amount of friction. That leavesmore power to escape to the rear wheel, and means lighter pistons canbeused too.
Compared with the 2010 motor the inlet valves are larger too, and all the valves get more lift, while the engine's extra demand for air is helped by the use of a larger airbox with a smoother, arched shape to help the flow.
The fuelling itself is improved by the Use of two injectors per cylinder, one to deal with smaller throttle openings and lower revs – this is set at an angle into the inlet downstream from the throttle butterflies, in the usual way–while the other is sited up in the airbox where it points straight down the throat of the inlet, blasting in extra fuel when the motor is really churning out the horses. This set up leads to a more even fuel mixture that improves efficiency.
The waste gases are given an easier time escaping too, thanks to very large bore titanium header pipes which are little different from the race version's – there'll be little point in fitting an aftermarket full system – just an end can (and losing the catalyst prechamber) will give you pretty much the same result.
Perhaps surprisingly the crankshaft has been raised in the Ninja, the idea being to bring this closer to the bike's centre of gravity – mass centralisation helps abike's agility in the same way an ice skater draws in his arms in order to spin faster – and to compensate the fuel tank is lower. Overall the C of G is 4mm lower than before on average, depending on fuel load. Then because of the higher crank, the gearbox has been flipped so the input shaft nowsits above the output, instead of the other way around.
What about the chassis?
The chassis is very different tobefore, as Kawasaki has dropped its semimonocoque spine design in favour of a twin spar layout that runs very directly between steering head and swingarm pivot. This is responsible formuch of the 22lb (10kg) overall weight saving over the outgoing Ninja, which makes you wonder why they persevered for so long – different for its own sake perhaps?
Not quite so conventional with the Swingarm though: where most designers go for the longest possible, Kawasaki says a compromise needs to be struck between the traction you get from long swingarm and the better feedback from making it a little shorter. Either way, it's a beautiful and complex construction, and it has enough chain adjustment to remove two links for a 16mm shorter wheelbase, recommended only for track use. The increase in weight distributed over the front wheel has allowed slightly more radical front end geometry, while the rear shock is now laid out horizontally above the swingarm pivot, keeping it well clear of the exhaust chamber beneath the bike and helping further with mass centralisation.
Electronic trickery
So far, so good: that's all the kind of stuff we're used to reading about new sportbikes: less weight, more power, better driveability, job done. But Ducati, BMW and Aprilia have moved the goalposts in the last couple of years, embellishing their bikes with electronic systems the Japanese had been showing no obvious interest in. This newest Ninja is the first Far Eastern machine to hit back, endowed as it is with what is probably the most advanced traction control system yet, called S-KTRC. This looks at the difference between front and rear wheel speeds, engine rpm, acceleration and throttle position and decides if the rear tyre is spinning, then it deals with excess power that might make the spin excessive – ie you fall off – by interrupting the ignition spark. And it's evenmore complex than it sounds, learning from what you've done before to predict when it might encounter spin again, rechecking the situation every fivemilliseconds.
Where's the fun in that?
The fun is huge, and that's because the system doesn't simply stop tyre spin, it allows a certain amount, depending on which of three levels you've selected, in order to maximize drive out of corners. And if you don't get a thrill from firing out of a corner at the front of a lurid black line on a 200 horsepower bike snaking and squirming, then you're a lost cause.
This traction control system is astonishingly smooth too, somuch so it can be hard to tell if it's operating or not, and indeed there's a deliberate grey area between what you're controlling at the limit and where S-KTRC is stepping in to keep you safe.
What's in it for me?
Nowthe very best riders–usually racers – can do this sort of thing on a high powered superbike, but most riders, especially road riders who make the occasional track day excursion (most ZX-10R Ninja riders then), tend to stay comfortably within their tyres' limits of grip. Now, with a traction control system as good as this, they can start top ractice sliding the back tyre, getting a feel for the very edge of grip, and do so far more safely than before. The amount of throttle control they use is not diluted, all that happens is the bike interferes just enough to prevent a crash.
Far from getting in the way this opens Up a whole new world, allowing the rider to practice and extend a new skill set, as well as enjoy some heart-pounding exhilaration. It could get a bit expensive in tyres though…
By way of comparison, the Kawasaki's ABS is if anything even better, more subtle and easier to explore than BMW's, and while it doesn't exactly make Ducati's feel crude, it's certainly next generation. But then Ducati's is a whole two years old, and in the world of electronics that makes it almost a museum piece.
If this all seems irrelevant to riders who would never dream of spending a five figure sum on a brand new superbike, remember that another clear pattern in electronic systems is how they get cheaper and filter down into more affordable products. ABS has been doing this for years, and it'll be the same here: let the wealthier bike riders pay for all the development of these systems with their £12,000-plus machines, then the rest of us can enjoy them a lot more cheaply in only a few years time.
The Ninja's ABS is much the same. It's far more sophisticated than conventional ABS systems, being good enough even for track use. The most skilful riders will want to disable it on track (or they won't order it in the first place – while traction control comes as standard, the ABS is a £1000 option), as it is possible to out brake it. But for many more riders, this is another safety net in the thoroughly enjoyable process of enhancing and improving their skills. You can keep braking harder, pushing the bike closer and closer to the limits of grip, knowing that if you overdo it you'll be saved from disaster by the electronics. And with that massive confidence boost, Many more riders will be exploring what a state-of-the-art sportbike is really capable of.
What's the ZX-10R like to ride?
The ABS is exceptionally smooth, as it doesn't simply monitor wheel deceleration, like most do, it also looks at front brake hydraulic pressure, throttle position, revs and even the clutch and gear positions, the first system ever to involve communication between the engine and ABS ECU computers. So instead of the lever vibrating nastily in your hands as the limit of grip is reached, it pulses more gently, letting you maintain control and modulate the stopping. Again, this enhances control rather than taking it away. At the bike's riding launch in Qatar, on the floodlit Losail circuit, this meant pushing the bike not just hard, but consistently hard, even after the sun had gone down and there was an increased chance of moisture forming on the track. The track isn't so demanding in some respects though, with only one place where the Ninja was being flicked side to side hard, and with a smooth surface that bears little resemblance to the typical bumpy British back road.
There were some clues though: powering out of turns then changing direction could get the front end quite loose and flighty, even though the bike comes with an adjustable Öhlins steering damper as standard, so I suspect there are times it could be a bit of a handful as a road bike – the 2010 model certainly is.
Is it a BMW beater then?
Riding at Losail also made it possible to really exploit the engine's massive power, leading to the question every superbike fan wants to know: is it as quick as the BMW S1000RR? The Kawasaki's claimed horsepower is slightly up on theBeemer's 190bhp, and the torque peaks at the same 80lb-ft, so at first sight you'd imagine so.
But the ZX-10R didn't have quite that insane, missile thrust of the BMW, and does feel like quite a peakymotor too. It needs to be spinning faster than 8000rpm to be exciting, and more than 10,000rpm to really kick, and make no mistake, it's wildly fast, more so than any other Japanese superbike.
But look again at the BMW's numbers: its own 80lb-ft arrives at 9750rpm, a full 1750rpm lower than the Ninja which points to a strength in depth the Kawasaki can't quite match. When you change up on the German bike, the engine drops into the heart of its torque rather than below the peak, giving a sensation that the thrust is just never going to stop.
There's a blot on the Kawasaki's fuelling map too. Mostly it's impeccable, very smooth and linear, but open the throttle from fully closed and while it doesn't exactly lurch back, the power surges in after a small pause a little stronger than you're asking for. It's just a bit difficult to modulate in this instance.
That's about it though. The Kawasaki feels smoother and it sounds better too. The gearchange can be a touch reluctant to make fast clutchless changes, but there's an air of quality and dependability that has often set Kawasaki above its rivals. BMW's own reliability record has been poor in recent years too, and many riders will be tempted to opt for the Kawasaki for that reason alone, seeing as it's pretty close in other departments, and cheaper too. Available in January 2011, the Ninja base model's 2011 price is £11,948 at 20% VAT where the BMW with 20% VAT on its 2010 price (which could well rise in 2011) is £13,270 with traction control. Add ABS to the Ninja and it gets closer at £12,969, but it's still less. Let the battle commence.
Tech Spec
Engine: 998cc liquid-cooled, DOHC 16v inline four cylinder
Power (claimed): 197bhp@13,000rpm (207bhp with RamAir effect)
Torque (claimed): 83lb-ft@11,500rpm
Transmission: Six gears, wet slipper clutch, chain final drive
Chassis: Aluminium twin spar
Bore x stroke: 76 x 55mm
Rake and trail: 25°/107mm
Tyres: Front: 120/70ZR17M/C (58W) Rear: 190/55ZR17M/C (75W)
Suspension: Front:43mm inverted Big Piston forks with rebound and compression damping, fully adjustable spring preload and top-out springs. Rear: horizontal back-link with gas-charged shock and top-out spring, fully adjustable rebound, high/lowcompression damping and spring pre-load.
Brakes: Front: Dual radial-mount, opposed 4- (aluminium) piston calipers, with dual semi-floating 310mm petal discs. Rear: singlebore pin-slide, aluminium piston caliper with single 220mm petal disc
Wheelbase: 1425mm
Seat height: 813mm
Fuel capacity: 17 litres
Wet weight (claimed): 198kg (ABS model: 201kg)
Colours: Lime green, ebony
Words: Kevin Ash Pics: Double Red, David Reygondeau
---
Advert
---
Enjoy everything More Bikes by reading the MoreBikes monthly newspaper.
Click here
to subscribe, or
Read FREE Online
.
Sign-up to the More Bikes Newsletter
Enter your e-mail address below and get regular updates straight to your inbox… You can unsubscribe at any time.