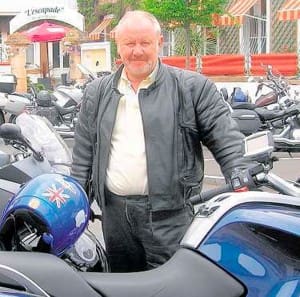 The BMW R1200RT has been described as the world's best touring bike. Owner Graham Thompson thinks it's that and so much more. This is his report of their first year and 10,000 miles together.
Two bikes share my garage – a BMW R1200RT SE and a Harley Fat Bob. I love them both but for very different reason. It's a head and heart thing. The Harley looks good, sounds fantastic and that big V-twin engine delivers an emotive punch. It's comfortable to ride and it turns heads in a way that makes you feel king of the road. But there is a downside. The brakes and handling are not up there with the best, there isn't enough ground clearance and it takes ages to clean.
I bought the Fat Bob last May, put 3500 miles on the clock then, come November, popped it away for the winter. It's the third Harley I have owned, the best Harley I've owned, but it's a summer bike and I like riding all year round. That's one of many reasons I also have a Beemer. People call BMWs the thinking man's motorcycle and everything about the 1200RT makes sense. The fairing, heated seat, heated grips (and we have heated jackets) mean you can ride this bike in all weathers in perfect comfort. And it takes just minutes to clean. Add the benefits of drive shaft over chain, brilliant headlights that the Telelever suspension keep on an even keel under heavy braking and an average fuel consumption figure of nearly 58mpg and you can understand why it's the logical choice for so many.
But there's more to it than that. Judged in cold clinical terms (the Teutonic way) it's a winner all the way, but it's also a motorcycle you want to ride for the sheer fun of it. Most of my riding is done two up with my wife Jayne on the pillion and in our first year with the Beemer we did 10,300 miles. That included trips up to Edinburgh, rallies and breaks to Brittany, the Harz Mountains in Germany and down to Allemont in the South of France. On the journey back from Allemont we did more than 600 miles in a day. We had planned to stop off half way but the weather was brilliant and we were enjoying it so much we just kept going to our destination near Rotterdam.
That was biking at its best, but you appreciate the BMW even more when the conditions are not so good. Our holiday in the Hartz Mountains was the perfect example of that. We had booked the bike on the Eurostar, which meant setting off from home at night in the pouring rain. We picked up a slow puncture in the front tyre on the way down and although it was July, our first couple of days in Germany were freezing. But it was still a great holiday. The R1200RT is far more nimble than your average big tourer. Slip off the panniers and top box, switch the electronically adjusted suspension to the sport setting and you can ride it like a performance bike.
We stayed at a hotel owned by former British sidecar racer Simon Fuller. He jumped on his own bike and acted as our guide on what are some of the best biking roads in Europe. Some of the fast sweeping mountain bends you will find there are sensational. The Beemer is a bike you can flick about and it's fun to really ring its neck once in a while. This was a great opportunity to do just that. The engine is smooth and will tootle along nicely at 3000rpm but take it up to the 8000rpm redline and it doesn't hang around. I have cruised at 135mph on a German autobahn and it has no trouble hanging onto sports bikes on twisty roads.
Two-up with luggage and a full tank of fuel, the bike does feel heavy but you don't have to worry about it until you are coming to a stop. Then you have got to be sure you have somewhere solid to plant your feet. I once missed my footing and the bike went over onto the panniers. Fortunately there was hardly any damage, which shows how is a woman who likes to take different clothes for every day away – and spares. A hairdryer is also a must and we both have heated jackets so the auxiliary power points have been a good investment. When it came to adding extras I opted to save a few pounds by going for a topbox by Givi instead of BMW. Now I wish I hadn't. The Givi is a good piece of kit and will take two full-face helmets but I don't like the plate to which it attaches. We take a tent and camping gear with us to rallies and it would be easier to strap that gear straight to the bike without the plate in the way.
The fairing could do with being a little wider and the screen a little higher but that's not a serious grumble and I like the fact that the electronically adjusted screen can be dropped so you can get the wind in your face when the air is warm. The SE version I bought cost £11,500 and included a lot of factory fitted extras but I went on to spend another £1000 or so on further mods and equipment including a Zumo sat nav system, driver/pillion intercom and little touches that make a big difference such as a front mudguard extender that helps keep a good deal of crud off the motor.
The 6000 mile service cost £270 and another check is due at 12,000 miles. There was still plenty of wear left in the front tyre when a puncture forced its replacement at 7000 miles and I had the rear changed at 10,200 miles even though it could have done another 500 miles. I have stuck with the OE Road Tec Z6 Metzlers because they inspire confidence. Some of the local country roads are covered in mud and stone chippings from local quarries and  although I have had the tyres slip they have quickly grabbed adhesion again without control being lost.
Jayne is as fond of the Beemer as I am. It's roomy, comfortable and the seat gives her a good view. That comfort factor, a big petrol tank and good mpg means I can get up to 350 miles between fuel stops.
You have to set the suspension for solo or two up riding while stationary but you can flick the switch between the sport, normal and comfort settings while on the move. The difference is noticeable and it is easy to end up using all three on a single journey that takes in M-roads, A-roads and country lanes. Because it's so easy to operate you use it almost as second nature, like changing to the correct gear for a corner.
I have never had to call on the ABS in an emergency but it's good to know it's there if you need it. I used to own a R1100RT. I did 50,000 miles on that and had to 'test' its ABS when a car pulled out on me on a country road. I jammed on the brakes as hard as I could and the ABS saved the day.
The R1200 I now own is my sixth BMW. It all started in 1976 when I bought a 600cc. R60/6. I had that three years and have been a fan of the marque ever since. To be honest, I liked the feel of the old Boxer engine even more than its modern counterpart.
BMWs are expensive but they are worth the money. I have no intention of selling the RT and reckon it could still be going strong in 20 years. If you are looking for a second-hand bike, they make great buys.
MCM asked me if push came to shove, would I part with the Beemer or Harley. It's a hard choice but I think I would keep them both and sell the house!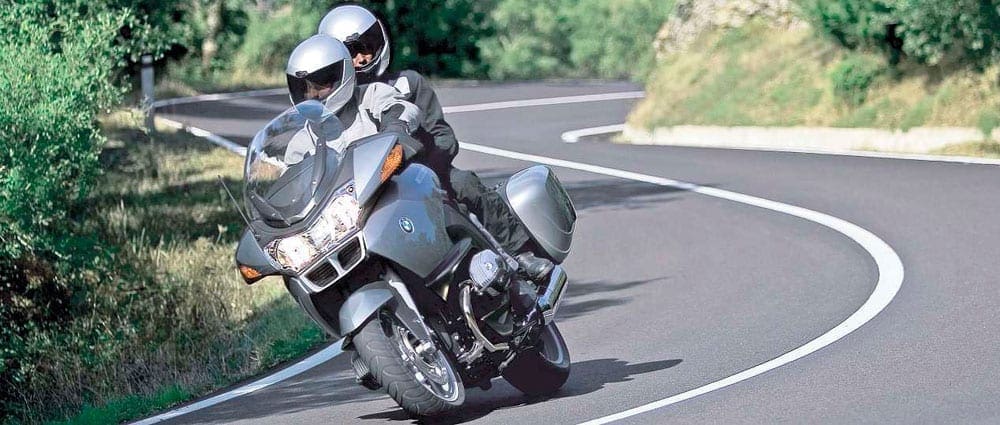 Tech spec
■ Owner: Graham Thompson, 54, site manager from Derbyshire
■ Bike: R1200RT SE
■Bought: Rainbow Motorcycles, Rotherham, November 2007
■ Price: £11,500
■ Additional extras: Zumo sat nav, Givi topbox, Autocom intercom, handlebar risers, front fender extender, mirror restraints. Total extra cost about £1000
■ First year mileage: 10,300
■ Average fuel consumption: 57.6mpg
■ Engine: Air/oil-cooled flat twin, four valves per cylinder, central balancer shaft. Capacity
1170cc. Twin spark ignition, fuel injection
■ Power: 110bhp @ 7500rpm
■ Torque: 115Nm @ 6000rpm
■ Transmission: 6-speed gearbox, final drive shaft
■ Frame: Two-section frame with load bearing engine and gearbox
■ Suspension: Front Telelever with central spring, rear Motorrad Paralever with adjustable damping and spring pre-load
■ Brakes: ABS system with twin 320mm front discs and four-piston calipers, single 265mm
rear disc with double-piston caliper
■ Wheels/tyres: Cast aluminium, 120/70 x17 front, 180/55×17 rear
■ Weights and measures: Seat height (adjustable) 820/840mm, dry weight 229kg wheelbase 1485mm fuel capacity 27 litres
■ Contact: www.bmw-motorrad.co.uk
---
Advert
---
Enjoy everything More Bikes by reading the MoreBikes monthly newspaper.
Click here
to subscribe, or
Read FREE Online
.
Sign-up to the More Bikes Newsletter
Enter your e-mail address below and get regular updates straight to your inbox… You can unsubscribe at any time.