£15,390 | 125bhp | 92lb-ft | liquid-cooled boxer twin
Article continues below…
Advert
---
Enjoy everything More Bikes by reading the monthly newspaper, Read FREE Online.
---
Tested by Roland Brown. Motorcycle Journalist and former international racer, Roland Brown is one of the world's most respected bike testers. Subscribe to his fantastic YouTube channel – iMotorcycle Video – here.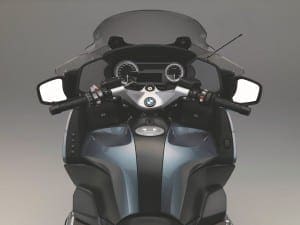 The initials RT have stood for a touring version of BMW's boxer ever since the R100RT was launched back in 1978. But it would be a mistake to put the latest R1200RT into the class labelled "Touring Bikes" and think that the biggest boxer is good only for long-distance travel in comfort but without much excitement. Maybe that was true back then, but this latest version has much more going for it.
The traditional RT assets of comfort, efficiency and weather protection are still very much present and correct. In fact the new bike is better than ever in those respects. But with this evolution in particular, the BMW has gained performance, agility and fun factor — to such a degree that it's not just a tourer but a stunningly good all-rounder, albeit a well equipped and expensive one.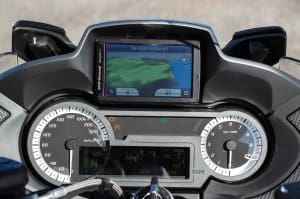 Tell me about the engine
As with the R1200GS on its update last year, it's perhaps the more powerful liquid-cooled engine with its "vertical flow" intake and exhaust geometry that makes the biggest difference to the RT. This 1170cc, dohc eight-valve unit is subtly changed from the GS lump, having a heavier crankshaft and alternator for smoother low-rev running, plus slightly taller gearing for more relaxed cruising.
Its main advantage over the old air-cooled unit is the stronger, more immediate throttle response, especially the smoother top-end kick to the 15bhp higher maximum of 125bhp at 7750rpm. The previous RT is far from slow, but this new one has a welcome extra burst of acceleration that is likely to be even more appreciated when the bike is heavily loaded with pillion and luggage.
The updated engine comes with a new level of electronic sophistication, including a choice of riding modes: Rain giving a softer alternative to the standard Road mode, with unchanged maximum output. The higher spec SE and LE versions of the RT gain the extra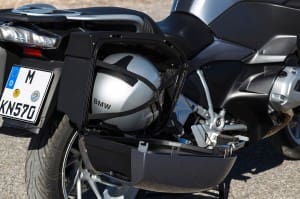 option of Dynamic mode, which sharpens throttle response further, though not dramatically. BMW's basic traction control system, ASC (Automatic Stability Control) comes as standard on all three versions, and also changes with riding mode.
What's the chassis like?
The tubular steel main frame is new, designed to give improved stability. The Telelever front and Paralever rear suspension systems are essentially as before but their mountings are stiffer. And the SE and LE models incorporate BMW's Dynamic ESA (Electronic Suspension Adjustment) semi-active system, as used by the HP4 and S1000R.
This is connected to the riding modes, so changing between Rain, Road and (with the SE and LE) Dynamic modes automatically sets the damping level to soft, medium or hard. The setting can be over-ridden using the button on the left bar, where preload can also be adjusted. The changes are not dramatic, but that's partly because the semi-active system does such a superb job of being firm when you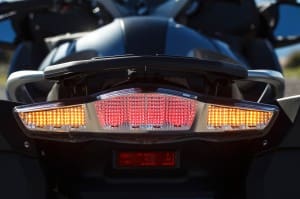 want it to be — for example by stiffening fork damping under hard braking, or shock damping under acceleration — and supple when you're riding more gently or on a bumpy road.
The rest of the chassis is also well up to the job. Braking is powerful, thanks to an unchanged system featuring radial four-piston Brembo calipers biting 320mm discs up front, backed up by an excellent ABS system. Ground clearance should be reduced slightly by the lower footrests but the BMW had plenty of lean-angle with which to make use of its Michelin Pilot Road GT tyres' grip.
Should I buy one?
The RT is far from cheap but if you can afford it and want a bike that's good for far more than just long distances, then why not? The basic RT costs £13,200 and the SE model, which includes the semi-active suspension, cruise control and heated seat, is £14,310. Most buyers opt for the top-spec LE, which adds central locking, gear-shift assist and more. The test bikes also had the hill start facility, daytime running light and sound system, bringing the total to over £17,000.
That's a lot of money for a motorbike but boy, do you get a lot of bike for the money. On the evidence of this relatively short test ride, the R1200RT LE has a combination of performance, handling ability, comfort and sophisticated features that makes it not just arguably the world's best touring bike but a brilliant motorcycle, period.
So what's it like to ride?
With that broad fairing the BMW is always going to feel like a substantial bike, but it's also a thrillingly fast, fine-handling and well-braked one too. And you don't need to worry that low-rev performance has been lost. When we set off at a fairly gentle pace on a gently curving road joining sleepy Andalucian villages, I found myself riding mostly between about 40 and 70mph in third or fourth gear, the RT happy to pull effortlessly at any revs from 2500-4000rpm. Even in top, on the faster N-341, there was plenty of shove for instant overtaking from 3000rpm or less.
The uprated chassis is hugely impressive. My highlight of the launch was throwing the bike along a twisty road in the mountains, and being amazed at how taut and almost sports-bike like it felt despite weighing 274kg with fuel. For a touring machine it was remarkably manageable, both in bends and at slow speed, for example when performing effortless U-turns. Shorter riders, in particular, will benefit from the 20mm lower triangle of seat, bars and footrests.
While working to improve the RT's performance and handling ability, BMW didn't neglect the model's traditional strengths of comfort and rider-friendly features. The height-adjustable seat is not only lower but longer, for both rider and pillion (and available in higher or lower versions).
The screen's range of vertical adjustment is unchanged but this RT's is slightly wider, and lowering the seat by 20mm has effectively made the screen taller. Despite being very tall myself I found it superb. Hands are well protected and the mirrors are improved, too: slightly smaller, but redesigned to show less of your hands and more of the road behind, and also foldable when not in use. The new instrument panel incorporates a 5.7-inch colour display and on-board computer, controllable by the excellent click-wheel on the left bar.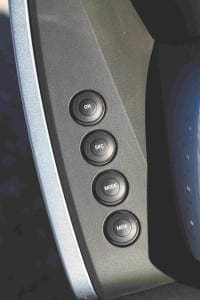 RT Options and Accessories
Gear Shift Assistant Pro (included on the LE; a £375 extra on the other models) is essentially a quick-shifter, as fitted to many sports bikes. It's clever enough to add a blip of throttle on down-changes, and worked well on both up- and down-changes at most engine speeds. But like many quick-shifters it makes the otherwise slick gearbox a bit clonky at very low revs, so won't save much wrist effort in town.
Hill Start Control – part of the £365 Dynamic package option on all models – is essentially a parking brake that releases automatically. If you stop on a slope, you just tap the front brake lever to set the HSC, and the bike won't roll forward or backwards until you release the clutch to pull away. It's simple, effective and could save the odd embarrassing moment with a heavily laden bike.
The sound system is a £1050 accessory that is operated by the click-wheel on the left bar. It's uprated both for audio quality and ease of use (though it still got distorted above about 60mph, and couldn't help me find a Spanish music station worth listening to). The typically lengthy accessories list — much of which is incorporated into the two higher-spec SE and LE models — also includes push-button central locking, which operates the two fairing storage areas (one wired for iPod etc) as well as the panniers, and top-box if fitted.
Photography by: Arnold Debus; Jörg Künstle; Peter Musch

TECH SPEC
Price: £15,390
Engine: Liquid-cooled dohc boxer with four valves per cylinder
Power: 125bhp (93.2kW) @ 7750rpm
Torque: 125N.m (92lb.ft) @ 6500rpm
Curb weight: 274kg wet
Seat height: 805-825mm
Tank size: 25 litres
---
Advert
---
Enjoy everything More Bikes by reading the MoreBikes monthly newspaper.
Click here
to subscribe, or
Read FREE Online
.
Sign-up to the More Bikes Newsletter
Enter your e-mail address below and get regular updates straight to your inbox… You can unsubscribe at any time.