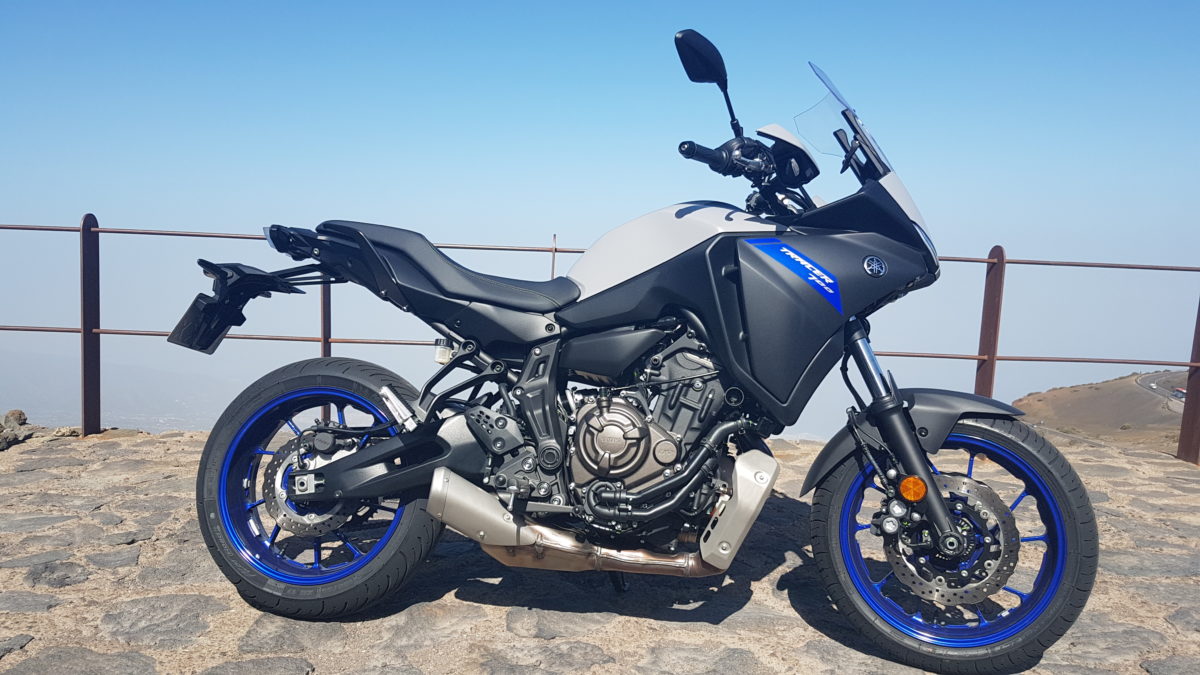 We're out in Tenerife for the launch of Yamaha's updated Tracer 700 for 2020 – and after a full day in the saddle, here are our (very brief) first impressions.  
The big changes for Yamaha's 2020 Tracer 700 include an updated 689cc motor, adjustable suspension both front and rear, revised bodywork, an inverted LCD dash and an adjustable screen. Interestingly, a lot of the work the factory has done parallels with the latest generation MT-07. That's no fluke. Yamaha listened to punters feedback on the previous bike and they said they wanted something sportier – so that's what it's done.
We've spent the day taking on all manner of roads, from stretches of fast motorway through to the tightest of switchbacks (and everything in between) – and the Tracer 700's taken the lot in its stride without a grumble. As a quick aside – the roads in Tenerife are absolutely sensational. Ok, there's a fair bit of traffic, but regardless – if you ever get a chance to ride out here; you should take it.
The standout of the Tracer is its 689cc CP2 motor. It's genuinely fantastic; smooth and progressive right through the rev range but with plenty of punch to sweep past traffic with ease. You shouldn't dismiss it because it's 'only a small bike' either; not once did I feel the need for more power. Getting into specifics it kicks out 72bhp at 8,750rpm and 68Nm of torque at 6,500rpm. Oh, and for the budding riders out there, an A2 licence version is also available.
The general consensus among my peers seemed to be that the new suspension setup is a serious improvement from the previous generation. I'll admit, I've not ridden the old model – but the latest system did everything I asked of it today. It proved itself planted and stable even as we pushed the bike to its limits. Best of all, it's adjustable for the first time too. At the back there's rebound damping adjustment, and at the front you can adjust the spring preload and rebound damping. It's a nice touch. The brakes perform well too. I gave them a proper test in town to avoid being cleaned up by a car and they pulled me up with no trouble, and very little interference from the ABS. They're also delicate enough to allow you to trail brake into corners.
In short, I'm properly impressed with the 2020 Tracer 700. It's better than I thought it would be – and I had pretty high expectations in the first place. It'll do the lot. It'll tour, it'll bimble around town – and it'll seriously hustle on some twisties. And it's priced at £7799 – which feels like a hell of a deal to me. What more could you ask for?
If you'd like to find out more, there's going to be a full, more in-depth review of Yamaha's Tracer 700 in the upcoming issue of Motorcycle Sport and Leisure magazine. To get your hands on a copy, click HERE.