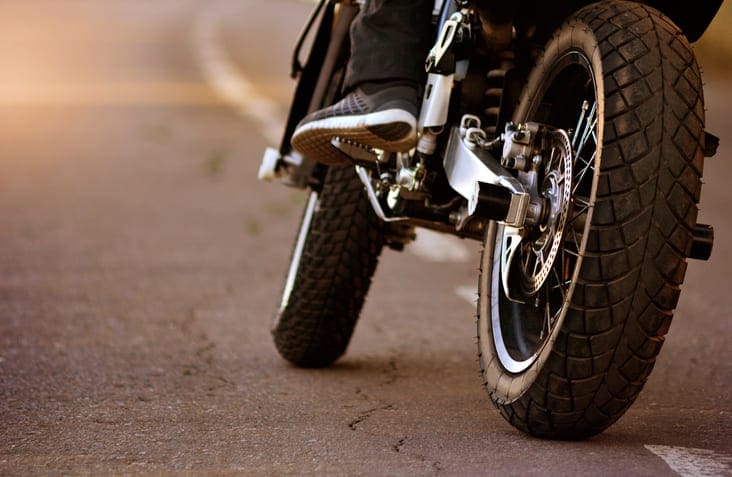 Our specialist motoring solicitor Andrew Prendergast is back to guide you through motorcycle legal trials and troubles.
'My insurance record now trashed'
Q: I have always fancied a scooter to re-live my 'yoof' and at the ripe old age of 63 I bought a Vespa GTS 300. I joined a local bike group and last summer was awesome as I spent many happy hours cruising country lanes and grabbing a bag of chips at the seaside. The difference between now and being 16 years old (the last time I had a Vespa) is I could afford the petrol and the chips! To blow out the cobwebs at New Years, our local bike group met up for the first ride of the year to the coast. Spirits were high and as I sat in the line of traffic, one of our group leant over from his Harley to muck about and rev my throttle as a joke (I had also seen him turn someone else's kill switch off as a 'joke'). However, what our 'hilarious' member had forgotten was that I was on an automatic bike. You know what happened next… carnage. I shot off like a scolded cat, crashing into the back of a Bentley of all cars. I went over the handlebars and broke both wrists. Not a fun day out. My insurer has paid out to the poor Bentley owner. However, his claim has trashed my insurance record and I'm wondering what I can do, if anything, i.e., because I wasn't actually hit by 'Mr. Hilarious' and I rear ended someone else. Do I just have to suck up my bad day out and my injuries?
A: Not exactly the New Year anyone wants. No, you do not have to 'suck up' your bad day out. Your insurer paying out the Bentley owner is a smart move as he was truly an innocent victim. i.e., your bike hit the rear of him. Your insurer probably wanted to avoid an expensive hire claim. Whilst 'Mr. Hilarious' didn't hit you, your injuries arose from his negligence that occurred whilst he was riding his bike. Therefore, I suspect your insurer will be looking to get their outlay back from Mr. Hilarious' insurer. If they do that, your insurance record should get sorted. As for your injuries, you can make a claim against Mr. Hilarious and his insurer. Whilst it's a bit unusual, his insurer will have to pay out for his negligence. What a dipstick.
Don't believe everything you read online
Q: I have a Ninja 650 that is in my company name (I am a director). My company received a Notice of Intended Prosecution for the rider (which was me) allegedly doing 79mph in a 70mph limit. My wife is our company secretary. However, as it was me riding, she gave me the Notice to deal with. I read online I should ignore it, so I did. However, my wife has now been summoned to Court for failing to give information personally as the 'company secretary'. She has done her nut and I am in the doghouse. I have told her she has done nothing wrong, not to worry about it and to ignore it (that is what loads 
of people said online). However, she is having 
none of it and reckons she will have to go to Court. Who's right?
A: Short answer. Your wife is right. Get ready to eat some humble pie I'm afraid. Whatever you have read online is wrong. If a person or a company ignores a Notice they can expect a summons for failing to give information. As the motorbike was owned by the 'company', the Court can summon your wife as the applicable 'company secretary'. However, she will be at Court as the 'company', i.e., a separate legal entity from herself. The knock on of this is the 'company' should be punished, not her personally. My advice is your wife is correct and she will have to go to Court to sort out the mess caused by you ignoring the Notice.
The MoreBikes legal column is compiled by managing partner Andrew 'Chef' Prendergast and his bike-riding barristers and solicitors at White Dalton Motorcycle Solicitors.
The firm deals with personal injury claims and its sister company, Motor Defence Solicitors, deals with all the motoring offences. White Dalton lawyers have a vast knowledge of bike law, and they have full bike licences, too. They don't act for insurance companies or the prosecution. White Dalton is Britain's premier specialist motorcycle law practice, and if its professionals don't know the answer to your question, there probably isn't one. Don't rely on the advice from your insurance-appointed solicitor, get proper independent advice.
For road traffic offences, call the Motor Defence solicitors 
on 0800 280 0912. For non-offence cases, call 
White Dalton motorcycle solicitors
 on 0800 783 6191.
Latest posts by Sam Hewitt
(see all)
Does this get you revved up? Tell us why...
---
---
Subscribe to MoreBikes Newspaper
Get MoreBikes delivered through your letterbox every month. 12 issues for £15. Click here for more information.
---
Get MoreBikes.co.uk Updates
Enter your e-mail address below and you will receive biking news straight into your inbox...



You can unsubscribe at any time.
---