Suzuki has filed a patent application for a two-wheel drive scooter. It shows (what looks like) a Suzuki Burgman 200, with a hub-mounted electric motor in the front wheel that works to assist the engine-driven rear wheel.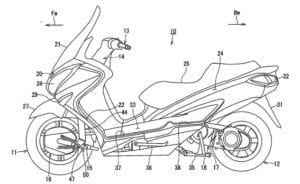 The main difference to a typical Burgman 200 is the front end. On the patent, the front wheel is mounted to a swingarm with a hub motor on the left side while a linked shock and brake are mounted on the right side. The motor powers the front wheel by driving a shaft connected to a planetary gear system.
From the diagrams we can tell that the swingarm is mounted to a stiff fork at a pivot point, and that the shock absorber is connected to the top of the right fork leg, and the swingarm at a point just above the wheel axle. We can also see that the brake disc and caliper are on the right side, presumably helping to provide better weight distribution (while offering easy access to the brake and shock as well as the left-side mounted motor).
There's also a second version of the scooter with a slightly slimmer hub motor design with the rotor located outside the stator instead of the inside. The second version also has the front brake caliper mounted to the suspension linkage instead of the swingarm.