Trails, twisties and traffic – Honda's hugely successful CRF250L can do it all.
Dual-sport motorcycles live in a land of compromise. The jack-of-all-trades of the motorcycle world, they're just as happy tackling trails as they are splicing through town traffic and tearing up some twisties. If I could own only one machine, it'd be a dual-sport. They're versatile, lightweight – and overall, fairly unintimidating to ride.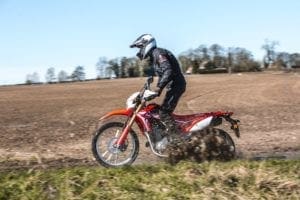 If I've peaked your interest, and you're starting to like the idea of a motorcycle that's happy on and off-road – then there's one machine which really stands out from the crowd. It's Honda's hugely successful CRF250L – a stalwart among round the world adventurers, and the perfect winter hack to deal with the crud, grime and inevitably poor road conditions that we have to put up with when riding through winter in the UK.
Admittedly, Honda reckons that the vast majority of small dual-sport bikes spend most of their life on the road – and on balance maybe that's true. After all, they do make for fantastic daily commuters – but that doesn't mean their riders won't be dreaming of big adventures. At the end of the day, motorcycles are meant to be fun and enjoyable ways of experiencing the world around you – and with the Honda CRF250L, you really can experience it all.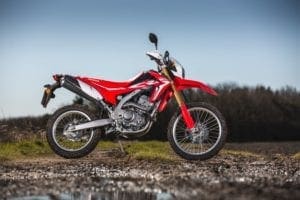 If you've never tackled some trails and ridden off-road before, don't worry, the little Honda isn't all that aggressive or intimidating – meaning you can still have a lot of fun honing your skills, without the risk of causing too much damage to you or the bike if (no, sorry – when) you come off.
Honestly, I've been waiting to ride this bike for a long time – and as it rolled out of the van at MoreBikes HQ my expectations were high. Poking around the lightweight little Honda on the forecourt, my first impressions were overwhelmingly positive – it's undoubtedly a well-made machine, oozing quality in a distinctly Honda way. And it looks good too – with its bright red motocross-inspired graphics and knobbly tyres contributing to create a fairly aggressive aesthetic. Settling into the saddle, everything's where you'd expect, it's comfortable, lightweight – and even surprisingly easy to get on thanks to its 875mm seat height. I am 6ft 1" with long gangly limbs, so it was unlikely to cause too much trouble for me – but regardless, I'm confident much shorter riders would also find the CRF250L perfectly accessible.
Admittedly, the tried and tested CRF250L formula hasn't changed much over the years, with Honda building and honing its hugely successful machine, rather than dramatically overhauling it. The latest generation CRF250L was released back in 2017, with a range of updates to bring it in line with the latest Euro 4 regulations. The changes included a larger throttle, new muffler design, revised airbox, and a larger diameter exhaust header. A larger fuel tank was also added, along with new CRF450R MX -inspired bodywork, hand guards, and increased suspension travel. Nice one Honda.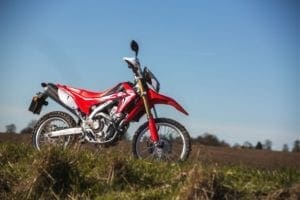 Ok – but what is it like to ride? Well, like I said – I love my dual-sport motorcycles. If I could pick only one bike to ride for the rest of my life, it'd have knobbly tyres, wide bars, and a tall commanding road position. Now I'm not saying it'd necessarily be Honda's CRF250L – but it'd be something much like it. I know this type of machine isn't for everyone – but where I live in rural Lincolnshire, it just makes so much sense. In a roundabout way, what I'm trying to say is that I'll do my best to keep my innate bias to a bare minimum.
So, after spending a couple of weeks together, putting the CRF250L thoroughly through its paces across a range of conditions – including getting it briefly stuck in some bog-like conditions down an isolated green-lane – I'm thoroughly impressed.  The balance between road and off-road performance is fantastic.
Let's delve a little bit deeper and get into what make the CRF250L tick. First off, let's talk about its power plant. Ok, so the CRF250L's high-winding 250cc single cylinder engine doesn't pack a huge amount of punch in the grand scheme of things, but that's neither here nor there – it's smooth and precise, with a clean throttle response. And if you do pin the throttle open, it will get up to a fairly respectable 80mph, which is more than enough when you're out and the open road and looking to overtake some slow moving traffic. Although I do have to admit, it's not all that comfortable up there – with a decent amount of vibration coming through its pegs and bars. But at the end of the day, the real beauty of the Honda motor is that it instils confidence, allowing riders to grow their off-road capabilities without getting into (too much) trouble.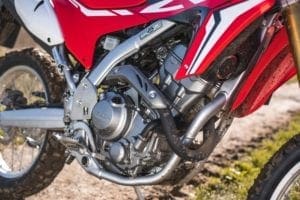 For stopping the little Honda comes with a 256mm wave-style disc which is clamped by Nissin twin-piston calipers up front, and at the rear it's equipped with a 220mm disc and a single-piston caliper. In practice they work to deliver smooth and assured braking, with plenty of feel. Arguably, the feeling is much more like an off-road bikes brakes than what you'd be used to on a road-oriented machine. What I mean by that is that they're more linear than downright powerful – which contributed with the dual channel ABS system which comes as stands, means you're fairly unlikely to get caught out by grabbing a handful of brake.
Suspension comes in the form of a 43mm Showa inverted fork up front, which has been tuned to suit the bike's road and off-road capability – while at the back, it's fitted with a Pro-Link rear suspension unit with a single 40mm diameter Showa shock. It's a surprisingly capable setup, that'll iron out bumps and lumps on tarmac with ease – but really it's off-road where the bike comes into its own. I'm no racer or off-road expert, but because of its fairly taut suspension setup and light weight, I found myself really pushing the CRF250L to its limit without ever truly feeling out of control – and I'm confident even less experienced riders would have just as much fun as me. In short, it is truly surprising just how silly you can get on the CRF250L, before common sense prevails and you wind off the throttle.
So what's the verdict? Well, aside from a few shortcomings that are obvious concessions to its economy-bike status, the 2017 Honda CRF250L is a very capable machine for the entry-level or casual dual-sport rider. It provides a smooth, comfortable all-day riding experience – and terrific fuel economy for your daily commute too.
As far as I'm concerned, It delivers just enough engine performance, comfort, handling and braking to satisfy a wide demographic of riders – and I'm convinced anyone would have an absolute blast chucking it down a green lane. I admit, more experienced riders might wish for more power or better suspension performance in the dirt, but that wouldn't stop me from sticking one of these little Hondas in my garage.
Technical Specifications
Honda CRF250L (2017)
Engine: 250cc Liquid-cooled, Single, DOHC
Power:  24bhp @ 8,500rpm
Torque:              22.6Nm @ 6,750rpm
Suspension: (F) Showa 43mm Telescopic USD (R) Showa 40mm Prolink single shock
Brakes: (F) 296mm floating wave-style disc with two-piston calipers and two-channel ABS (R) 220mm rear disc with a single-piston caliper
Wheels/Tyres: (F) 21 inch (R) 18 inch/Bridgestone TW301's
Seat Height: 875mm
Kerb Weight: 146kg
Fuel Tank Capacity: 7.8 litres
Price: £4,699
Contact: www.honda.co.uk/motorcycles
---
Advert
---
Enjoy everything More Bikes by reading the MoreBikes monthly newspaper.
Click here
to subscribe, or
Read FREE Online
.
Sign-up to the More Bikes Newsletter
Enter your e-mail address below and get regular updates straight to your inbox… You can unsubscribe at any time.